Archive Page - 12/1/12 39 years, 2,079 covers and 53,260 stories from PEOPLE magazine's history for you to enjoy
On Newsstands Now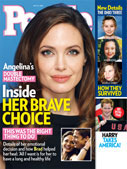 Angelina: Inside Her Brave Choice

New Details on the Ohio Three

Prince Harry Takes America!
Pick up your copy on newsstands
Click here for instant access to the Digital Magazine
People Top 5
LAST UPDATE: Sunday May 19, 2013 09:10AM EDT
PEOPLE Top 5 are the most-viewed stories on the site over the past three days, updated every 60 minutes
Money Madness
Nothing, It Seems, Can Take the Helium Out of Celebrity Paychecks
Frasier
. Producer-star
Tom Cruise
's estimated share of Mission: Impossible profits would bring him more than $54,807 in interest—every week.
All of which is a long way of stating the obvious: Americans—and, increasingly, the rest of the world—will pay staggering amounts of money to anyone who can keep them entertained. It doesn't matter if you sing (
Mariah Carey
: $24 million this year), act (Jodie Foster: $9 million a picture), hit baseballs great distances (Barry Bonds: $45,010 a game), or cavort with very big cats (Siegfried & Roy: $252,222 a day). If you can draw an audience in the millions, you can draw a salary to match.
Herewith a look at who makes what in the world of entertainment, with figures culled from agents, industry insiders and published sources. And a word of advice from a beneficiary of Hollywood's current largesse: "It's all insane, "says Judd Apatow, who was paid $800,000 for his work on
The Cable Guy
. "My advice? Enjoy it before they catch on."
His TV pal Elaine would say, "Get out of here!" but Jerry Seinfeld, star and executive producer of NBC's
Seinfeld
, makes between $300,000-400,000 an episode. Costars Julia Louis-Dreyfus, Jason Alexander and Michael Richards each have to make do on $125,000 per show. Remember the Soup Nazi? Larry Thomas earned $2,610 for last season's nuttiest walk-on.
TV
NBC's
Friends
were one for all and all for one as the six principals sought a pay hike last summer. Not wanting to get boxed in, Matt LeBlanc,
Jennifer Aniston
, Matthew Perry, Lisa Kudrow,
Courteney Cox Arquette
and David Schwimmer (clockwise from top left) asked for $100,000 each per show and reportedly settled for $75,000, which is still way up from last season's $20,000-40,000.
THE HAVES AND THE HAVE-MORES
Oprah Winfrey
VS
Rosie O'Donnell
Oprah's estimated '96 earnings of $97 million—she's the highest-paid entertainer in America—make Rosie, at $8 million, seem like a bargain.
Howard Stern VS Don Imus
Shock-jockeying for dominance during a.m. drive time, Stern, with reported $12.5 million earnings in '95, lets Imus—at $5 million—eat his dust.
Heather Locklear
VS Pamela Lee
With a reported salary of $100,000 an episode,
Melrose Place
's Locklear puts
Baywatch
er Lee, at $60,000 per show, in the shade.
NO, BUT I PLAY ONE ON TV
David Hasselhoff,
Baywatch
's Mitch Buchannon, makes about $100,000 an episode as producer-star. Real Los Angeles lifeguard Craig Hummer earns $800 a week.
Annie Potts gets $50,000 per show as neophyte English teacher Louanne Johnson on ABC's
Dangerous Minds
. The real Johnson made $26,000 a year in the classroom.
Cheech Marin, Don Johnson's cop partner on CBS's
Nash Bridges
, nabs $75,000 each week. Detective Al Smith, a 26-year NYPD veteran, draws $58,200 annually.
MUSIC
Like
Madonna
, the owner of her record label, Alanis Morissette is in harmony with her bank account. This year's
Jagged Little Pill
, the best-selling album by any woman ever, pays her about $1 for each of the 20 million copies sold worldwide. Meanwhile, her '96 tour has kicked in another $7 million.
He hasn't been a Beatle in 26 years, but for Paul McCartney the beat goes on. The group's
Anthology
albums have netted him roughly $22 million in the past two years, and his share of the accompanying TV series is another $37 million. Wife Linda is contributing to the family's $630 million fortune with a successful line of frozen vegetarian meals.
EASY LISTENING, HARD CASH
The rivalry between New Agers John Tesh (left) and Yanni continues to heat up. While only Tesh toured this year (taking in $6.7 million in profits), Yanni rules in album sales (he has sold 13 million; Tesh, 4.3 million). Their earnings remain neck and neck, at $11-13 million apiece—enough to buy a quarry's worth of crystals.
In a year of gaudy contracts,
Janet Jackson
has the gaudiest of all: the record $80 million deal she signed with Virgin for an unspecified number of albums. (R.E.M. became rock's highest-paid band when it inked its own $80 million pact in August.) Virgin's next trick will be to make it pay. Over the course of her contract, Jackson will need to move a near-impossible 50 million albums for the label to break even.
MOVIES
SCHOOL OF FORT KNOX
Hollywood's biggest stars are minting money
Eddie Murphy was paid $8 million for '87's Beverly Hills Cop II, then made a string of flops. So did his asking price go south too? Nope. Multipicture deals made when he was hot ensured his fee would rise—to $16 million for '96s The Nutty Professor.
Talk about acceleration.
Sandra Bullock
made
Speed
for $500,000 For Speed 2, due in '97, her salary will redline at $12.5 million.
He tools around L.A. in a spiffy 1959 'Vette for fun, but when
George Clooney
cruises Gotham City in the Batmobile, he'll turn a cool $10 million—his fee for next summer's Batman & Robin.
For now, Adam Sandler is Bulletproof. He was paid $2.5 million for that September flop—and will take home $5 million for '97's
The Wedding Band
.
THEY ALSO SERVE
Movie extras earn a basic $9.80 an hour for milling around, doing what Independence Day extra Judy Gam-eral calls "no-brainer work." Grips, who move equipment on the set, grab an hourly union wage of $19.85. Craft services folks prepare meals for cast and crew at $18.38 an hour. If they can also perform first aid, their wage bumps to $24.20.
John Travolta did Pulp Fiction for $150,000, but Get Shorty ($5 million) and Phenomenon ($8 million) led to Primary Colors (about $17 million).
He was once a $25,000 a-show player on TV's
In Living Color
, but today Jim Carrey is Hollywood's sssssmokin' top gun. For
Liar, Liar
, he'll take his usual $20 million.
Houston, we have no problems whatsoever: Sigourney Weaver earned an earthbound $30,000 for 1979's
Alien
, $5 million for '92's
Alien3
, and a reported $11 million for next year's Alien: Resurrection.
SOMETIMES ONE PAYCHECK JUST WON'T DO
But a million here, a million there, and soon these twosomes are making real money
Live well,
Die Hard
: It seems to work for
Bruce Willis
, who reportedly stands to collect $35 million for
DH4
. Wife
Demi Moore
marches into cineplexes in '97 as G.I. Jane for $10-12 million
Nicole Kidman
earned $5 million for two '96 films, while husband
Tom Cruise
achieved
Mission: Impossible
—about $60 million as the film's producer-star.
College tuitions? Not a problem for the Olsen twins, Mary-Kate and Ashley, 10. TV's
Full House
kids are worth $10 million—each.
Post
The First Wives Club
, Goldie Hawn's price per pic inflates to $5 million, while companion Kurt Russell enlisted in the sci-fi flick
Soldier
for $15 million.
Siegfried & Roy's Las Vegas tiger-taming act will grrross $60 million this year, $25 million of which goes into S&R's bank account. Plus $2 million for opening a theme park in Germany.
AUTHOR!AUTHOR!
Start with his Twister screenplay, add the syndication of ER (he's a producer) and dino-mite earnings from the Jurassic Park sequel The Lost World, and Michael Crichton's year tops out at an estimated $37 million.
Anne Rice's vampire strikes back, this time in
The Mummy
. Flush from her three-book, $17 million contract, she has sold the 1989 tome to Hollywood for $3 million.
With film rights to
The Firm
,
A Time to Kill
and
The Chamber
having rung up $10 million already, the John Grisham juggernaut just keeps rolling. His latest coup: $8 million for film rights to
The Runaway Jury
.
LOOKING GOOD
Thanks to chiseled cheekbones and fab abs, Tyson Beckford—said to be the industry's highest-paid male mannequin—flexes his financial muscle with a yearly income of $550,000 from Ralph Lauren. Top female earner Cindy Crawford, the face of Pepsi, Revlon and others, also knows something about assets. Her annual take-home: $6-9 million.
JOCKS
This year's highest-paid player in the National Football League, Emmitt Smith will get $12 million from the Dallas Cowboys, not to mention fat endorsement checks from Reebok, Starter and Coca-Cola.
Ken Griffey Jr. hit baseball's biggest home run in February when he signed a four-year, $34 million contract with the Seattle Mariners. Part owner of three All-Star Cafes, he aiso pitches Nintendo, Wheaties, Nike and more for an additional $4 million.
Michael Jordan will receive $40 million in endorsement money this year vs. a mere $25 mil for playing basketball.
Golf wunderkind Tiger Woods went from college kid to instant megapro: $734,794 in winnings as of Oct. 20, $60 million from sponsors.
BE ALL THAT YOU CAN BE
To feel like a star, you have to spend like one too
You want a forehand like Andre Agassi's, a backhand like Monica Seles's? Take a lesson with their ex-coach Nick Bollettieri of Bradenton, Fla. Cost: $1,500 an hour.
Manhattan hairstylist Frédéric Fekkai, whose clients include Christie Brinkley and Martha Stewart, won't break out his shears for less than $290. Junior scissor wizards at his salon start at $90
For perfect pecs and a firmer fanny, New York City's Radu, persona trainer to Cindy Crawford, Regis Philbin and Matthew Modine, is so good that his fee alone, $150 an hour, can produce a sweat.
A session with Carol Shaw, Los Angeles makeup artist to
Demi Moore
, Geena Davis and
Nicole Kidman
, may not get you a movie contract, but it could lighten your bank account by $3,000 a day. Or you can buy her
Demi Moore
lipstick for $17.50.
YOU GOTTA EAT
Chef Puck's kitchen sorcery stretches all across America
Only after the opening of Los Angeles's celeb-packed Ma Maison in 1973 did chef Wolfgang Puck discover his true culinary genius: a recipe for profitable eateries. His eight restaurants—including Spa-gos in Tokyo and Mexico City—dish out such typical Puck innovations as barbecued duck quesadillas to the tune of $20 million in annual revenue, while another $60-80 million comes from mass-market ma cafes and a frozen-food line. Net to Puck: $10 million a year.
CIVIL SERVANTS
Money doesn't always equal power. While Bill Clinton gets paid only $200,000 a year, the Sultan of Brunei, the world's richest man, could easily net $1 billion annually from his fortune ($37 billion in '93)—enough to keep his 165 Rolls-Royces up and running.
Come to Mama: Next to the recipients, the person who's probably happiest about such stratospheric salaries is Margaret M. Richardson, Commissioner of the IRS (which pays her $123,100 a year).
Advertisement
Treat Yourself! 4 Preview Issues
The most buzzed about stars this minute!