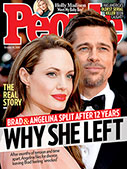 This Week's Issue!
People Top 5
LAST UPDATE: Tuesday February 10, 2015 01:10PM EST
PEOPLE Top 5 are the most-viewed stories on the site over the past three days, updated every 60 minutes
Picks and Pans Main: Tube
Spotlight On...
Jones's testimony did not, in all fairness, have much legal relevance to the murder case at hand, in which 26-year-old Jon Schmitz, a waiter, admits to having shot and killed bartender Scott Amedure, an acquaintance, three days after the two returned home to Detroit from their March 6, 1995, appearance on Jones in Chicago. Her producers have already admitted that, for an episode on secret same-sex crushes, they had recruited Amedure to confess his romantic aspirations to Schmitz—that is, to emotionally ambush Schmitz, who hadn't been told that his admirer was a man.
Jones, practicing what in White House scandals is called deniability, explained from the stand that the only information she usually receives is what is contained in a folder of background material prepared by her staff and often presented to her just before airtime. She did not come off as terribly on the ball. Asked whether she thought Schmitz, who is heterosexual (and, according to his family, manic-depressive), should have been informed of his admirer's gender, she answered, with an impressive degree of moral obtuseness, no, "because [the show] was based on the premise of his surprise." Asked if she had any special talents as a host, she responded, "It may be questionable."
This is one point on which Jones is being too hard on herself. A former backup singer for Wayne Newton and the 1986 first-prize winner in a Star Search comedy competition, she is as qualified to run a talk show as
Oprah
, Kathie Lee or, of late, RuPaul. However, it would be overreaching to treat Jones's court appearance—which, under the circumstances, was more freakish than historic—as a symbolic trial of all talk TV hosts. It's too late: The widely deplored sensationalism of talk shows began to grow tamer last June with the instant success of The
Rosie O'Donnell
Show, which is as sugar-dusted as a doughnut shop. Now Charles Perez, the male Ricki Lake, is gone; Geraldo Rivera is more prominent as a commentator on the O.J. Simpson case; and
Oprah
devotes one show a month to book chat. Of course this does not mean that talk shows are now worthy of taking on Voltaire. Jones, whose ratings have remained steady since the killing, recently hosted a titillating but inane episode titled "Sexy, Single and Ready to Mingle."
Jones's testimony, broadcast on Court TV and then replayed on news outlets everywhere, made for much worthier television than her own show. I liked the way her sad, tired face lit up, fleetingly, when she testified that her employees simply call her Jenny.
TBS (Sun., Nov. 17, 9 p.m. ET)
A
Every day brings life-and-death decisions to University of Pennsylvania's School of Veterinary Medicine, where the patients include Anna Rose, a cat with seizures; Choqui, a passed-out pup who downed a pint of vodka; and Charlie Girl, a Labrador retriever who swallowed a battery from a TV remote. Their worried owners get expert advice and sympathy from the clinic's dedicated doctors, who can handle anything from a sickly llama to a nervous dog (he gets behavior modification and Valium). Narrator Lauren Hutton comes across as a mite cool and distant in this better-than-lktion special, but otherwise it's irresistible. Our cat Lester liked it a lot too.
CBS (Sun., Nov. 17, Tues., Nov. 19, 9 p.m. ET)
B-
The story of the Titanic is so compelling that it's almost impossible to sink, but this overloaded mini-series comes dangerously close. Combining a realistic account of the April 14, 1912, disaster, in which more than 1,500 people died, with a fictionalized melodrama of romances among the passengers, this four-hour special often seems more like soap opera than tragedy. Despite a strong cast that includes George C. Scott as the captain, Roger Rees (Kirstie Alley's rich boyfriend on Cheers) as White Star Line owner J. Bruce Ismay, and Peter Gallagher, Eva Marie Saint and Tim Curry as fictional passengers, it's a heavy-handed, fragmented version that lacks sustained emotional power. Still, once ship and iceberg collide at the end of the first half, the ship's terrible fate is as mesmerizing as ever.
NBC (Mon., Nov. 18, 9 p.m. ET)
C+
This muddled TV movie claims to be inspired by real events, but you'll have trouble believing that well-meaning mom Laura Hyler (Something So Right's Mel Harris) could be so dumb. Faced with daughter Kelly's angry rebellion, she puts the 15-year-old in juvenile custody to teach her a lesson and then can't get her out for a year and a half. Mom learns to come to grips with her own repressed past while fighting dishonest and incompetent juvenile-justice-system workers. Harris walks through the part, but as Kelly, Nicholle Tom (The Nanny) adds much needed conviction.
>For Hope
A SAGET SAGA
THE SCRIPT ALONE WOULD HAVE BEEN enough to keep the cast weepy. For Hope, an ABC movie starring Dana Delaney and airing Nov. 17, is about a 40ish mother of one dying of scleroderma, the often disfiguring, potentially fatal autoimmune disorder in which both internal and external tissue hardens and scars. But the story was also close to the heart of its director and producer, comedian and former America's Funniest Home Videos host Bob Saget, 40. His sister Gay, a single mom and English teacher in Bucks County, Pa., died of scleroderma in 1994 at age 47. Hope is based loosely on her. diaries and her family's memories.
After many scenes, says Polly Bergen, who plays Delaney's mother, "Bob would hug us and lay his head on our shoulders and cry." In an awful twist, Bergen's sister Barbra was diagnosed with the incurable disease, which affects 500,000 Americans, even as the actress auditioned for the part last April. "Bob got me in touch with the Scleroderma Research Foundation," says Bergen, "and found her a specialist."
Gay Saget was diagnosed in 1992 after her fingers became stiff with what doctors first thought was rheumatoid arthritis. Within a few years her skin had grown so rigid, it was hard for nurses to insert needles into her arm. "The disease started with her kidneys," says her son Adam, 26, a restaurant manager. "Then it froze up her esophagus. It scarred her lungs and heart. Her body couldn't take it anymore."
Adam and his grandparents gave Saget their full support in bringing For Hope to TV. To them, the pain has % been worth it if the broadcast increases awareness of and research into the disease. "It's a solvable thing," Saget says. "You just have to believe you can do it."
Contributors:
Elaine Showalter,
Danelle Morton.
FOR A FEW HOURS ON THE AFTERNOON of Thurs., Oct. 31, Jenny Jones took the stand in a courtroom in Pontiac, Mich. This was, in a sense, a nightmarish reversal of her awn. Jenny Jones Show—the host on display in a guest's chair without a script. Looking somber but not unduly so (and appropriately de-glammed, as if her makeup person had quit before finishing the job), Jones seemed to sleepwalk through questions about her program. Apparently your average Russian czar was better informed about the condition of the serfs than Jones is about the show that bears her name.
Advertisement
Treat Yourself! 4 Preview Issues
The most buzzed about stars this minute!