People Top 5
LAST UPDATE: Tuesday February 10, 2015 01:10PM EST
PEOPLE Top 5 are the most-viewed stories on the site over the past three days, updated every 60 minutes
Top 10 Players Under 35
The Baton Has Been Passed from the Generation That Launched Kevin Costner and Michelle Pfeiffer to the One That Spawned Chris O'Donnell and Sandra Bullock. In Hollywood, a New Breed of Powerhouse Is Calling the Shots
BRAD Pitt
Whether he's playing a Hard-bodied hustler (
Thelma & Louise
), a rustic Romeo (
Legends of the Fall
) or a vengeful prosecutor (
Sleepers
),
Brad Pitt
, 32, sends heart rates—and box office grosses—skyrocketing. "He has enormous sexual magnetism," says Alixe Gordin, the casting director for Pitt's recently completed
The Devil's Own
.
He also has a reported $17.5 million paycheck for his forthcoming film.
Meet Joe Black
, a 32-room spread in the Hollywood Hills, a stunning significant other (
Gwyneth Paltrow
) and enough clout with audiences virtually to guarantee even a weak film a blockbuster opening. Says his
Twelve Monkeys
producer Chuck Rovan: "Brad could open a phone book."
#2 Sandra BULLOCK
Watching your salary jump from $200,000 to $12 million a picture might be satisfying enough for some actresses. Not
Sandra Bullock
. Though Forbes magazine ranked her 40th on its annual list of the top-paid entertainers (with a 1995-96 income of $25 million), Bullock, 32, shows no sign of kicking back. She'll be seen romancing Chris O'Donnell in the film
In Love and War
in January, and next summer she'll return in
Speed II
.
She also created her own production company and wrote, directed and produced a 40-minute short,
Making Sandwiches
, featuring her
A Time to Kill
costar (and frequent companion)
Matthew McConaughey
. "I'm very work-ethic oriented," Bullock told PEOPLE last spring. That, along with a lack of pretension (she has been known to get crew members coffee), has industry types clamoring to work Nth her. "I have an Oscar on my mantel," says Irwin Winkler, who directed her in
The Net
, "but of all the experiences I've had, she was the best."
#3 Jim CARREY
He's a joker, And a smmmmmoker! And with six consecutive films, with a collective gross of $667 million, Jim Carrey, 34, is one of Hollywood's surest bets. Since wowing audiences with his goofball talents in
Ace Ventura: Pet Detective
, Carrey (who wed his
Dumb and Dumber
costar Lauren Holly Sept, 23) has been cranking out lowbrow blockbusters and cranking up his per-film paycheck. (He's reportedly earning $20 million for next year's
Liar, Liar
.
Even the lukewarm reception he got for
The Cable Guy
can't cool his star. "It was like a slice of ginger on the palate of America," says
Ace
director Tom Shadyac. "It taught people you can't know what to expect from Jim."
#4
Winona RYDER
She has starred in 19 films and earned two Oscar nominations (with another likely for her role in December's
The Crucible
), but Ryder is almost as respected for what she hasn't done. "Winona never went through that craziness that a lot of young stars do," says her
Little Women
producer Denise DeNovi. "She never had substance abuse problems or went crazy with money. She has managed to stay very grounded." Which may explain her clout. At just 25, she can green-light a project and is starting to produce her own films. Says DeNovi: "When you think of her age and her body of work, it's mind-boggling."
#5
Drew BARRYMORE
She has made headlines for her party-girl antics, her six-week marriage to Welsh bar owner Jeremy Thomas and for baring her breasts on Letterman. But after confident performances in films such as
Boys on the Side
and
Mad Love
, Barrymore has lived down her reputation and is taken seriously as an actress. She has a $3 million-per-film asking price and roles in such diverse projects as Woody Allen's
Everyone Says I Love You
and Wes Craven's
Scream
.
In 1994 she formed her own production company, Flower Films Inc., because, she says, "I don't want to be one of those people on the sidelines bitching and complaining about this crazy town." It's all pretty impressive for a 21-year-old, but as
Scream
producer Cary Woods notes: "Drew lives in dog years."
#6 Chris O'DONNELL
Talk about a boy wonder. Just nine years after being discovered in a McDonald's commercial, Chris O'Donnell has graduated from fast food to Hollywood's fast track. The 26-year-old costar of Scent of a Woman and Batman Forever "can get a movie green-lighted," says Brian Grazer, who produced O'Donnell's The Chamber. That influence is likely to increase with O'Donnell's next projects: the Hemingway romance In Love and War with
Sandra Bullock
(due in January) and next summer's Batman and Robin. The key may be the Winnetka, Ill., native's midwestern charm (he still dates longtime girlfriend Caroline Fentress). Says Grazer: "He's an actor men want to like and women want to have a romance with."
#7
Will SMITH
The two platinum albums weren't enough. Neither was the hit NBC sitcom that ran for six seasons. Will Smith had one goal: "He wanted to be in movies," recalls former rap partner Jeff "Jazzy Jeff" Townes. Mission accomplished. After proving his acting skills in 1993's
Six Degrees of Separation
—and his box office draw in last summer's
Independence Day
—the former
Fresh Prince
, 28, is ready to rule. Smith, who dates actress Jada Pinkett, will be seen next in the Spielberg action-comedy
Men in Black
. "Will Smith is a rocket ship," says NBC Entertainment president Warren Littlefield. "He took off and just kept going."
#8 Quentin TARANTINO
Quentin Tarantino, 33, can be almost as manic as his film characters. Though best known for writing and directing 1994's
Pulp Fiction
(for which he won a screenplay Oscar), Tarantino also acts (
From Dusk Til Dawn
), produces (
Curdled
, starring Billy Baldwin) and even distributes films (the rereleased 1975 female-gang flick
Switchblade Sisters
). "Maybe the media thinks he should be making important films, but for him everything's important," says pal Jerry Martinez. All that dabbling makes Tarantino a Hollywood powerhouse. "Probably nobody out there is on his level," says Miramax Films cochair Harvey Weinstein. "Even Spielberg doesn't act."
#9 Jamie TARSES
Jamie Tarses's résumé reads like a Nielsen Top 10 list. During eight years at NBC, she worked her way up from production assistant at
Saturday Night Live
to NBC senior vice president and helped develop hits like
Friends
,
NewsRadio
and
Mad About You
. Lured to ABC last June, Tarses, 32, became the youngest person and the only woman ever to run a major network entertainment division. The fate of series rests in her hands, but Tarses is modest about her clout: "We're not curing cancer here. Those are the people with power."
#10
Demi MOORE
So
Striptease
flopped. With $100 miltion-plus hits like Ghost, A Few Good Men and Indecent Proposal under her G-string,
Demi Moore
, 34, needn't worry. "Sometimes the magic works, sometimes it doesn't," says Irwin Winkler, who produced Moore's 1996 film
The Juror
. "She's got a wonderful record of box office successes."
She also has a nine-year marriage to actor
Bruce Willis
, three daughters, her own-v production company (her latest project was the highly rated HBO abortion film
These Walls Could Walk
) and the record for the biggest per-film pay-check for an actress ($12.5 million for
Striptease
). With her next film,
Navy Cross
, due next spring, Moore's position in Hollywood seems safe. Says Winker: "She's going to be around for a long time."
Advertisement
Today's Photos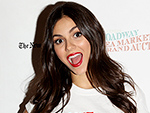 Treat Yourself! 4 Preview Issues
The most buzzed about stars this minute!