People Top 5
LAST UPDATE: Tuesday February 10, 2015 01:10PM EST
PEOPLE Top 5 are the most-viewed stories on the site over the past three days, updated every 60 minutes
The Terminator
Chainsaw Al Dunlap's Success Secret? He Fires People


ON HIS FIRST DAY AS BOSS OF THE ailing paper-products company Lily-Tulip, Albert J. Dunlap called in the nervous senior officers. "I kept my remarks simple," he recalls in his autobiography, Mean Business. Pointing to two of the group, Dunlap issued his first executive command: "You two stay—the rest of you are fired. Goodbye." Eleven years later, hired to salvage Scott Paper, another troubled corporation, Dunlap asked an executive about the corporate morale officer. Her job was to ensure harmony in the executive suite, he was told. "The hell with harmony," Dunlap snapped. "Get rid of her."

To happy shareholders, Dunlap, 59, is a corporate savior who rescues companies on the brink of collapse; to many employees, he's America's meanest boss. Either way, the plain-talking son of a New Jersey shipyard worker continues to live up to his reputation as Chainsaw Al, a man ruthlessly skilled at downsizing clunky corporate giants. Named chief of the troubled Sunbeam Corporation in July, Dunlap announced last week that he was laying off half of its 12,000 workers and eliminating 30 of its production and warehouse sites.

"Business is tough, damn tough," he says. "There shouldn't be an Al Dunlap. There is because someone else has made a horrible mess." As was the case, he says, at Sunbeam, which Dunlap recently described to a hushed gathering of shareholders as "a basket case" in need of either him or Dr. Jack Kevorkian. Still Labor Secretary Robert Reich said, "There is no excuse for treating employees as if they are disposable pieces of equipment."

There have been plenty of faltering companies to fix since Dunlap began specializing in bloody but successful corporate turnarounds in the late 1960s. His most spectacular—and controversial—rescue began in 1994, when he was named head of Scott Paper. Within 20 months, he had fired 11,200 employees—35 percent of the company's work force. But he also paid off the company's staggering $2.5 billion debt, made himself a hero on Wall Street and pocketed $100 million in salary and stock.

To Scott Paper veteran Rick Floyd, 48, whose entire information-services department disappeared during the restructuring, Dunlap is no hero. Scott had been known for community involvement and charitable support—both anathema to Dunlap. The company "was always like a family," Floyd says, "and Dunlap was like the evil stepfather coming in and destroying it." Adds David Cohen, chief of staff to Philadelphia mayor Edward Rendell, who unsuccessfully fought Dunlap's decision to move Scott headquarters from Pennsylvania to Florida: "Virtually all other companies in Philadelphia have figured out a way to strike some sort of balance between community responsibility and responsibility to shareholders. I don't think he has a social conscience."

So who is this guy? Dunlap describes his upbringing in Hoboken, N.J., as decidedly blue-collar. "The first home I remember living in was a basement apartment under a beauty parlor," he says. He recalls that when work was slow at the shipyard and his father was let go, "it just broke his heart." (Dunlap bridles at accusations that he relishes firings, saying, "No one wants anyone to lose their job.") It was a boyhood dream come true when Dun-lap was accepted at West Point in 1956, but he found its discipline—and academic focus on engineering—daunting. "I'm a terrible engineer. I really was interested in law, English, international relations," says Dunlap, who graduated 537th out of his cadet class of 550.

After serving three years as an Army officer and fathering a son (Troy, now 33, a concert security manager in Seattle) during a short-lived marriage to a New York model, Dunlap found a job as a management trainee at paper manufacturer Kimberly-Clark. Four years later, at 29, he was hired to run a family-owned Wisconsin company, Sterling Pulp & Paper. So impressed was owner Ely Meyer with Dunlap's savvy and style that he introduced Dunlap to Judy Stringer, an Eau Claire, Wis., bank employee. They married in 1968. Life with Dunlap (who admits he is "not good at lifestyle") has been "exciting, fun—a roller coaster," Judy says. "Once he got ahold of me and got me out of Eau Claire, our feet seem to have never touched the ground."

Over the years, he headed a string of troubled corporations, ranging from American Can Co. to billionaire Kerry Packer's Australian National Industries. His reputation as a corporate makeover master was sealed when he was named CEO of Scott Paper. It was there that he promptly reversed a long tradition of encouraging executives to perform community service and canceled $3 million in pledges to charities. "I have one constituency," Dunlap says—not communities, not customers, not employees. But shareholders. "They take all the risk. They're the moms and pops of America, they're the pension funds." Alyssa Machold, deputy director of the Council of Institutional Investors, which represents 100 pension funds, agrees that many companies need trimming, but criticizes Dunlap's scorched-earth approach. "How you do it is just as much a question as if you do it," she says.

Yet, according to Judy Dunlap, even a wrathful workaholic with the hide of an elephant can have a soft side. "Al's like a big kid," she says. "When we first got married, I had gone out with some gals for a Christmas dinner, and I came home and caught him unwrapping his presents and trying to wrap them up again." At home at their 6,000-square-foot Moorish-style house in Boca Raton, Fla.—"My closet is about the size of the bedroom I grew up in," jokes Al—the couple, childless by choice, play tennis and dote on their beloved German shepherds, Brit and Cadet. "If you want a friend, get a dog—I've got two," counsels Dunlap.

But it's not friends Dunlap is after; it's more money. "Would I love to be a billionaire?" he asks. "Yeah, because it would say I achieved [something] that everybody said was beyond somebody like me." And even as he is wielding his machete at Sunbeam, his eye is on the biggest giant around, one he would relish hacking down to size: General Motors. Opines Chain-saw Al: "They've desperately needed it for a long time."


The king of pink slips, he makes no apologies
Advertisement
Today's Photos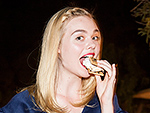 Treat Yourself! 4 Preview Issues
The most buzzed about stars this minute!