People Top 5
LAST UPDATE: Tuesday February 10, 2015 01:10PM EST
PEOPLE Top 5 are the most-viewed stories on the site over the past three days, updated every 60 minutes
Picks and Pans Main: Song
Talking With...
With holy rock and rollers like Kirk Franklin and dc Talk racking up CD sales in the millions, God has become one hot musical commodity. So Whitney Houston's gospel soundtrack to her latest film, The Preacher's Wife, is perfectly timed. While offering hymns of praise, though, she also seems to be challenging critics who have long accused her of being a soulless, airbrushed ice queen.
For the first time in her 12-year recording career, Houston sounds genuinely moved by her material. Early on she stumbles through the Annie Lennox-penned "Step By Step," but the presence of the Georgia Mass Choir on six subsequent tracks melts her frosty reserve.
Still, for all of Houston's newly acquired grit, she's no Mahalia Jackson. When her gospel-singer mom, Cissy Houston, solos on "The Lord Is My Shepherd," and eight-time Grammy winner Shirley Caesar pops up on "He's All Over Me," not only do the older performers blow Whitney away with their authority, but they tempt you to seek out their albums for the gospel truth. (Arista)
Joe Lovano
Over the last few years the gentle heft and dazzling fluidity of Joe Lovano's tenor saxophone have become one of the wonders of jazz. At 44, the Cleveland native is at his peak, and the bigger the canvas, the better. This beautifully textured salute to the greatest pop singer of all time is, in a word, great.
Marshaling a small ensemble of strings, horns, saxophones and other woodwinds, veteran arranger Manny Albam has drawn from the legacy of early Sinatra arrangers Alex Stordahl and Gordon Jenkins to create an elysian landscape in which the burly-sounding Lovano can romp and, at the top of his range, skitter. The songs are all familiar yet freshly imagined. You won't hear a better "Imagination" or "All the Way," which Lovano frees from the usual sug-arcoating. "Chicago" is done as a duet with drums in a tumbling style that dips into Coltrane complexity. "One for My Baby" becomes more than a blinking neon glimmer on the melting cubes of another highball. Lovano does what Sinatra did. He raises it to tragedy. (Blue Note)
Jerry Garcia and David Grisman
Even during his long, electrified sets, Jerry Garcia would slip in a lick or reference to the traditional music he loved. After all, he played in Mother McCree's Uptown Jug Champions before forming the Grateful Dead. In the last five years of his life, he'd leave messages for his friend, mandolinist David Grisman, inventor of a jazz-flavored brand of bluegrass he called Dawg music: "Hey, Dawggie, this is Papa Doc Garcia. I know you're in there, damn it!" Soon they'd be in Grisman's Mill Valley, Calif., studio pickin' guitars, mandolins, banjos, anything with strings. Fortunately—and not just for Deadheads—Grisman got it all on tape.
On Shady Grove, the first album in a series culled from the sessions, the interplay between Garcia's guitar and Grisman's mandolin imparts new musical nuances to 13 traditional folk songs, including "Down in the Valley" and "Whiskey in the Jar." Garcia's voice sounds its quavery best on slow, tragic tunes like "Fair Ellender" and "Dreadful Wind and Rain"—the latter a surreal affair in which a murdered woman's body is reconstructed as a fiddle. Garcia fans will also recognize "Jackaroo," as the Dead concert staple "Jack-A-Roe" and "Casey Jones," the folk song that inspired the Dead's familiar, more intoxicated send-up. (Acoustic Disc)
Al Anderson
The gas station reference in this CD's title is appropriate because Anderson will remind you of your auto mechanic. He may not be the flashiest of guys, but he knows how to tinker around and get the job done. This third solo album from the former NRBQ singer and songwriter purrs along smoothly, showcasing country-fried rock that twangs like Merle Haggard and also pounds the floor with rocking melodies. It's no surprise that the first tune, the lively "No Place in History," was cowritten with John Hiatt, because Anderson's music is more than a little like Hiatt's. From the bounce of "Bang Bang Bang" to the jangle of "It Came from the South," Pay Before You Pump is a pleasant little surprise that never breaks down. (Imprint)
>Carl Perkins
THE SUN STILL SHINES
Forty years have passed since he warned people not to step on his "Blue Suede Shoes," but at 64, Carl Perkins is still laying down the law. On his new CD, Go Cat Go (Dinosaur), the rockabilly pioneer performs with George Harrison, Tom Petty, Paul McCartney, Willie Nelson and Paul Simon, among others. It's a formidable list, but for Perkins—who played alongside fellow Sun Records luminaries Elvis Presley, Jerry Lee Lewis and Johnny Cash in the '50s—working with the top names in music is just another day on the job.
When did you first see Elvis?
After I heard his first record. He filled in his show imitating other people, and he could do it very well—Hank Snow, Bill Monroe, Dean Martin. I said, "Good gracious, he's a good-looking guy—and he moves!" As he made his exit, he got tripped up in Scotty Moore's guitar cord and fell flat on his butt.
How did your song with George Harrison come about?
The night before I left home [in Jackson, Tenn.] to go to England, I sang to my wife, Valda, "While I'm over there, you'll be over here/ But we're in love, so have no fear/'Cuz distance makes no difference, girl, with love." She said, "That's beautiful, Carl." I had the song on my mind on the flight over.
What made Sun Studios special?
A lot of the guys say, "Carl, that studio is magic." It does have a mystique about it, I guess; it does pull out the best that's in an artist. But if you're expecting magic, you better take it in there with you. It's four walls and three or four microphones and you.
Contributors:
Jeremy Helligar,
Eric Levin,
Lyndon Stambler,
Craig Tomashoff,
David Goldman.
Original Soundtrack Album
Advertisement
Today's Photos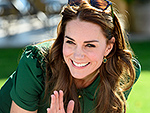 Treat Yourself! 4 Preview Issues
The most buzzed about stars this minute!