Archive Page - 12/1/12 39 years, 2,079 covers and 53,260 stories from PEOPLE magazine's history for you to enjoy
On Newsstands Now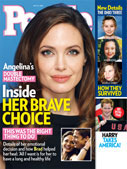 Angelina: Inside Her Brave Choice

New Details on the Ohio Three

Prince Harry Takes America!
Pick up your copy on newsstands
Click here for instant access to the Digital Magazine
People Top 5
LAST UPDATE: Saturday May 18, 2013 08:10PM EDT
PEOPLE Top 5 are the most-viewed stories on the site over the past three days, updated every 60 minutes
Tom Cruise
and
Katie Holmes
keep it together while he films on three continents
Who said it wouldn't last? Despite intense weeks filming
Mission: Impossible 3
—currently in L.A. after shooting for two weeks in Italy—
Tom Cruise
still can't wait to hook up with fiancée
Katie Holmes
at work. Case in point: On Aug. 10 outside a soundstage, "Katie and Tom smiled big, toothy grins and leaned in to kiss," says an observer. "It wasn't just a peck either—it was really passionate." Holmes frequents the L.A. set and even brought her sister Nancy for a visit. (Cruise's other guests? His kids Isabella and Connor, who often stop by during dinner breaks.) The rumor of a Mexican wedding, says Cruise's rep, is "a completely made-up story. They're planning their own wedding." But the couple do have travel plans:
M:I3
is set to film in Shanghai this fall.
MARCIA MEETS HER MATCH
What's the next role for
Desperate Housewives
star Marcia Cross? Real-life wife. The redheaded actress—who last year denied rumors that she was a lesbian—recently accepted a proposal from her boyfriend of eight months, investment banker Tom Mahoney, 47. "She's over the moon," says costar
Eva Longoria
. "I'm so excited for her. It's so beautiful to see her this happy and so in love." The never-married Cross realized Mahoney was "a keeper" when he played word games with her in bed the night before the Emmy nominations were announced in July (she snagged her first nod). "He told me the next day he was doing it so I wouldn't be nervous. It was very sweet." And will Mrs. Mahoney be anything like Mrs. Van De Kamp, the perfect homemaker Cross plays? Don't count on it. "I don't cook," Cross said earlier this year. "I'm oh-so messy, it's awful."
Bo Falls Ill
Hours before the American Idols Live performance in Las Vegas Aug. 18. Idol runner-up Bo Bice reported feeling queasy. He was soon taken to Desert Springs Hospital for emergency surgery to remove an intestinal blockage. Still hospitalized at press time, "Bo looks good, and he's feeling much better," a source close to the singer says, Fellow
Idol
contestants are singing "Sweet Home Alabama" in his honor as the tour goes on.
TWO HEAD CASES
Apparently, working on TV requires a Watch Your Head sign. On Aug. 22 Jennifer Love Hewitt suffered a mild concussion when she was accidentally hit on the head by a chair during a reading for her new CBS series
Ghost Whisperer
. On Aug. 17
Eva Longoria
was filming
Desperate Housewives
when a metal pipe fell on her head. Longoria was treated at a hospital, but her ex-beau JC Chasez may be causing her more headaches. A source says his new CD, due out early next year, is inspired by his relationship with her and features songs about their less-than-happy breakup.
Doggie Gag?
Despite appearances,
Pamela Anderson
's dogs didn't really get married on the beach in Malibu last week (she admitted it the following day). Most likely scenario: All concerned were part of an upcoming movie by comedian Sacha Cohen, a.k.a. Ali G., who was "ejected" from the area while posing as a crasher.
HEATHER AND JOSH'S COZY DINNER
Heather Graham and Josh Lucas sure looked cozy over sushi dinner at Koi on Aug. 18. After arriving separately, the pair shared several plates and chatted up a storm. "He was waving his hands around, telling funny stories and patting her on the head, while she was laughing," says a fellow diner. "It was very cute. It definitely looked like they were on a date." The two wrapped up close to 10 p.m., and took turns exiting to avoid being photographed together. Says his rep: "They're good friends and have been for a while."
Courtney's Rehab Relapse
At 11 p.m. the night before Courtney Love's Aug. 19 court appearance for violating her probation by testing positive for drugs, the rocker had a crisis: Her hair, she deemed, wasn't fit for the judge. She called in a stylist from Privé salon to tidy up her locks, but alas, her fresh look didn't seem to sway His Honor. Love, 41, was ordered to complete 28 days of residential rehab—she checked in later that afternoon—and could face jail time if she doesn't show signs of progress by her next hearing on Sept. 16. "She had a relapse," says her lawyer, adding that Love's daughter Frances Bean is now in the care of family members. "She has every intent on continuing to stay clean and sober."
SACHA COHEN, THE WEDDING CRASHER
It's in the Stars
The gender of
Britney Spears
's soon-to-be-born child is almost as big a mystery as her choice in maternity clothes. She's not saying, and, in what appears to be an effort to throw snoops off the track, she's been shopping for togs for both boys and girls in recent weeks. What's a frustrated Spearsologist to do? Scoop turned to the stars—or rather, top psychics, astrologers and spiritualists—for an answer. Their verdict: It's unanimous. Their scientific methods? Let's just say, you gotta believe.
Astrologer: Zoltana, N.Y.C.
Prediction: Boy
Reason: "Her moon is a female planet, and it's in a male sign—Leo. The ruler of, the fifth house is the moon, and it's in a masculine sign. I'm going to say it's a male child."
Web Psychic: Justine Kenzer, of PsychicGirl.com, L.A.
Prediction: Boy
Reason: "I see a male energy connected to her...this is a spirit that she has known and been connected to for a long, long time...as far back as Egypt, even Atlantis."
Spiritual Minister: Rev. Dawn Casseday, Cassadaga, Fla.
Prediction: Boy
Reason: "When I see Britney, I see the color blue. Right now, I have chill bumps all over my arms, which tells me that I am accurate."
Astrologer: Celine, Astrology by Celine, N.Y.C.
Prediction: Boy
Reason: "The vibrations that I feel tell me it's a boy."
Psychic: Gia, of Psychic Predictions, N.Y.C.
Prediction: Boy
Reason: "Her stomach is carrying very high."
An Alias Exit?
Michael Vartan devotees have launched a movement to keep the actor on Alias for a fifth season in the wake of rumors that his character Michael Vaughn may soon be killed off. (Last season ended with Vaughn in a car crash. In real life Vartan no longer dates costar
Jennifer Garner
, left, now married to
Ben Affleck
.) The campaign Web site, www.mvcampaign.com, asks fans to boycott the show's sponsors, raise money for an ad in a Hollywood trade publication and write letters to the show. "Hell hath no fury like the fans scorned," wrote one supporter on the Web site's forum. ABC has reportedly been deluged as a result. But will Vartan survive to see the season premiere Sept. 29? "We have no comment," said a rep for the network, "but it's going to be a terrific episode."
POP QUIZ
Four Brothers'
Mark Wahlberg
Mark Wahlberg would prefer to be teeing off on the nearest golf course. Luckily for Scoop, the actor stopped to chat with us instead about his role as a violent thug avenging his adoptive mother's death in
Four Brothers
,
Entourage
—the HBO comedy loosely based on his life in La-La Land—and his real-life crew of one: daughter Ella Rae, who turns 2 on Sept. 2.
How has having a daughter affected you?
It changes every aspect of your life, and every one for the better. Last night was rough because she didn't feel good. She spit up. So I tucked her in with her Get Well Elmo. He's got a cast and a Band-Aid on his leg.
Why don't you ever show up on Entourage?
I did the cameo in the pilot, but I've been [filming movies] since January, so I wasn't available to do anything this season. Next season, I'll direct an episode.
Are you surprised Emmy nominee Jeremy Piven has stolen the show as superagent Ari Gold?
Not at all! [When we were casting] I told him, "Don't be a knucklehead and not do this." I told him he'd get nominated for a Golden Globe and an Emmy. Both things happened. I love telling him, "I told you so."
How are you preparing to play a 30-year-old teacher who breaks into the NFL in
Invincible
?
We've been [training] at camp with NFL guys, four hours a day. Full contact, the whole deal.
Your character in
Four Brothers
is an antihero. Who are your favorite antiheroes in the movies?
[Robert] De Niro in
Taxi Driver
. Al Pacino in
Dog Day
Afternoon. [James] Cagney—he's like my dad, and I identify with him. I don't identify with guys that look better than the girls starring with them.
What do you love about De Niro in
Taxi Driver
?
That's going to give you a little too much insight into my own twisted mind.
You've said you're thinking about leaving Hollywood. Still true?
I'd rather be playing golf. And I have a little girl. Those things are more important. But I have a couple of movies I want to make. We'll see.
ON THE BLOCK
CHRISTIE'S COUNTRY HOUSE
PRICE: $30 million
PLACE: Bridgehampton, N.Y.
Christie Brinkley is saying goodbye to her 20-acre Hamptons spread. The 11-bedroom estate—which was renovated by the former supermodel's architect husband Peter Cook in 1998—features a greenhouse, a 75-ft. pool, a four-bedroom guest house, a tennis court and a heated four-car garage. A 50-ft. tower provides ocean views.
Contributors:
Olivia Abel,
Rennie Dyball,
Marisa Wong,
Hillary Atkin,
Carrie Borzillo-Vrenna,
Tom Cunneff,
Dede Gallagher,
Chris Gardner,
Alison Singh Gee,
Steve Helling,
Amy Longsdorf,
Ken Lee,
Tiffany McGee,
Gail Nussbaum,
Monica Rizzo,
Brenda Rodriguez,
Pamela Warri.
THE HEAT GOES ON
Advertisement
Treat Yourself! 4 Preview Issues
The most buzzed about stars this minute!