On Newsstands Now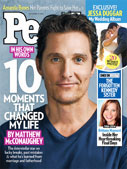 Matthew McConaughey: In His Own Words

Jessa Duggar's Wedding Album

Brittany Maynard's Final Days
Pick up your copy on newsstands
Click here for instant access to the Digital Magazine
People Top 5
LAST UPDATE: Tuesday February 10, 2015 01:10PM EST
PEOPLE Top 5 are the most-viewed stories on the site over the past three days, updated every 60 minutes
Picks and Pans: Movies
Behind the Silliness
Viggo Mortensen, Maria Bello, Ed Harris, William Hurt
CRITIC'S CHOICE




Oscar voters, start your engines.
A History of Violence
is award-worthy, and not because it's big or self-important-it's neither—but because it's one terrific movie. A crackling suspense tale of a small-town diner owner whose past may be far more complicated than his family or neighbors know, it's a look at how people reinvent them-selves and adapt, as well as a sly meditation on movie conventions.
Family man Tom Stall (Mortensen) contentedly spends his days pouring coffee and dishing pie at a cafe he owns in Millbrook, Ind. He and his sexy lawyer wife, Edie (Bello), are pillars of their community. When two murderous thugs hold up his diner and threaten customers, Tom, operating on instinct, disarms and kills them both. National TV-news shows crown him a hero, but soon an unsavory gangster (Harris) shows up in Millbrook and threatens Tom, insisting that the hash slinger once slung deadlier weapons.
Directed with visceral flair by David Cronenberg (Spider), Violence delivers all the pulpy satisfactions of an old-fashioned thriller while providing viewers with plenty to chew on afterward. Its characters keep revealing unexpected sides of them-selves. And did I mention that the sex scenes-there are two of them, each wildly different in tone—are as hot as anything onscreen in years? Mortensen, out from under his Lord of the Rings stringy long hair and beard, gives a nuanced, pitch-perfect performance, and Bello is equally impressive. Harris, sporting a disfigured face, is all menacing wit as a bad guy, while Hurt shows up late in the film for a bravura turn. This History lesson is not to be missed. (R)
FAMILY
Bow Wow, Chi McBride, Meagan Good




Roller disco lives in this delightful, unpretentious movie about a teenager training for a big skating contest. It's the summer of'78 (pre-Rollerblades) and Xavier Smith (Bow Wow), who lives with his widowed dad (McBride) and younger sister in a working-class section of Chicago, is practicing smooth dance moves that he and his buddies can show off at the rink.
Roll Bounce
, directed by Malcolm D. Lee (Undercover Brother), gets its period setting right, from its Afros to its knit shirts to its clunky shoes. But most important, the movie's heart is in the right place. (PG-13)
DRAMA
Tom Wilkinson, Emily Watson, Rupert Everett, Linda Bassett




When a wealthy London lawyer (Wilkinson) learns the hard way that his marriage (to Watson) isn't as tranquil as he'd thought, this English drama wants us to know that even the stiff upper lips of the upper class can tremble. While skillfully acted, particularly by Wilkinson, Lies is such a carefully manicured, minia-turist work that at the end one half-expects to hear Peggy Lee singing, "Is That All There Is?" (R)
COMEDY
Tilda Swinton,
Keanu Reeves




Does anyone ever really grow up? In this appealingly oddball comic drama, Justin Cobb (Lou Pucci) is still sucking his thumb at 17. His folks (Swinton and Vincent D'Onofrio) and the other adults around him disapprove, but they're in many ways as emotionally confused and unformed as he is. This coming-of-age tale, based on a novel by Walter Kirn, shows Justin trying hypnosis, Ritalin, drugs and sex as thumb substitutes but finally thumbing his nose at all of'em. Swinton is excellent as the boy's bemused but loving mom, and Reeves gets laughs as a preachy New Age orthodontist. (R)
COMEDY-DRAMA
Elijah Wood, Eugene Hutz, Boris Leskin




The good news regarding
Everything Is Illuminated
is that talented actor Liev Schreiber (
The Manchurian Candidate
) is a born director. In his debut film (for which he also wrote the screenplay, adapting Jonathan Safran Foer's best-selling 2002 novel), he shows a distinctive sense of how to frame a scene, develop a character and set a mood. And unlike many other thespians who go behind the lens, Schreiber doesn't allow his cast to wallow in chest-thumping, actory moments.
The movie (eliminating big chunks of the book) concentrates on the journey a young American (Wood) takes through Ukraine to find the woman who saved his Jewish grandfather from the Nazis. His guides: a local would-be hipster (Hutz) and the man's surly, non-English speaking grandpa (Leskin). Much of this is funny, some of it touching, and all worth watching. A pallid Wood mostly acts by widening his eyes from behind his grotesquely giant glasses, but Hutz and Leskin turn in affecting performances. (PG-13)
COMEDY
Paul Reiser, Peter Falk, Olympia Dukakis




Midway into their meandering road trip, dad Falk and son Reiser drive away their bored female dinner companions with yet another round of bland reminiscences. After all, who wants to listen to a father and son rehash their dull—and perfectly ordinary—past for an hour and a half?
It's a question that TV vet Reiser—who wrote the sitcommy script in which mom Dukakis's Dear John note prompts him and Falk to hit the road so they can predictably bicker and bond—should have pondered. Instead, he channels his tired Paul Buchman persona for what is basically Mad About Dad. Only the curmudgeonly Falk, as comically spry as ever, makes Folks fun. He infuses the film with much-needed heart but is working way too hard for a character whose primary arc revolves around flatulence. (PG-13)
Bobby Farrelly
As
Fever Pitch
hits DVD, the director, 47, looks back on his and his brother Peter's most infamous film moments.
ON FILMING FEVER DURING THE BOSTON RED SOX'S 2004 CHAMPIONSHIP RUN We were terrified the Red Sox would blow it like they typically do and we would be blamed. The fans and media in Boston are always looking for someone to point the blame at. The fact that they won made us feel like we're blessed, but, man, we dodged a bullet!
ON JEFF DANIELS'S DUMB AND DUMBER TOILET HUMOR I'm still surprised we got Jeff to do it. On the day of shooting, if a respected actor like Jeff says, "I don't want to," it' hard to say why he should. We talked to him beforehand and said, "If you've got any problem, speak up now." He never blinked an eye, and we've always been grateful.
ON
CAMERON DIAZ
'S "HAIR GEL" SCENE IN THERE'S SOMETHING ABOUT MARY At our insistence the MPAA watched it with an audience and determined that it wasn't sexual; it was done comedically So they let us skate by with an R.
ON KINGPIN'S "BULL-MILKING" SCENE When you're auditioning animal wranglers, they tell you their animals can do whatever you want. We had a live bull there. We had been told, yeah, it's tame. The day we're shooting, the guy told us, "You can't go anywhere near that bull!" Somehow we made it work.
Contributors:
Leah Rozen,
Jason Lynch.
THRILLER
Advertisement
Today's Photos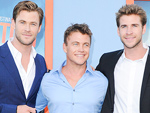 Treat Yourself! 4 Preview Issues
The most buzzed about stars this minute!