On Newsstands Now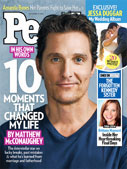 Matthew McConaughey: In His Own Words

Jessa Duggar's Wedding Album

Brittany Maynard's Final Days
Pick up your copy on newsstands
Click here for instant access to the Digital Magazine
People Top 5
LAST UPDATE: Tuesday February 10, 2015 01:10PM EST
PEOPLE Top 5 are the most-viewed stories on the site over the past three days, updated every 60 minutes
Picks and Pans Main: TV
New on DVD
ABC (Tuesdays, 9 p.m. ET)




Is Geena Davis qualified to lead America? Anyone who looks so commandingly crisp in power clothes could probably get the 22nd Amendment revoked and stick around for an added term. And go shoe-shopping with Condi Rice. Draping a long overcoat over her long silhouette, Davis looks as if she has the height to match her head against the men on Mount Rushmore. There's probably more to her performance as the first woman President than these externals, but Davis is an actress of real physicality. That's what drives her through the premiere, anyway, unswervingly as a limo down Pennsylvania Avenue.
The show itself is a diverting, silly potboiler, a bold cartoon with none of the staffers' anxious beetle scuttling that gives NBC's venerable
The West Wing
a sense of verisimilitude. This is more like The Federalist Papers as written by Star Jones. Vice President Mackenzie Allen upgrades to the Oval Office after the President, a Republican, dies of an aneurysm. Her problem is the GOP doesn't like her, never liked her—she's an independent who was picked solely to give some novelty to the ticket—and now party leaders want her to step aside so the job can go to the Speaker of the House. He's played by Donald Sutherland with a rooster's comb of white hair and an amiable wiliness: It wouldn't take much to imagine him chortling over a list of names he'd like to see (in the recent words of one religious leader) taken out. Allen refuses to step aside and gives a speech of stirring blather to Congress.
There's some dramatic tension and gender comedy involving her husband and ex chief of staff (Kyle Secor), now relegated to First Lady. At one point he stares at a portrait of Nancy Reagan with a look of dread. He obviously had greater policy aspirations than hugging Gary Coleman.
COMEDY
NBC (Tuesdays, 9 p.m. ET)




Earl, a scruffy lowlife, decides to reform after winning $100,000 in the lottery. Taking as his new credo the idea that good comes of doing good—he hears Carson Daly talking about karma on Last Call—Earl compiles a list of 259 rotten things he's done and sets out to make up for the past, deed by dirty deed.
This is a sitcom about a holy fool, which also means it's a sitcom with a central piece of miscasting. Jason Lee (
Almost Famous
) is a good comic actor, a performer who gives off both a vibe of lazy humor and an aura of relaxed cool. Any network would be crazy not to want to build a sitcom around him and then promote the thing with similar craziness. But Lee may lack the essential sweetness, or pathos, to make Earl ever seem like more than a cute variation on those lovable, loquacious losers who tumble, beer can spurting, through Coen brothers movies. Earl's quest, which starts in the premiere with a visit to a shy gay man he tormented in grade school, isn't authentically uplifting or funny, just perversely willful. If it'd been
Oprah
instead of Carson Daly on the TV, Earl would have come up with some more productive form of philanthropy.
DRAMA
NBC (Fridays, 10 p.m. ET)




Jonathan Cake, the British actor who creased his brow so sternly in this summer's Empire, is back, still creasing the brow but also drawing up the corners of his mouth to smile. It's progress. He plays Dr. Malcolm Bowers, a fertility specialist and committed playboy. He resembles
Nip/Tuck's
Dr. Christian Troy, only skilled in a field of even more troubling intimacy. The new partner in his clinic is beautiful Nora Campbell (Angie Harmon, whose stare isn't much softer than Cake's, although the smile has flirty warmth). She turns up at the end of the first episode, brought in to perform a procedure so advanced it's not yet legal. Inconceivable is a competent soap built on issues like surrogacy, gay parents—presumably any topic that can be threaded into the spiral of DNA. Does it deliver excitement? So far, no.
DOCUMENTARY
PBS (check local listings, times may vary)




Martin Scorsese directed this four-hour documentary about the singer, now 64 and, lifelong iconoclast or not, a fairly chatty participant in what's basically a glorious slab of hagiography. (And marketing: It's currently being released on DVD too, with a theatrical release to come. The CD's at Starbucks.) But Dylan deserves hagiography: One of the most significant artists of the past century, he took the American folkidiom, fused it with the poetry of the beats and—and—I should stop before I spontaneously combust with excitement.
Scorsese focuses on early Dylan, the kid planting himself at the pinnacle of the '60s folk movement and then discovering, consciously or not, that his talents place him far beyond other protest singers. Scorsese crams in great performance scenes and interviews (Joan Baez is especially articulate, and acerbic) and one goose-bump moment: a montage of Kennedy-era footage as Dylan sings 1963's "A Hard Rain's A-Gonna Fall," an anthem of disaster with the power to evoke atomic war, Katrina, everything.
Desperate Housewives
(ABC, Sept. 25, 9 p.m. ET) They're back! And here comes Bree's pesky mother-in-law (Shirley Knight) for Rex's funeral and a visit.
VH1 Hip Hop Honors
(VH1,Sept.26,9 p.m.ET)
Kanye West
, Snoop Dogg and Nelly salute their forebears: The Notorious B.I.G., Salt-N-Pepa and more.
Sex, Love & Secrets
(UPN, Sept. 27, 9 p.m. ET)
Denise Richards
gets her first TV series. It's a
Melrose Place
-style drama set in L.A.'s Silver Lake.
Arrested Development
(FOX, Sept. 26, 8 p.m. ET)
Jason Bateman finds love—at least five episodes' worth—with the luscious
Charlize Theron
. She plays someone named Rita.
Alias
(ABC, Sept. 29,8 p.m. ET) So begins the terrible question: What's to be the fate of
Jennifer Garner
's costar and ex-boyfriend Michael Vartan on the hit spy series?
THE AMAZING RACE: THE FIRST SEASON (4 discs, $42.99)
Series:




Extras:




When 11 teams of two left New York City on a mad dash around the globe toward a $1 million prize in 2001, it was abundantly clear this Emmy winner was no ordinary reality fare. Confronted with challenges that take them from the sewers of Paris to the Sahara, the contestants still captivate (so do the locales). Extras: Include audio commentaries and unaired footage (billed as "sidetrips") that usually aren't worth the journey.
Contributors:
Tom Gliatto,
Ashley Williams.
DRAMA
Advertisement
Treat Yourself! 4 Preview Issues
The most buzzed about stars this minute!