People Top 5
LAST UPDATE: Tuesday February 10, 2015 01:10PM EST
PEOPLE Top 5 are the most-viewed stories on the site over the past three days, updated every 60 minutes
Picks and Pans: Music
Sounds Off
A Time to Love




In the 10 years since his last studio album, 1995's
Conversation Peace
, Stevie Wonder's influence has been evident on a whole new generation of major R&B talents—from D'Angelo and Lauryn Hill to Alicia Keys and John Legend—who probably started rocking
Songs in the Key of Life
in the cradle. So it's good to finally have the master himself back taking us to higher ground with the much-delayed
A Time to Love
. Thankfully, the new disc finds Stevie being Stevie, continuing to follow his own singular vision rather than the latest trends. (In fact, his sole nod to hip-hop is a subtle use of early emcee Doug E. Fresh as a human beatbox on the rhythmically propulsive opener "If Your Love Can Not Be Moved.") When Wonder joyously brings the funk on the highlight "Please Don't Hurt My Baby," which harks back to his '70s heyday, it's clear that, at 55, he's not ready to rest on his considerable catalog. The soulful sheen of love songs like "Passionate Raindrops" puts the sunshine back in our lives, while Wonder dims the lights to show his jazzy side on ballads such as "Moon Blue" and "How Will I Know." The latter is one of two songs featuring guest vocals by Aisha Morris, Wonder's 30-year-old daughter who, as a baby, was previously heard crying on "Isn't She Lovely." her father's tribute to her. Also showing love for Wonder here are Bonnie Raitt and Prince. Paul McCartney and India. Arie add guitar and vocals, respectively, to the African-textured title track, whose socially aware lyrics ("At this point in history we have a choice to make/ To either walk the path of love or be crippled by our hate") demonstrate why, although this may not be another
Songs in the Key of Life
, it is indeed time for Wonder to return.
DOWNLOAD THIS: "Please Don't Hurt My Baby"
Alicia Keys
Alicia Keys Unplugged




When it comes to performing live, Alicia Keys is the anti-Ashlee. This performance, which took place at the Brooklyn Academy of Music for an MTV Unplugged special that premiered last month, finds the singer-pianist confidently fronting an airtight band as she juices up faves like "Fallin' " and "If I Ain't Got You." The disc also features two solid new songs, including the name-dropping single "Unbreakable," and a gospel-charged cover of Brenda Holloway's "Every Little Bit Hurts." But on the umpteenth version of "Wild Horses," a duet with Maroon 5's Adam Levine, Keys fails to really hit her stride. Still, this should tide fans over until her next studio album.
DOWNLOAD THIS: "Unbreakable"
R&B
Timeless
CRITIC'S CHOICE




Great songs elegantly sung: This is what pop music is supposed to be, and this superb album lives up to the description. By recording these country classics, McBride displays a great sense of history as well as humility. Everyone will find a favorite or two missing. No Willie Nelson songs. No Kitty Wells. Nothing associated with Emmylou Harris. But McBride will also strike many happy chords among fans of Hank Williams ("You Win Again"), Ray Charles ("I Can't Stop Loving You"), Kris Kristofferson ("Help Me Make It Through the Night"), Merle Haggard ("Today I Started Loving You Again") and even Buddy Holly ("True Love Ways"). And while there are no Dolly Parton songs, Parton shows up to harmonize on a poignant version of Johnny Cash's "I Still Miss Someone." Admirably, McBride sings these tunes faithfully, relying on a corps of artful backup musicians, including fiddler Stuart Duncan, steel guitarist Paul Franklin and keyboardist Gordon Mote. She may not be the first to discover these
Timeless
gems, but McBride sure does an excellent job of keeping them alive.
DOWNLOAD THIS: "I Can't Stop Loving You"
COUNTRY
Catching Tales




On
Twentysomething
, his smoky—and smoking—U.S. debut, 26-year-old jazz-pop crooner Jamie Cullum showed his generation that their grandparents' music could be cool. On this swinging follow-up, the old-school piano man continues to put a fresh new spin on the classic cabaret style of the Sinatra set. While on
Twentysomething
he was more of a standards torch bearer who was also capable of remaking Radiohead and Pharrell, Cullum devotes the bulk of
Catching Tales
to telling his own stories. On the airy "London Skies," the British star finds some beauty in the famously gray weather of the town he calls home, while taking aim at self-help charlatans on the cheeky ballad "7 Days to Change Your Life": "I've been there myself, sad, fat and bald/ But soon with my help, you'll have it all." Cullum continues to display genre-bending gusto, going from the funky strut of the hip-hop-inflected "Get Your Way" to the lush, old-fashioned romanticism of the Jimmy Dorsey-Paul Madeira tune "I'm Glad There Is You," which coaxes out his most heartfelt vocal.
DOWNLOAD THIS: "Get Your Way"
ALT-POP
Back to Bedlam




There's an ache in James Blunt's voice that suggests he has been through some stuff. Indeed, the British Army veteran witnessed some of the horrors of war when he was sent to Kosovo as part of the NATO peacekeeping force: "Houses burnt beyond repair/ The smell of death is in the air," he details on the somber piano ballad "No Bravery." But this talented newcomer, who brings to mind a cross between John Mayer and Damien Rice, is just as effective when he turns his reedy tenor to singing about unrequited love on the lovely single "You're Beautiful."
DOWNLOAD THIS: "You're Beautiful"
POP-ROCK
The Naked Truth




In the world of hardcore hip-hop, street cred is everything. And Lil' Kim's got a big boost last month when she began serving a 366-day sentence for perjury at a federal detention center. Trading in her notorious couture for a prison jumpsuit, she brings a hard-earned grit and gangsta realness to this, only her fourth disc. The diminutive rapper exploits her legal troubles for lyrical fodder throughout much of
The Naked Truth
, and the personal drama makes for some juicy listening. "Now the D.A. want to give me time in the feds/I'm from Brooklyn, I could do that time on my head," she brags over the rumbling beats of the Notorious B.I.G.-sampling "All Good." Meanwhile, the soulful "Slippin" reveals some of the deeper emotions behind the brave face. Of course, it wouldn't be a Lil' Kim album without some raunchy raps, and the Queen Bee delivers just that on cuts like the lustful "Gimme That." Like Lil' Kim herself,
The Naked Truth
is hardly perfect; it's too long and has too much filler. But it sure does leave you waiting to hear what she comes up with when she gets out of prison.
DOWNLOAD THIS: "All Good"
RAP
Prairie Wind




After surviving a brain aneurysm earlier this year, Neil Young, 59, confronts mortality on his latest album, and thoughts of death surely become him. Whether leaving instructions not to be buried "Far from Home," preparing to pass on "This Old Guitar" or just plain feeling like he's 'Fallin' Off the Face of the Earth," Young delivers it all with a grizzled grace. Recorded in Nashville, Prairie Wind has the distinct air of country, with Emmylou Harris singing backup on three tracks. Meanwhile, the Fisk University Jubilee Singers add some old-time gospel spirit to songs like "When God Made Me."
DOWNLOAD THIS: "Fallin'Off..."
For information on where to find our Download This picks, go to www.people.com/downloadthis or AOL (Keyword: People)
Ryan Cabrera
Pop-rocker Ryan Cabrera, 23, has a new album,
You Stand Watching
, and is hosting a new MTV dating show, Score.
ON BEING MORE THAN A TEEN PINUP People don't know that I can play drums, piano, bass, guitar, and I can produce a record too. That's what I want to show with this album.
ON WHAT HE PLAYS ON HIS TOUR BUS The last tour I started to really get into old-school cats. I love Donny Hathaway, Bill Withers, Frank Sinatra and Tony Bennett. After a show, I'll sit in my room and blast that stuff.
ON EX
ASHLEE SIMPSON
We broke up a long time ago, and we're still best friends. We'll still hold hands, but it's just in a loving, friendly way. It's not this on-again, off-again relationship. If you love somebody, even if you're not with them, you should want the best for them. I wrote a song about this, "Shine On."
ON HIS FAMOUSLY SPIKY HAIR I've always done my hair like that. Some people are like, "You definitely need a haircut." I don't care, I like it. I just let it do its own thing.
Contributors:
Chuck Arnold,
Ralph Novak,
Dana Meltzer.
R&B
Advertisement
Today's Photos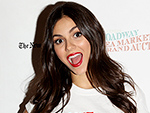 Treat Yourself! 4 Preview Issues
The most buzzed about stars this minute!