People Top 5
LAST UPDATE: Tuesday February 10, 2015 01:10PM EST
PEOPLE Top 5 are the most-viewed stories on the site over the past three days, updated every 60 minutes
Picks and Pans: Books
Lemony Snicket's Latest
CRITIC'S CHOICE




Don't be fooled by the title—this book is anything but ordinary. From the beginning, when the author's father kills a cow with a pitchfork, to the end, where violence and frustration threaten to overwhelm her parents and their six daughters, Helget's debut combines jolting events with haunting descriptions of everyday life on a farm. Each chapter contains a stark memory: At the Sunday service the local Catholic priest shows his congregation slides of aborted fetuses saying, "It's a child, not a choice"; a drunken uncle accidentally runs over his 4-year-old daughter with a tractor; the author's mother yells at her husband to drown or shoot the new litter of puppies that are "ugly" and "always underfoot." Helget doesn't demonize her family, nor does she overplay the drama, which seems as commonplace to her childhood as tossing a baseball with her dad, taking communion or flirting with the milkman. Despite everything, she finds humor in the cracks and shows compassion for the people who raised her. In precise, cadenced prose, this gifted young author has taken the messiest of lives and fashioned something beautiful.
NOVEL
by Walter Kirn




In Walter Kirn's hilarious fourth novel, two Mormon-like separatists descend from their Montana mountaintop to find new blood for the gene pool. As they tour the American West, Kirn doesn't miss a chance to skewer consumerism, New Ageism and ski-town magnates. The barbs are spot-on and the apostles, with their naiveté about everything from Cheetos and Wiccans to reality TV, are hopelessly endearing.
ESSAYS
by Dava Sobel




In these fluid essays, science writer Sobel experiments with inventive narrative devices: A4.5 billion-year-old meteorite fragment, for example, narrates her rumination on Mars. A section of quirky facts—a World War II pilot once mistook Venus for a Japanese plane and tried to shoot it—round out this unusual volume. The Planets doesn't have the depth of Sobel's earlier nonfiction, including
Galileo's Daughter
, but it evokes a sense of wonder that is equally gratifying.
BIOGRAPHY
by Paul Hemphill




Country legend Hank Williams was well acquainted with despair, addiction, adultery and fame—all elements key to a fascinating biography. And Hemphill, author of a variety of books set in the South, makes the most of his material. Born in Alabama in 1923, Williams lived just 29 years but managed to revolutionize country music, become America's signature working-class poet and endure plenty of heartache before dying mysteriously in the backseat of a Cadillac—probably from the hard drinking he was famous for. Smart, charismatic and driven, he phoned Tony Bennett—whose version of Williams's "Cold, Cold Heart" became a hit on the pop charts—to complain, "Hey, Tony, how come you ruined my song?" The author's storytelling skills and passion for his subject give Williams's life a heft that no
Behind the Music
ever could.
Gearing up for the holidays? Like Helget's memoir, these superbly told tales of complicated clans—each, of course, unhappy in its own way—will make you give thanks for your own.
JESUS LAND by Julia Scheeres
Her fundamentalist parents neglected her and abused her two adopted black brothers, then shipped them all off to reform school. Judging from this exquisitely wrought memoir, Scheeres emerged with sensibilities intact and learned that love can flourish even in the harshest climates.
FIVE FAMILIES by Selwyn Raab
Subtitled
The Rise, Decline, and Resurgence of America's Most Powerful Mafia Empires
, former
New York Times
reporter Raab's riveting history highlights how easily Cosa Nostra rat each other out at the flash of a badge. So much for blood brotherhood.
MOTHER'S MILK by Edward St. Aubyn
Postpartum depression, assisted suicide, adultery alcoholism-it's all here in St. Aubyn's keenly observed, perversely funny novel about an illustrious cosmopolitan family and the mercurial matriarch who rules them all.
Kids Weigh In The plot thickens: At 353 pages. Book 12 in
A Series of Unfortunate Events
is 'more difficult for children to lift-this is good news," quips the evil author. Seven fans report on how it stacks up.
"A little more unfortunate than the others, with a lot more excitement."—Alexander Irikura, 9
"I loved it. But I was boggled with the title until my mom told me what 'penultimate' meant." —Ethan Skelskie, 9
"All Lemony Snicket books are good because he's funny and human."—Katherine Lyons, 9
"It's exciting. But in the end, I'm afraid the children find themselves in Count Olaf's clutches." —Theo Munger, 9
"Count Olaf isn't as devious as he used to be."—Liam Duffy, 10
"The best book yet."—Zachary Lemonides, 9
"I had no trouble lifting it."—Ben Thaler, 13
Contributors:
Porter Shreve,
Allison Lynn,
Natalie Danford,
Jonathan Durbin.
by Nicole Lea Helget
Advertisement
Today's Photos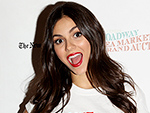 Treat Yourself! 4 Preview Issues
The most buzzed about stars this minute!