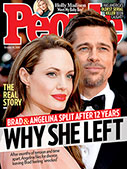 This Week's Issue!
People Top 5
LAST UPDATE: Tuesday February 10, 2015 01:10PM EST
PEOPLE Top 5 are the most-viewed stories on the site over the past three days, updated every 60 minutes
Tributes
As We Usher in a New Year, People Looks Back at Personalities Whose Lives Made a Lasting Impact on Our Own

•TV Host
"After he took over The Tonight Show, you had to watch Carson before you went to bed. It was part of your daily ritual. Long before there was the slogan 'Must-See TV,' Johnny Carson was 'Must-See TV"
—The Tonight Show cohost Ed McMahon

PRINCE RAINIER III OF MONACO, 81
"He and Princess Grace had something very special. It was a love match, it really was. Rainier was a very shy man and always happy to let his wife be the star because he had been born into the spotlight and had nothing to prove. Grace had the magic, and he understood how to orchestrate it. And when she died [in 1982], so too did the magic. There was always an underlying sense of melancholy about him after that. He missed her terribly."
—biographer Jeffrey Robinson

AUGUST WILSON, 60
•Playwright
"His plays were rich and satisfying. He just wrote truth." —actress Angela Bassett

ROBERT WISE, 91
•Director
"He was a true mentor—the epitome of a gentle man."—The Sound of Music's Julie Andrews

NIPSEY RUSSELL, 81
•Comedian
"He'd break up the room with a poem or story." —Friars Club dean Freddie Roman

BARBARA BEL GEDDES, 82
•Actress
"On Dallas, she made 'Mama' more than just a character phrase." —Patrick Duffy

FRANK GORSHIN, 72
•Actor
"As an impressionist he was it. But playing the Riddler on Batman made him a name"
—comic Rich Little

LUTHER VANDROSS, 54
•Singer
"I don't know where he got that voice. It was like a voice from God"
—Patti LaBelle

WILLIAM REHNQUIST, 80
•Supreme Court Justice
"He could remember a fact or face literally from 30 years ago. That was his genius."
—former clerk Jay Jorgenson

NICOLE DEHUFF, 30
•Actress
"She was so sweet and cool. The moment she got on-camera, I knew she was exactly what we needed in the film."
—Meet the Parents director Jay Roach

OSSIE DAVIS, 87
•Actor
"He was funny and clever and profound and daring—the kind of patriarch you want to think of when you talk about forefathers."
—poet Maya Angelou

CHARLES ROCKET, 56
•Actor
"Yes, he was 'the guy who said the F-word on SNL'—but he was more than that. Off-camera he was personable and friendly."
—SNL castmate Gilbert Gottfried

BOB DENVER, 70
•Actor
"The real Bob was a very bright guy. Intellectually and physically, he was completely different than the character you see on Gilligan's Island."
—show creator Sherwood Schwartz

JOHNNIE COCHRAN, 67
•Attorney
"He had his own style. He was a showman and exuded an air of confidence. He understood juries, and they in general liked him. You have to respect Johnnie for what he accomplished. I don't know anyone else who could've done what he did for O.J."
—attorney Gloria Allred

EDDIE ALBERT, 99
•Actor
"A pro in every sense—a man worth admiring."
—Green Acres costar Frank Cady

WENDIE JO SPERBER, 47
•Actress
"She redefined surviving as thriving and living."
—Bosom Buddies costar Peter Scolari

HUNTER S. THOMPSON, 67
•Writer
"He was outrageous."
—author Gay Talese

EUGENE McCARTHY, 89
•Senator
"He had a refreshing and disarming approach."
—Sen. Tom Harkin

ANNE BANCROFT, 73
•Actress
"She had a combination of grace and class that left me in awe of her talent"
—producer David Geffen

PETER JENNINGS, 67
•ABC Anchorman
"He had the looks of a leading man, the mind of a scholar and the bravery of a knight. For a TV news anchor, that may have been unique"
—Dan Rather

MATTHEW McGRORY, 32
•Actor
"When casting the role of Karl the Giant, we had the option of selecting a normal-size actor and increasing their size with visual effects. Then I met Matthew. On our first meeting, it was clear what a unique, sensitive person he was."
—Big Fish director Tim Burton

ARTHUR MILLER, 89
•Playwright
"His plays spoke of what was happening in this country. But he'd written After the Fall about Marilyn [Monroe, whom he wed in 1956], though he kept denying it."
—actor Eli Wallach

TARA-CORREA McMULLEN, 16
•Actress
"She was a natural."
—Rebound director Steve Can

PAUL WINCHELL, 82
•Entertainer
"He was born with a stutter yet became a ventriloquist."
—producer Burt Dubrow

PHILIP JOHNSON, 98
•Architect
"He practiced 30 years past the point where most retire."
—MOMA's Terence Riley

DON ADAMS, 82
•Actor
"You could breathe in his energy and get high on it."
—Get Smart costar Barbara Feldon

PAT MORITA, 73
•Actor
"He is forever my sensei. Just like he taught the Karate Kid on-camera how to overcome great odds to achieve success, Pat had done the same for himself in real life."
—The Karate Kid costar Ralph Macchio

SANDRA DEE, 60
•Actress
"She had an innocence that gave her a charm vulnerability —which made her absolutely beautiful"
—Gidget costar James Darren

JOHN SAHAG, 52
•Hairstylist
"He was very funny and kind and had a fabulous haircut himself."
—Rita Wilson

SHIRLEY CHISHOLM, 80
•Congresswoman
"She was a huge force for social justice."
—Rev. Jesse Jackson

RUTH WARRICK, 88
•Actress
"She was a class act mixed with a bawdy, wicked sense of humor."
—All My Children's Julia Ban

SIMON WIESENTHAL, 96
•Nazi Hunter
"He said, 'I do not do it for the past but for the future.' "
—Rabbi Marvin Hier

ROSA PARKS, 92
•Civil Rights Activist
"She was so dignified and had an aura about her. These big eyes stared through you. You'd better tell a straight story. If you didn't, she'd know"
—President Bill Clinton

CHRIS LEDOUX, 56
•Singer
"He crossed the boundaries of country music and was a legend in the rodeo world, where there aren't many real cowboys left. Chris was the real deal."
—Kix Brooks

FRANK PERDUE, 84
•Businessman
"You could tell he believed in what he was saying in the ads. That came across loud and clear. People trusted him."
—adman Sam Scali

JAMES DOOHAN, 85
•Actor
"At Star Trek conventions, he would sign autographs long after the rest of the cast had gone. He knew fans had waited a long time to meet him."
—George Takei

JOHN RAITT, 88
•Singer
"To my dad, every night was opening night—every show as important as any other. He made a commitment to honor the material and his audience."
—Bonnie Raitt

POPE JOHN PAUL II, 84

"He went skiing, hiking, kayaking. He had a swimming pool installed at the Vatican. He changed the image people had of the Pope."
—biographer Matthew Bunson


JOHNNY CARSON, 79
Advertisement
Treat Yourself! 4 Preview Issues
The most buzzed about stars this minute!