People Top 5
LAST UPDATE: Tuesday February 10, 2015 01:10PM EST
PEOPLE Top 5 are the most-viewed stories on the site over the past three days, updated every 60 minutes
Roots Revealed
Using DNA to Explore the Family Tree, Rick Kittles Helps Black Americans Trace Their Ancestry Back to Africa


Then last year, Harrell-Miller, 43, learned about a new tool that could help solve a genealogical mystery: the first DNA testing kit designed specifically for black Americans interested in pinpointing their African ethnicity. On July 4, 2003, she took the test at home, running a cotton swab along her inner cheek and mailing the sample to a lab. Six weeks later, evidence of her lost heritage arrived in the mail. It showed that she shared DNA with the nomadic Tuareg people, who inhabit Niger and other parts of West Africa. "I must have read the results a thousand times," she says. "It was crying and happiness and joy—like going back through the doors of no return."

That door to the past has been pried open thanks to Rick Kittles, a 38-year-old geneticist at Ohio State University, who last year teamed with Washington, D.C., businesswoman Gina Paige to launch African Ancestry Inc. "I always felt I could contribute something to help black folks understand themselves," Kittles says. Film director Spike Lee, former Atlanta mayor Andrew Young and actor LeVar Burton are among nearly 2,000 clients who have paid $349 to find new branches of their family tree. "It was as if I were opening a chest of treasure that has been long buried," says Roots star Burton, who learned he has DNA in common with the Hausa people of Nigeria—and Italians. "That," he says, "was a surprise."

Relying on some of the same science used in paternity cases, Kittles singles out two DNA strands that remain constant over generations and compares them to those from 135 African ethnic groups, many of which Kittles gathered himself. Kittles says he's able to match DNA or find some related genes in 95 percent of cases—with some, like Burton's, including genetic links to white slave owners who had sexual contact—often forced—with their slaves. "Everyone we can't identify we keep on file," Kittles says. "It's hard telling someone you can't identify them, but I tell people the truth."

Clients rave about the service, but some geneticists are more skeptical. The test, they say, traces just two hereditary strands out of thousands contained in every person's DNA. Moreover, West African tribes share so much genetic material it may be impossible to determine ancestry with any precision. "This test doesn't give you enough information to rush over to Africa and knock on doors looking for relatives," warns Boston University molecular geneticist Bruce Jackson. Kittles says that while his customers won't learn everything about their heritage, they do receive something just as valuable: "It gives us something we've never had—a homeland."

Born in rural Sylvania, Ga., but raised in Central Islip, N.Y., Kittles yearned to know more about his own origins. But it wasn't until the '90s, when he was a professor at Howard University studying bones from a nearly 300-year-old African burial ground, that he realized he could use DNA testing to explore his family history. Taking blood and hair samples from himself, Kittles traced his ancestry to Nigeria and Germany. "Growing up, all my friends had Italian, French or Irish last names and knew a lot about the European countries they were from. All I knew was Sylvania, Ga.," says Kittles. "Now I know a lot more. I still get excited about it."

Antoinette Harrell-Miller shares his excitement. After receiving her DNA results, the married mother of two immersed herself in Tuareg culture. This month she is visiting Niger for the first time, a trip she hopes leads her to distant relatives and gives her, perhaps, a sense of belonging. "I think my ancestors are happy to know that one of us turned around and said, I have to go back,' " she says. "I think they are saying, 'You are welcome back home, daughter.' "


Where do we come from? It's the most basic of questions, but the legacy of slavery made it impossible for Antoinette Harrell-Miller to answer. The New Orleans homemaker knew that her family had lived in the South for generations. But she wanted to go back even further. Rummaging through records in churches and quizzing older relatives for clues about her distant forebears, "I found out quite a bit," Harrell-Miller recalls. "But nothing that led me to Africa."
Advertisement
Today's Photos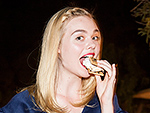 Treat Yourself! 4 Preview Issues
The most buzzed about stars this minute!