People Top 5
LAST UPDATE: Tuesday February 10, 2015 01:10PM EST
PEOPLE Top 5 are the most-viewed stories on the site over the past three days, updated every 60 minutes
Picks and Pans: Books
Buzz Book
By Philip Roth
CRITIC'S CHOICE
STARS 4
For all his dazzling literary games, Roth has always grounded his books in memories, often searingly nostalgic, of growing up in a Jewish family in Newark in the 1930s and '40s. In
Plot Against America
, a remarkable act of historical imagination and one of his most moving novels, he reworks that past with a nightmare twist: What would have become of his fictionalized family if their beloved FDR had been voted out and replaced by Charles Lindbergh, the anti-Jewish aviator who, before World War II, was an outspoken opponent of intervention in Europe?
Roth envisions a creepingly unnerving scenario of government-orchestrated assimilation and displacement. Brother Sandy comes home from a summer on a Kentucky farm despising his father's fierce love for what the son now calls the ghetto (which is soon thinned out, so to speak, by relocated Italian families). Aunt Evelyn marries a famous rabbi, who considers Lindbergh a friend even as he signs pacts with the Nazis. In one of the novel's many scenes of grotesque comedy, she giddily dances with Hitler's foreign minister.
What gives this story its feverish poignancy—even beauty—is that these events are recorded through the eyes of the author as a child as he tries to fathom the collapse of his innocent world. It may sound loony to say this is Roth's
To Kill a Mockingbird
. The book's politics, for one, are too richly open to interpretation: Is it a cautionary allegory about our current ambivalence to take on challenges abroad? Roth offers no simple answers—just dark possibilities.
NOVEL
By Amy Sohn
[STARS 3]
As she did in her 1999 debut novel,
Run Catch Kiss
, Sohn, a real-life Carrie Bradshaw who covers dating rites for New York magazine, explores issues of deep concern to urban singles. Her heroine, Rachel, is a 26-year-old Brooklyn rabbinical school dropout, who chooses tending bar over presiding at bar mitzvahs. Her love interest: Hank Powell, a screenwriter who is old enough to be her dad. (One of his best-known films is
Lydia's Chest Wound
, a romp starring Annette Bening as a taxi driver.) Throughout their neurotic affair—his poor treatment of her seems to heighten their sexual chemistry—the smart yet needy Rachel confronts issues that include having to separate from her parents. While her realizations aren't life-shattering, Sohn's story is engaging, and she supplies off-hue puns that elicit plenty of giggles. Enlightened by clever cultural references (upon hearing bad news, Rachel "slid down...like a dead Glenn Close leaving a streak of blood on the bathroom tile wall"), this Old Man feels new.
BIOGRAPHY
By Jean Nathan
A strangely powerful children's book published in 1957, Dare Wright's
The Lonely Doll
was a dreamlike story that held young readers in its thrall. Illustrated with Wright's striking, subtly noir photos of Edith—a blonde doll meant to be the author's surrogate—getting into surreal scrapes with her teddy bear playmates, it was the first of 10 books in Wright's Doll series, which remained in print until 1991. Now, with a reissue on the shelves, Jean Nathan has written a splendid biography of the ethereal, emotionally damaged photographer and model who created Edith's world. Mesmerized by Wright's book as a child, Nathan finds the reclusive author in a hospital in New York City in 1997; an invalid at 82, she looks like a "horror story version" of Edith, wearing a long braid and lying with a teddy bear in each arm. After Wright's death in 2001, Nathan unravels the story of the writer's relationship with a crushingly narcissistic mother—an artist who had abandoned Wright emotionally but shared a bed with her until she died in 1975.
Bizarre moments abound: When Wright (who is terrified by the idea of sex) is reunited with the brother separated from her after their parents' 1919 divorce, the siblings form a creepily close union—using baby talk and "sitting on the floor surrounded by teddy bears, telling stories in imaginary bear voices." Nathan's detective work is admirable, as is the care with which she traces Wright's psychic decay. Even readers who never felt Edith's spell will be captivated—and, perhaps, unsettled—by this modern gothic tale.
Nuclear Terrorism: The Ultimate Preventable Catastrophe
While trying to fend off hijackers and anthrax, has the U.S. failed to envision the most horrific act of terrorism? Osama bin Laden and others haven't, says Harvard professor of government Graham Allison. He warns that a nuclear attack could be around the corner and suggests how to prevent it.
HOW LIKELY IS A NUCLEAR ATTACK? A nuclear terrorist attack is likely and even imminent. Bin Laden has been searching for nuclear weapons for a decade.
WHAT KIND OF INCIDENT IS MOST LIKELY? A dirty bomb—dynamite plus radioactive material—is easier to make than an atomic bomb, which requires a nuclear fission reaction. With a dirty bomb the dynamite does most of the immediate damage, and the radioactive material has long-term effects on health.
WHERE WOULD TERRORISTS GET NUCLEAR MATERIALS? In Russia you can go to a building where there is highly enriched uranium and security so inadequate that a person could put material in their lunchbox and walkout. Or Pakistan or North Korea, the most promiscuous proliferator.
ARE ATOMIC BOMBS WITHIN THE REACH OF TERRORISTS TOO? Yes. Russia has just short of 20,000 nuclear weapons.
WHAT CAN BE DONE? The good news is that nuclear terrorism is preventable. We must prevent terrorists from getting fissile material [enriched uranium or Plutonium]. It's very hard to make, requiring roughly $1 billion and a decade of intensive effort. Human beings know how to lock things up—the U.S. loses no gold from Fort Knox. The U.S. and Russia should agree to lock up all nuclear weapons and materials from which weapons can be made, then persuade other governments to follow suit. We can't take no for an answer.
He's Just Not That into You
A line of dialogue from Sex and the City spawns a surprise-hit advice book
Self-help titles don't come much more chilling than this one, inspired by a
Sex and the City
episode in which Miranda learns the real reason a cute guy never calls again. Authors Liz Tuccillo, a former
Sex
executive story editor, and Greg Behrendt, a comedian and show consultant, explain their tough-love wisdom:
WHO THOUGHT OF THE TITLE LINE? Behrendt (who is married): I did. One of the show's writers was talking about her date: "He didn't want to come up because he had work tomorrow." All the girls said, "He's probably really busy." I said, "No. He's just not that into you."
HOW DID THE WOMEN IN THE ROOM REACT? Tuccillo (who is single): We all shrieked. We thought he was the meanest person. Then we thought, "Wait. He might be on to something." We kept coming up with examples where we thought the guy had a good excuse, but Greg was like, no.
ARE THERE EVER GOOD REASONS FOR A GUY NOT CALLING? LIKE, COMA? Behrendt: A guy would rather lose his arm than tell you he doesn't want to go out with you anymore. They'll drag you along and hope things will fade like a song.
THAT'S DEPRESSING. Behrendt: Actually, I see this book as starting a revolution: Women will recognize when things are bad and get out. Tuccillo: Take me, for example. I could have learned brain surgery with the energy I've spent on men who aren't into me.
WHAT ARE SOME OTHER RED FLAGS? Behrendt: He's not that into you if he's too tired to see you. He's not that into you if every time you have sex, he's drunk. He's not that into you if he's married.
LIZ, HAS WRITING THE BOOK HELPED YOUR SOCIAL LIFE? Tuccillo: I've become more confident. At a party a man was talking to me all night. At the end he wrote down his Web address and said, "Look at my Web site and e-mail me what you think." I thought, "Web address? I deserve more than that."
HE WASN'T THAT INTO YOU? Tuccillo: He was. The next day he asked me out to dinner. A really expensive dinner.
Contributors:
Tom Gliatto,
Allison Adato,
Michelle Green.
NOVEL
Advertisement
Today's Photos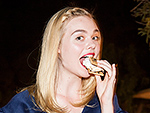 Treat Yourself! 4 Preview Issues
The most buzzed about stars this minute!