Archive Page - 12/1/12 39 years, 2,080 covers and 53,257 stories from PEOPLE magazine's history for you to enjoy
On Newsstands Now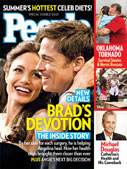 Brad's Devotion: The Inside Story

Oklahoma Tornado: Heroic Rescues

Michael Douglas on Catherine's Health
Pick up your copy on newsstands
Click here for instant access to the Digital Magazine
People Top 5
LAST UPDATE: Friday May 24, 2013 04:10PM EDT
PEOPLE Top 5 are the most-viewed stories on the site over the past three days, updated every 60 minutes
A Tale of Two Princes
William the Great? Harry the Hothead? As Diana and Charles's Older Son Adopts a Royal Reserve, His Brother Fights with a Photographer Outside a Nightclub. Could the Heir and the Spare Be Any More Different?
Prince Harry
lost his temper—leaving a photographer with a bloody lip and Buckingham Palace with a royal mess on its hands. Exiting the private London club Pangaea after a night of drinking, chatting and flirting, a red-faced Harry, 20, headed for his car with a bodyguard. The prince started to get into the back seat, then changed his mind. "He burst out of the car and lunged towards me as I was still taking pictures," photographer Chris Uncle, 24, told London's Evening Standard. "He lashed out and then deliberately pushed my camera into my face." The camera cut Uncle's lower lip as a bodyguard and club security staff scrambled to restrain Harry. A spokesman said Harry reacted after a camera hit him in the nose, but photographers on the scene say no one got that close. Says one, James Taylor, 18: "Harry just flipped."
So did the British press, gleefully plastering newspaper front pages with pictures of the fracas, while tut-tutting the paparazzi who took them and invoking images of Harry's mother, Princess Diana, who battled street photographers until her death. ("Can you blame him?" asked the
Daily Express
.) Others clucked over Harry's growing reputation as a playboy. And the
Daily Mail
even slammed Harry's recent work with AIDS orphans as a PR stunt that would saddle the prince "with a saintly image he cannot possibly live up to."
So which is it, Prince Charming—or Party Boy? Neither, insists the Palace. "He is not a party prince and he is not a saint," says the prince's spokesman Paddy Harverson. "Most ordinary people think he is a thoroughly decent guy who every now and again gets into the papers because he goes to a nightclub."
Still, the prince Diana called "the naughty one" has supplied those papers with juicier material than big brother
William
, 22. As Charles and Diana's sons mature into young men, their personality differences are standing out more and more. "They are chalk and cheese," says a family friend. An avid athlete with a daredevil streak and charm to spare, "Harry is more impetuous than his brother and wears his heart on his sleeve," says this friend. William, meanwhile, "is remarkably mature," says a Palace source. Those who know Wills describe him as serious, thoughtful and cautious, combining his father's passions with his mother's strong will. And yet, says royals expert and author Robert Lacey, "there's a calmness about him that neither his mother nor his father had."
Calm isn't exactly Harry's strong suit. While William has hit the books in the relative shelter of Scotland's University of St. Andrews, Harry has been having a post-high-school "gap year" to remember—or, occasionally, to forget. He has downed watermelon martinis in London's trendier night spots, smoked cigarettes out the window of Australian pubs at 4 a.m., smooched pretty girls on several continents and, most recently, weathered an allegation by a former teacher that he had cheated on a graduation exam at Eton (the school and the Palace denied it).
Yet he also visited AIDS hospices during a two-month trip to Lesotho earlier this year. "I have a lot of my mother in me," he said. "This is my side no one gets to see." Diana's influence doesn't end there (see box). There were even shades of the princess in Harry's dustup with the paparazzi, says author Lacey: "If Harry's cradling AIDS-suffering children is learned behavior from his mother, then so is this."
William, as a future king, has followed in the more measured footsteps of his father. The fourth-year geography major has kept his head down, even giving up his captaincy of the water polo team to concentrate on exams, aides said. He has stuck, so far, with just one girl—housemate Kate Middleton, 22, and the pair keep a low profile. And apart from the occasional fuzzy vacation snap, he has, for the most part, avoided the paparazzi trap. In August he even made it through a visit to a longtime friend in Franklin, Tenn., virtually undetected. What's a typical photo of William? Those taken at royal photo ops, like the one last May with Dad at Highgrove, the family's Gloucestershire farm, where he gamely checked a sheep for foot rot. "I am a country boy at heart," he declared last year.
Of course, the heir to the throne and the second-born "spare" face different pressures. Harry "almost lives in the shadow of his older brother," says Ken Wharfe, former bodyguard to Diana and her sons. While William has always known what he had to be, Harry was somewhat rudderless. Just 12 in 1997, "he was at a particularly vulnerable age when Diana died," says a family friend. Adds a source who has known the princes for years: "When Harry went through all those teenage growing pains, hormones raging and the pressure of exams—that's when they need their folks around. During that period boundaries are set. I just don't think that happened for Harry." What about Dad? "I don't think Charles knows how to get involved," says a royal insider. "So much of his life is done by other people. He tries. He knows Harry is missing something."
A wakeup call came in 2001, when then 16-year-old Harry was caught smoking pot and drinking (the legal age in Britain is 18). Charles enlisted William's help to get Harry to visit a drug rehab center in London for a Scared Straight-style session. Charles isn't as concerned about the Pangaea flap. After the scuffle, "his father was quite supportive and sympathetic," spokesman Harverson told the BBC.
Harry is also likely to get an earful from William, who keeps in close cellphone contact. "We ring each other quite a lot," Wills said last year. Though they rarely see each other while at school, the pot scandal drew them closer, sources say, and Harry has since consulted William for advice. "If William says Harry should not be doing something, he might balk at it, but he does pay attention," says the Palace source.
Soon Harry will have less time to party. After one more gap-year adventure—a trip next month to live on a farm in Argentina that breeds polo ponies—Harry will enter Sandhurst military academy, Britain's equivalent of West Point, in January for its one-year program before joining an Army regiment. His hair buzz-cut, the prince will rise at 5 a.m. to do chores—ironing, shining his boots, even scrubbing toilets—before long days of drilling. No special treatment here: "He'll be thrown into the mix like everyone else," says a former cadet.
William, too, has publicly contemplated entering the military when he finishes at St. Andrews next June. In the meantime, both princes insist on being treated with as little royal pomp as possible . "William and I try to be normal," Harry said earlier this year. "It's very difficult, but we are who we are." They ask not to be called Your Royal Highness or even Sir. Neither travels with a butler or valet (they share a personal assistant who coordinates their schedules), and they chauffeur themselves—William in his VW Golf and Harry in his Audi A4. They're flanked at all times by the omnipresent royal protection officers, who work in teams of three or four but, notes a source familiar with the security arrangements, "are not there to be moral guardians."
Which explains why they waited until Harry struck before moving in at Pangaea. Inside, Harry "was just having a casual night out with his friends," says Anne-Marie Mogg, 22, a model who saw Harry at the bar. Sitting at a table with a large group, the prince, says Mogg's friend Josephine Laurence, 22, a TV host, "was probably the quietest one. He seemed quite shy." Whatever made him snap, even former security guard Wharfe can sympathize. "He is a lively character with a lot to offer," Wharfe says. "Once he settles down, he will be a very valued member of the family, but he has to remember that he is a part of the monarchy and has to behave accordingly. He has to realize, I am what I am.'"
Samantha Miller. Simon Perry and Ellen Tumposky in London
Contributors:
Simon Perry,
Ellen Tumposky.
Advertisement
Treat Yourself! 4 Preview Issues
The most buzzed about stars this minute!