On Newsstands Now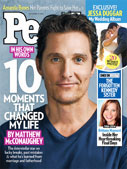 Matthew McConaughey: In His Own Words

Jessa Duggar's Wedding Album

Brittany Maynard's Final Days
Pick up your copy on newsstands
Click here for instant access to the Digital Magazine
People Top 5
LAST UPDATE: Tuesday February 10, 2015 01:10PM EST
PEOPLE Top 5 are the most-viewed stories on the site over the past three days, updated every 60 minutes
Picks and Pans: Movies
This DVD Will Self-Destruct in 48 Hours
Johnny Depp
,
Kate Winslet
, Dustin Hoffman, Julie Christie
CRITIC'S CHOICE




In J.M. Barrie's best-known stage play, Peter Pan, audience members are urged to clap their hands if they believe in fairies. Viewers of this deftly constructed movie about the early-20th-century author may find themselves at a similar crossroads of reality and sentiment. Namely, do you buy into
Finding Neverland's
portrait of Barrie as a caring artist who was in touch with his inner child or do you dismiss the movie as a bulging sack of saccharine? A bit of both, actually.
Neverland
is a picture that is easy to like while watching, but there is also something fundamentally creepy about its mostly adoring depiction of a man reluctant to grow up.
In Neverland, which takes minor liberties with the facts, Barrie (1860-1937) is inspired to write
Peter Pan
after forming an intense friendship with a comely widow, Sylvia Llewelyn Davies (Winslet), and her four young sons. Though the relationship's effect on his own marriage is deleterious, the Scottish-born author happily continues spending his days playing elaborate games of make-believe with the boys in London parks and looking rightfully concerned when Davies suffers a coughing fit.
It helps that
Neverland
director Marc Forster (
Monster's Ball
) never pushes too hard to underscore his points and that Barrie is portrayed by Depp (see page 110), an actor incapable of giving a boring performance. Adopting a Scottish brogue that comes and goes, he plays the writer as an appealing but deeply melancholic figure. The gifted Winslet is equally affecting, while Christie and Hoffman, in key supporting roles, add sharp snap to their scenes. (PG)
ROMANTIC COMEDY
Renée Zellweger, Colin Firth, Hugh Grant




If you cozied up to 2001's
Bridget Jones's Diary
—count me among its fans—this sequel will prove almost as engaging because, hey, it's déjà vu all over again. We're talking the same ditsy, diary-scribbling heroine still obsessing over her weight and still torn between two gorgeous men, each of whom thinks she's swell. If the new movie suffers from a warmed-over feeling, chalk it up to there being no crying need to make
Bridget Jones: The Edge of Reason
other than that everyone concerned probably saw a chance to score a lucrative paycheck and revisit characters they'd enjoyed playing the first time around.
Reason finds Londoner Bridget Jones (Zellweger) still making a fool of herself as a features reporter on TV but now going steady with Mark Darcy (Firth), the priggish lawyer in whose arms she ended up in the first film. After breaking up these lovebirds on the flimsiest of pretexts, the sequel dispatches Jones to Thailand, where her bad-boy ex-beau (Grant) shows up, reaffirms his enthusiasm for her oversize panties and tries to lure her back into his bed. Best new scene: Jones in a Thai prison, coaching her fellow inmates in singing
Madonna
tunes.
Zellweger, Firth and Grant all give entertaining performances, with Grant first among equals. The more incorrigible a character he plays, the greater his scampish charm. (R)
CAPER
Pierce Brosnan,
Salma Hayek
, Woody Harrelson, Don Cheadle, Naomie Harris




Like Jell-O, this heist film is bouncy, colorful fun with no nutritional value. Max (Brosnan) is an accomplished jewel thief. After pulling off a nifty, elaborate snatch of a major diamond in Los Angeles, he and lovely Lola (Hayek), his partner in crime and life, put their sticky-fingered ways behind them and retire in luxury to a Caribbean island. Close on their heels is a frustrated FBI agent (Harrelson, straining to be funny) who has been trying for years to nab Max. When a celebrated diamond arrives for temporary exhibit on the island, will Max be able to resist its twinkle?
That's the setup for an amusing, breezily stylish movie that goes where oodles of flicks have gone before, including Brosnan's own 1999 remake of
The Thomas Crown Affair
. (Plus the duo rent a DVD of Alfred Hitchcock's
To Catch a Thief
, another obvious predecessor.) The script is uneven, and a subplot about an American turned island crime boss (Cheadle) heads nowhere. But the easygoing, sexy rapport between Brosnan and Hayek goes a long way toward making
Sunset
sizzle. (PG-13)
Performed by Tom Hanks, Michael Jeter, Peter Scolari, Nona Gaye




Halfway through this souped-up animated version of Chris Van Allsburg's beloved, concise children's book, my well-read companion, nearly 5, whispered, "They didn't put everything in the movie into the book." He got that right, but bigger isn't always better.
The Polar Express
is about a doubting boy who boards a train bound for the North Pole, where he learns to believe in Santa Claus. The problem with this technically ambitious adaptation is that it pumps up Van Allsburg's simple tale, larding in new incidents (a runaway train, cracking ice) and characters (a scary hobo, a clumsy engineer). Though heartfelt, the film tries too hard to dazzle and thrill rather than echo its own message: just believe. Express was made using Performance Capture, a new process in which actors wearing sensors are filmed while performing; then computers take over, enhancing the footage to create the characters and backgrounds. The result is impressive, except for the characters' eyes, which look disturbingly dead, like glass eyes on a doll. (For more on Van Allsburg and the making of the movie, see page 127.) (G)
Sideways




Two longtime pals (Paul Giamatti and Thomas Haden Church) now edging into middle age, take a road trip through California's wine country in a wise and wonderful comedy. (R)
Fade to Black




A none-too-revealing documentary follows hip-hop's Jay-Z as he records 2003's multiplatinum
The Black Album
and performs a sold-out concert at New York City's Madison Square Garden. Strictly for fans. (R)
HOT TECH DVDs that can be viewed only for 48 hours
WHY "To eliminate late fees," says Jeffrey Arnold, CEO of distributor Flexplay, who hopes eventually to sell rental-priced, disposable DVDs at video stores, retailers and even coffee shops for "the cost of a latte."
HOW IT WORKS After opening, the chemically coated disc fades to black after two days.
WHAT YOU CAN SEE Noel, a holiday drama starring Susan Sarandon, can be purchased on Amazon.com for $4.99 starting Nov. 17. (Several Disney titles have also been test-marketed at stores.) "Maybe it can generate buzz," says Noel director Chazz Palminteri, whose film also opens in theaters Nov. 12 and will air on TNT Nov. 28. "You have to get creative."
Contributors:
Leah Rozen,
Sabrina McFarland.
BIOPIC
Advertisement
Today's Photos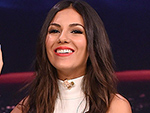 Treat Yourself! 4 Preview Issues
The most buzzed about stars this minute!