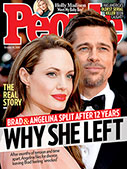 This Week's Issue!
People Top 5
LAST UPDATE: Tuesday February 10, 2015 01:10PM EST
PEOPLE Top 5 are the most-viewed stories on the site over the past three days, updated every 60 minutes
U2
How to Dismantle an Atomic Bomb
CRITIC'S CHOICE




After a mid-career slump (
Pop
, anyone?), U2 reclaimed its title as the World's Greatest Rock Band with 2000's smashing comeback
All That You Can't Leave Behind
, which found Bono, the Edge and company going back to what they do best: anthemic rock that elevates you to a higher place. Having reignited their unforgettable fire, they keep the fuse burning brightly on
How to Dismantle an Atomic Bomb
, another vintage U2 album that plays like
All That You Can't Leave Behind II
.
Indeed, the incandescent "City of Blinding Lights," a romantic postcard from Paris, recalls the exhilarating rush of "Beautiful Day," and the acoustic-guitar-driven "A Man and a Woman" evokes the bluesy '60s soul of "Stuck in a Moment You Can't Get Out Of." But what
Atomic Bomb may
lack in sonic invention—this is hardly the experimental U2 of Zooropa or Achtung Baby—it more than makes up for with the tight focus and assurance of a band that does not need to dismantle its sound. First single "Vertigo" is a dizzying rocker that brings to mind the youthful exuberance of early U2, and "One Step Closer" is a haunting ballad about the search for faith from the guys who still haven't found what they're looking for. Spiritual references also pop up on "Yahweh," while "Sometimes You Can't Make It on Your Own" is a heartfelt elegy to Bono's late father, Bob Hewson, that the group sang at his 2001 funeral. "We fight all the time, you and I/That's all right, we're the same soul," sings the U2 frontman to his dad. It's the album's most personal moment—and its most powerful.
DOWNLOAD THIS: "Sometimes You Can't Make It on Your Own" BLUEGRASS
Lonely Runs Both Ways




Close your eyes. Imagine an Alison Krauss video. What do you see? Krauss standing on the side of a hill, idly picking and singing some blue-grass lament. Not exactly the stuff a hoedown is made of. Nobody wants Krauss to go all Britney on us, but despite her extraordinary instrumental skills and sweet voice, she often seems listless. It's probably a telling sign that the liveliest track on her group's albums is often an instrumental by dobro whiz Jerry Douglas. This disc, her first studio release in three years, is no exception. Douglas's "Unionhouse Branch" stands out in a collection of accentuate-the-negative tunes that include "Wouldn't Be So Bad," "Goodbye Is All We Have," "Rain, Please Go Away" and the appropriately titled "This Sad Song." Woody Guthrie's "Pastures of Plenty" is at heart a song of bounty, but you wouldn't know it from the flimsy pall Krauss and company cast over it. Krauss's excitement impairment cuts both ways, of course. But what makes her sound unaffected and sincere also makes her seem misanthropic and distant.
DOWNLOAD THIS: "Unionhouse Branch"R&B
Complex Simplicity




Conjuring a Cherrelle-meets-Aaliyah vibe, New Orleans-born newcomer Teedra Moses smoothly blends '80s R&B with contemporary hip-hop soul. The result is an alluring oh-so-sensual sound that is at once familiar and fresh, old and new school. Moses, who cowrote Christina Milian's recent hit "Dip It Low" and had a hand in composing all 14 tracks on
Complex Simplicity
, uses her sweet and silky soprano to enticing effect on midtempo numbers that are perfect for creating some after-hours ambience, such as the S.O.S. Band-like single "Be Your Girl." Raphael Saadiq, who enlisted Moses for two duets on his latest disc, returns the favor by producing and singing on the tender "Tell Me." At this rate, these two ought to do a full album together. But the highlight is "I Think of You (Shirley's Song)," a jazzy, bossa-nova-tinged tribute to Moses's late mother that hints at a direction the 24-year-old singer might want to take in the future. —C.A.
DOWNLOAD THIS: "I Think of You (Shirley's Song)"R&B
ClassiKhan




JAZZ-POP
If you are going to buy one standards album this season, buy
ClassiKhan
, Matching classic material with a classic voice, this dynamic collection shows why Chaka Khan is one of the greatest song stylists of her time. Backed by the London Symphony Orchestra, she brings new passion to the oft-covered "I'm in the Mood for Love" and is a veritable force of nature on her fiery "Stormy Weather." Khan puts her own soulful stamp on two Bond themes ("Diamonds Are Forever" and "Goldfinger") and, on "Teach Me Tonight," she schools R&B diva wannabes. —C.A.
DOWNLOAD THIS: "Stormy Weather"COUNTRY
Darryl Worley




On the thoughtful "Awful Beautiful Life," off Darryl Worley's self-titled fourth album, the country singer exhibits an insightful awareness of life's vagaries; "I love this crazy, tragic, sometimes almost magic/Awful beautiful life." Worley also waxes philosophical on "What Makes a Man Do That," and on "I Love Her, She Hates Me," which is basically a honky-tonker, he reveals a little barroom coping mechanism: "I love her, she hates me and I drink." With Frank Rogers producing, Worley. thankfully, never carries things so far as to seem pedantic. He hasn't been spoiled by the success of his 9/11 hit, "Have You Forgotten?" though he does play national conscience a little on the antidrug song "Wake Up America." Nor does he neglect musicality; his Haggardian voice seems to have warmed and deepened with time. And Worley nicely plays off his backup musicians, especially drummer Kevin "Swine" Grantt and steel guitarist Steve Hinson. Some people, no doubt, would prefer not having to think so much with their country music, but let's tip our Stetsons to a man who isn't afraid to seem smart. —R.N.
•DOWNLOAD THIS: "Awful Beautiful Life"RAP
R.U.L.E.




After last year's disappointing
Blood in My Eye
, Ja Rule brings out the big guns—guest vocalists R. Kelly and Ashanti—for this disc's first single, "Wonderful." Unfortunately, the song weakly rehashes the same R&B-flavored rap that made the gravelly voiced Ja a crossover star with hits like "Livin' It Up," "Always on Time" and "I'm Real" (with Jennifer Lopez). The rest of
R.U.L.E.
won't help the emcee regain his hip-hop crown either. Whether he is engaging in tired boasts on tracks like "Last of the Mohicans," playing the thug lover on "Caught Up" or doing silly skits, Ja fails to rule the mike anymore. —C.A.
DOWNLOAD THIS: "Where I'm From"ALT-POP
Want Two




No less than the Rocket Man himself, Elton John, recently called Rufus Wainwright "far and away the greatest songwriter on the planet." Well, that may be an exaggeration, but Wainwright, the 31-year-old son of folk musicians London Wainwright III and Kate McGarrigle, certainly is one of the most adventurous young pop composers around. Like last year's
Want One
, this sequel is artful if not always accessible, with Wainwright indulging his classical sensibilities on orchestral tracks like "Agnus Del" and "Little Sister" that may sound better suited to PBS than VHI. Though sometimes a bit baffling. Wainwright is never boring, and the patient listener is rewarded with multilayered music (featuring backup from sister Martha, mom Kate and aunt Anna McGarrigle) that deepens with each spin. Lyrically, Wainwright is just as challenging and unconventional. On the lilting "Gay Messiah," the openly gay artist sings about a messiah who "will fall from the star Studio 54 and appear on the sand of Fire Island's shore." —C.A.
DOWNLOAD THIS: "Gay Messiah"Shania Twain Country megastar Shania Twain, 39, has released her Greatest Hits, which features three new songs, including the single "Party for Two."
BLACK EYED PEAS
ELEPHUNK
I'm really attracted to the whole mixed style that they've got going on, with the rappers and the girl [singer].
PINK
MISSUNDAZTOOD
I'm still listening to this. I love her. She sings about a lot of issues. I like her whole attitude, and she has an amazing voice.
GLEN CAMPBELL
ALL THE BEST
I still marvel at the sound of his voice. It's so beautiful. Song after song after song is a classic. When I listen to something like that, I realize how much talent we're missing these days. There were so many great quality artists when I was growing up.
ETTA JAMES
BLUES TO THE BONE
It's the tone of her voice. The whole sound of the record is very raw, and that's just refreshing to hear.
BEYONCE
DANGEROUSLY IN LOVE
It's really slick-sounding ear candy that's easy to listen to, with great grooves. She is a very talented girl and she is a real singer. You put a really commercial record together with someone who can really sing and it's a good combination.
For information on where to find our Download This picks, go to www.people.com/downloadthis or AOL (Keyword: People)
Contributors:
Chuck Arnold,
Ralph Novak,
Beverly Keel.
Advertisement
Treat Yourself! 4 Preview Issues
The most buzzed about stars this minute!