People Top 5
LAST UPDATE: Tuesday February 10, 2015 01:10PM EST
PEOPLE Top 5 are the most-viewed stories on the site over the past three days, updated every 60 minutes
More Than Just a Sexy Face
Their Accomplishment Speak for Themselves. But Let's Admit It, Their Looks Don't Hurt!
DAVID CARR
AGE: 25
STATUS: Married, father of two boys.
CLAIM TO FAME: The Houston Texans first overall draft pick in 2002 has led his team to its first back-to-back wins in its three-year history and a shot at the playoffs.
FAN CLUB: The 6'3" native Californian is known for his gritty play—and his rock-star magnetism. "Girls love him," says wife Melody, 24. "He signed a jersey for one that said 'Carr,' and she'd written 'Mrs.' in front of it."
SIDELINE: "I like to draw," he says. "I love architecture. If I didn't play football, I'd probably design houses."
KEEPS PROMISES: He and his father vowed not to cut their hair until the Texans won their first back-to-back games, which they did in October. But Carr just got a trim. "My wife liked it long," he explains, "so it stayed."
GUILTY PLEASURE: "Krispy Kremes," says Carr. "When my wife took our boys to the grocery store, she used to buy them each a doughnut. I'd take bites, and they'd complain. Now she gets me my own."
sexiest author
BEN MEZRICH
AGE: 35
STATUS: Single
CLAIM TO FAME: He made bestseller lists with
Bringing Down the House
and
Ugly Americans
, nonfiction page-turners about greedy, young, well-educated types getting rich at the expense of their ethics. In 2005 he will also host Court TV's documentary series
High Stakes with Ben Mezrich
.
PERFECT GUEST: What draws women to Mezrich is "his personality," says his girlfriend Tonya Chen, a model turned writer. "He is always the center of a dinner party."
HE'S NOT ASHAMED: When he's not writing, he says, "I watch TV pretty much 24 hours a day. I love reruns of Saved by the Bell. I can name any episode in two minutes—that's an accomplishment."
sexiest hit man
JOHNNY DAMON
AGE: 31
STATUS: Engaged; father of a twin son and daughter, 5, from a previous marriage.
CLAIM TO FAME: Sporting the most talked-about hair in baseball, the speedy Red Sox lead-off batter contributed three homers to the playoffs and six hits to Boston's World Series sweep of the St. Louis Cardinals. Looking on ecstatically were "Damon's Disciples," a group of men—and women—who attended every game in flowing wigs and fake beards.
A ROMANTIC: The best part of his elaborately planned proposal to real estate executive Michelle Mangan, 29, she says, came after the Martha's Vineyard getaway and the 8-carat diamond ring. "He said, 'Everything we do, we'll do together.' That was what made me cry."
MR. SOFTIE: "He won't admit it," she says, "but Bull Durham makes him cry."
sexiest card shark
GUS HANSEN
AGE: 30 STATUS: Single
CLAIM TO FAME: Known as "The Great Dane" on the Travel Channel's World Poker Tour, the Copenhagen-born card champ has won three tour events and ranks as one of the most aggressive no-limit players in the game.
NOT YOUR AVERAGE POKER FACE: Hansen, who works out daily and dresses in black Hugo Boss jeans, "is an anomaly" among men who sit at poker tables for hours on end, says actress Mimi Rogers, a tournament-level player. "HE'S INCREDIBLY SMART AND BUFF. COMBINED WITH THE DANISH ACCENT, IT'S PRETTY ENTICING. And there's an element of unpredictability that makes him sexy. He's a dangerous player."
SHARING THE POT: With winnings racked up over seven years as a pro, Hansen bought homes for his grandmother, mother and sister. "I'm not big into gifts on holidays," he says. "I like to give presents when the situation arises."
sexiest designer
RICHARD CHAI
AGE: 30
STATUS: Single
CLAIM TO FAME: The fashion wunderkind who designed at Marc Jacobs and TSE has critics buzzing about his new women's line for spring. "The clothes do have a strong edge to them," he says. "But at the same time that's contrasted by things that feel really soft and really feminine."
SENSITIVE SIDE: Beyond talent, "his biggest asset is his heart," says fellow designer and friend Ana Lerario. "He's a passionate person. He cries at movies. Sometimes he even cries watching
Oprah
."
SHOE COLLECTION: He has more than 100 pairs of sneakers. "I buy beautiful sneakers, but I never wear them," Chai admits. "When I go to put them on my foot, I think they look too flashy. So I always wear the same old beat-up pair."
sexiest shrink
REEF KARIM
AGE: 36
STATUS: Single. ("My mom bugs me about when I'm going to get married," he says.)
CLAIM TO FAME: He's a psychiatrist who sees patients and teaches at U.C.L.A.; he's also the host of Court TV's House of Clues and an actor who has appeared in such films as 2002's
Laurel Canyon
. Look for the doctor in upcoming episodes of
Extreme Makeover
, providing emotional support to the show's patients. Says Karim: "I'M TRYING TO BE A MEDICAL MESSENGER IN A POP-CULTURE WORLD."
THE DOCTOR IS IN: "He's tall, dark and handsome and a real doctor, so you think he's sensitive," says director Catherine Hardwicke, who has consulted with him on several movies, including
Thirteen
. "Then he starts telling you he's a salsa dancer."
HE'S NOT KIDDING: "Dance has always been a huge hobby of mine," says Karim, who began taking lessons at 17. "When I'm a doctor, I have to impart knowledge, but when I'm dancing, it's about the sultry music and the sensuality of the moment and sharing that experience with another person."
sexiest NBA rookie
EMEKA OKAFOR
AGE: 22
STATUS: Single
CLAIM TO FAME: The 6'10" Charlotte Bobcats rookie center was picked second overall in this year's NBA draft after leading his University of Connecticut teammates to an NCAA championship and graduating with a 3.76 GPA and a degree in finance. A book lover, he's just finished Dan Brown's
Angels & Demons
and is now in the middle of reading
The Joy Luck Club
.
BODY LANGUAGE: "He's sculpted to a T," says college friend Lindsay Schroeder of the Houston-born athlete. "He likes to prance around in his warm-up shorts." At bars, she adds, "girls just cling to him."
ENDEARING HABIT: In the shower, says Schroeder, "he sings Mr. Rogers's 'Won't You Be My Neighbor?' "
Advertisement
Today's Photos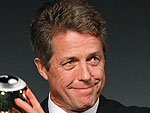 Treat Yourself! 4 Preview Issues
The most buzzed about stars this minute!