People Top 5
LAST UPDATE: Tuesday February 10, 2015 01:10PM EST
PEOPLE Top 5 are the most-viewed stories on the site over the past three days, updated every 60 minutes
Picks and Pans Main: TV
I Wanna Be a Soap Star: Mykel Jenkins
CBS (Tuesdays, 9 p.m. ET)




It's never the destination; it's always the journey," high school science teacher Avi opined in the mid-November premiere of the sixth
Amazing Race
. A wise observation, even if Avi and his old buddy Joe were the first team to be eliminated. I don't much care which duo ultimately comes in first and collects the $1 million prize, and the personality conflicts aren't dramatically different from those on other reality shows. But at least this series covers a lot-of interesting ground.
In the opener, the 11 teams assembled by Chicago's beautiful Buckingham Fountain and learned they must hie themselves to the airport and catch a flight to Iceland. There they set out in cars and searched the striking landscape for a particular waterfall. Later they rode across a glacier in snowmobiles and camped out on the ice. "God, look at this, love," Don said to his wife, Mary Jean, as the two grand-parents took a moment to admire their surroundings. I like a man who uses his eyes.
What I don't like is watching couples yell at each other, but that's an inevitable part of the race. Bickering Adam and Rebecca, billed as "Formerly Dating," show why their romantic relationship should stay in the past tense. "I'm never gonna talk to you for the rest of my life," he says, as if that were a threat rather than a favor. Jonathan, an entrepreneur who modestly describes himself as a "mental magician," harangues wife Victoria without mercy and whoops obnoxiously when their team is faring well. Married pro wrestlers Lori and Bolo have vicious verbal battles and occasionally go at it physically.
The Amazing Race
won its second Emmy this year as best reality competition series, but if host Phil Keoghan starts bellowing "Are you ready to rummmble?" it'll cost the show some prestige.
ANIMATION
Cartoon Network (Fridays, 7:30 p.m. ET)




"Anything is possible," proclaims the theme song of this enjoyably anarchic new series, and the animators seem to have taken those words as their credo.
Globe-trotting pop stars Ami and Yumi, based on an actual Japanese duo, have wild adventures galore—bullfighting in Mexico, fleeing a vampiric rock band in Slovakia, inadvertently creating a monstrous blob of taffy while working in a candy factory. Kaz, their greedy manager, locks them out of the tour bus when they don't pay him rent. Each show opens and closes with the real-life Ami and Yumi doing barely understandable comedy bits. (The girls' English is limited, whereas their cartoon counterparts sound American.) The whole package is bouncy, nutty and diverting for kids and adults.
MUSICAL
NBC (Sun., Nov. 28, 9 p.m. ET)




You needn't be a "Bah, humbug" type to consider bailing out on this uneven musical version of the Dickens classic, adapted from the annual Yuletide stage production at New York's Madison Square Garden.
In the early scenes, Kelsey Grammer is so intent on hunching, squinting and frowning that his Scrooge belongs in a cartoon. (Not too surprisingly, the press kit says his favorite Scrooge portrayal was by myopic Mr. Magoo in 1962.) Marley's ghost (Jason Alexander) and a corps of dancing dead guys do a bizarre number that suggests a cross between
Fiddler on the Roof
and
The Addams Family
.
The Alan Menken-Lynn Ahrens songs get better, though, and so does Grammer's performance as he bares the pain and regret beneath the miser's bluster. Jennifer Love Hewitt sings affectingly as Scrooge's old girlfriend, and
Law & Order's
Jesse L. Martin gives the Ghost of Christmas Present a showman's flair.
DRAMA
PBS (Sun., Nov. 28, 9 p.m. ET)




Eleanor H. Porter's 1913 classic
Pollyanna
concerns an 11-year-old girl whose name has become synonymous with cockeyed optimism. Any adaptation of the novel is bound to have a high sugar content, but this well-acted Masterpiece Theatre entry stops short of sticky sweetness.
Though the setting has changed from New England to old England, the story seems right at home. Newly orphaned Pollyanna (Georgina Terry) comes to live with stern Aunt Polly (Amanda Burton), and the child's positive thinking proves a tonic for all she meets. Serious misfortune befalls Pollyanna—get out your hankies—but nothing can keep her down. The refreshing thing about Terry's performance is that she wears no halo. Her Pollyanna is a ray of sunshine and a bit of a pest—in short, a kid.
When Angels Come to Town
(CBS, Nov.28, 9 p.m. ET)
Ho-ho-ho. It's Peter Falk's third holiday movie as Max the angel. Here he gets in hot water for contacting the wrong family in need.
Diana Revealed
(NBC, Nov. 29,10 p.m. ET)
A two-part report (concluding Dec. 6) features a videotape made by Princess Diana's voice coach in which Diana talked frankly about her private life.
Christmas at Rockefeller Center
(NBC, Nov. 30, 8 p.m. ET)
Al Roker and Nancy O'Dell host the big tree-lighting in Manhattan, with songs by
Hilary Duff
and
Clay Aiken
.
Rudolph the Red-Nosed Reindeer
(CBS, Dec. 1,8 p.m. ET)
It's the 40th-anniversary broadcast for this animated musical classic.
Nick & Jessica's Family Christmas (ABC, Dec. 1,9 p.m. ET)
Married lovebirds Lachey and Simpson welcome Jessica's sister Ashlee to their second variety special.
Melania Knauss In January Donald Trump will walk down the aisle with his longtime girlfriend, model Melania Knauss, 34. In the meantime Knauss is stepping out on her own, as the new face of Levi's jeans.
ON THE APPRENTICE
It's a very educational show. Some weeks, we have [viewing] parties, but normally we watch alone at home. Raj was a great character. And I love the boardroom scenes. All the apprentices are so tense, and I just love how they react to Donald.
ON WHETER SHE HAS ANY INPUT ON WHO GETS FIRED
We discuss it. I do give him my thoughts. I'll say, 'Oh he's very good' or 'She's very good.' But he doesn't necessarily listen.
ON PLANNING THEIR WEDDING
Everything is done already. I chose the dress, I did almost everything. Donald says, 'You just do what you like,' and he trusts my taste. He's so busy, he wants me to do all the planning. I'm having a good time. I don't want to be a bridezilla.
ON BEING MORE THAN THE FUTURE MRS.TRUMP
I can't just lay around the apartment and do nothing. He has his job and things he loves to do and I have mine. Then in the evenings we do stuff together that we both Love.
>What's better than making out with beautiful actresses on daytime TV? "Getting paid for it," says Mykel Jenkins, 35, who beat out 11 other hopefuls to win SOAPnet's / Wanna Be a Soap Star. "It's the 13th donut in a dozen."
During the six-week reality series, which ended Nov. 20, Jenkins "exuded self-confidence and had a very appealing on-camera chemistry," says Soap Star judge and actress Debbi Morgan. Jenkins, a Lubbock, Texas, native who now lives in LA. with wife Tracy, 32, an executive assistant, and their son Bryce, 4, began a 13-week gig on ABC's General Hospital Nov. 22 as Officer Murphy. "That first day I drove up to the gates of the studio, that feeling was amazing," recalls Jenkins. "Here I am! And I'm going to work hard so I can stay." Jenkins also hopes his arrival on the daytime drama scene begins a trend to add more diversity to the soap world. "I don't know why there aren't many black people on soaps," says Jenkins. "There are black people in the world, so let's see them!"—MONICA RIZZO
Contributors:
Terry Kelleher,
Natasha Stoynoff.
REALITY
Advertisement
Today's Photos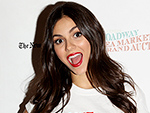 Treat Yourself! 4 Preview Issues
The most buzzed about stars this minute!