People Top 5
LAST UPDATE: Tuesday February 10, 2015 01:10PM EST
PEOPLE Top 5 are the most-viewed stories on the site over the past three days, updated every 60 minutes
Faces of the '90s
We Catch Up with Garth, Kato, Urkel and Other Icons of the Last Decade
Senator Drescher!" The former star of TV's
The Nanny
tries out that job title in her familiar nasal drawl and likes what she hears. "I definitely see myself at some point running for office in California or New York," says the Queens native, 47, who has championed health care reform and women's rights since successfully battling uterine cancer 4½ years ago. For now, though, Drescher (who wrote a 2002 bestseller, Cancer Schmancer) is sticking with acting. Her new, still untitled WB sitcom, premiering in March, casts her as "a sexy mom," she says, in "an Ashton-Demi relationship." In real life the actress, who split from
Nanny
creator Peter Marc Jacobson in 1999, the year the series ended, is currently unattached. "I'd like to have a child. I'd like to get married again, but I don't have to," she says. "I'm not afraid to be alone anymore, which is what kept me in a relationship so long." Nanny fans still recognize her. "They'll say, 'Is that your real voice?' and I'll say, 'Who could make this up?' "
KATO KAELIN
I am so beyond that time in my life," Kaelin says of his heyday as America's best-known houseguest. The wannabe actor was living at O.J. Simpson's Brentwood, Calif., estate the June night in 1994 when Simpson allegedly slipped out to murder ex-wife Nicole and her friend Ronald Goldman. Kaelin parlayed his fame into a string of B-movie bit parts and a 1998 lecture tour called—aptly—"The 16th Minute." A decade later Kaelin, 45, appears to have found his niche. "2004 has been the best year of my life," he says. Hired late last year by
National Lampoon's
L.A. office to read and pitch scripts, he's now producing an as-yet-unsold TV show called
Dumb Sports
(as in ostrich-racing). The single father of one, who says he's "kind of seeing someone in New York," has also come to view his notoriety as a good thing. "To go into a club or bar, it's sort of like being Norm at Cheers," he says. "It's like, 'Hey, Kato! What's going on?' "
KERI RUSSELL
Russell charmed critics with her portrayal of lovestruck college student Felicity Porter on The WB's
Felicity
from 1998 to 2002. She followed it up with film and TV work, starring in
The Upside of Anger
, a big-screen family drama due out in 2005, and playing a frontier homesteader in
Into the West
, a just-wrapped TNT miniseries. Now, following Felicity's fictional journey, Russell, 28, has uprooted herself from L.A. and moved to New York. This month she makes her debut in Neil LaBute's Off-Broadway drama
Fat Pig
. Though she plays a bitchy ex-girlfriend, "she is so likable and accessible," says co-artistic director Bernard Telsey, she makes the character's behavior understandable.
JALEEL WHITE
The dweeby kid who played irksome Steve Urkel on
Family Matters
from 1989-98 is now 28, a graduate of UCLA film school and a budding screenwriter. But his legacy as a child star remains close to his heart. Recently White dispensed advice to a current teen prodigy, Freddy Adu, the 15-year-old soccer star of D.C. United. "The overall message to Freddy," says Adu's agent Richard Motzkin, "was, 'Behave professionally, but also try to be a kid and enjoy that as well.' " White has followed his own gospel. "His head is still screwed on right," says John Tracy, who directed White in
Family Matters
. Unlike his scrawny character, White "is so buff, it's hard to remember him as Urkel," says Tracy. "He's athletic." And unlike other ex-child stars, in good financial shape too. "He has a real life."
JENNY McCARTHY
When
Rolling Stone
put her on its cover in 1996, "that was my launching pad," says McCarthy, 32. Actually the former Playboy Playmate had already taken off as the bawdy cohost of MTV's dating show
Singled Out
, which led to The Jenny McCarthy Show in '97. Then she leapt into her own NBC sitcom,
Jenny
(1997-98). Being known as the "cool It chick" of the moment "was stupid," she says, "because I knew inside I was such a nerd... just kind of like this goofy girl that really didn't know what to do with herself." McCarthy eventually figured it out. In 1999 she married director John Asher, whom she'd met a year earlier on the set of the Kirk Douglas drama
Diamonds
, and had a son, Evan Joseph, now 2. Being a mom has made her "less narcissistic," she says. "Life isn't about you as much anymore."
Belly Laughs
, her 2004 bestseller, is in fact all about her pregnancy. She has gotten laughs on TV with a guest part on ABC's
Hope & Faith
, and she'll star in
The Bad Girl's Guide
, a midseason comedy on UPN. She and Asher, who directed her latest film,
Dirty Love
, a romantic comedy due out in 2005, keep the flames burning off screen as well. "Once in a while we look at each other and go, 'OK, let's go to Vegas,' " says the L.A.-based actress. "We definitely try to make those romantic time-outs."
GARTH BOOKS
The top-selling male country artist of all time stunned fans in 2000 by abruptly retiring to raise his three daughters. Today Brooks, 42, keeps a willfully low profile on his 100-acre ranch outside Tulsa. "He's spotted around here all the time, at restaurants and Home Depot," says Tulsa World writer John Wooley, "and he's always very cordial to fans." While he hasn't given up singing entirely—in April he gave a private concert to promote his Teammates for Kids charity—he saves his love songs for singer Trisha Yearwood, 39. The pair went public with their romance in '02. Will they—or have they—wed? "Trisha is my best friend, and sometimes people marry their best friend," Brooks told a TV interviewer last year. For the moment, though, his focus seems to be baseball (he hangs with the Kansas City Royals in spring training) and his film-production company. Says Wooley: "He told me he wanted to concentrate on scriptwriting because it's something he can do around his kids."
JONATHAN LIPNICKI
Everyone tends to see me as a 6-year-old or 7-year-old, but you know, I'm 14 now," says the former child star who played Ray Boyd, Renée Zellweger's son in 1996's
Jerry Maguire
. "And about 3 ft. taller." Other changes in the bespectacled kid who was only 5 when he impressed sports agent Maguire (
Tom Cruise
) by reciting the weight of the human head: "My voice is a lot different," he says. "I used to have that huge lisp." Plus, "I'm not wearing my glasses a lot anymore—just for reading. I'm just kind of growing up." In doing so, Lipnicki, whose father, Joe, is an accountant and mother, Rhonda, is his manager ("I like to call her 'momager,' " he quips), has taken some career setbacks in stride. "I haven't had the best luck on TV," says the actor, who attends eighth grade at an L.A. public school. "Both of my shows [1995-97's
The Jeff Foxworthy Show
and 1997's
Meego
] got canceled." The big screen has been kinder: He starred in the two Stuart Little movies, and his latest film,
When Zachary Beaver Came to Town
, premiering in February, casts him appropriately in "more of an older role in a coming-of-age story. It's pretty cool," he says. So are the letters he gets from female fans. But, says Lipnicki, "I'm not dating anyone. Not right now. I want to find someone who's fun." Meanwhile, he has formed a rock band with three friends; Lipnicki plays drums. He's also into kickboxing and jujitsu. "People think the cute kid from Jerry Maguire can't kick butt," he says. "But I'm pretty good."
LUKE PERRY
Though he shot to fame in the early '90s as Beverly Hills, 90210's brooding Dylan McKay, Perry has never been completely comfortable with his teen-idol status. He quit 90210 after five seasons to try his hand at films but returned to the show for its last two years (1998-2000) and even celebrated with his old classmates at the 2003 TV reunion special. He may have needed the support: A month earlier Perry, 38, and his wife of 10 years, Minnie Sharp, 35, had separated. Now divorced, they share custody of son Jack, 7, and daughter Sophie, 4. These days Perry, who lives in LA, splits his time between stage and film work. This year he starred in a London stage version of
When Harry Met Sally...
, and he will next be seen saving the world, first from a volcano (in the upcoming film
Decent
) and then from an exploding star (in
Supernova
, a 2005 miniseries). When he's not working, "all he does is spend time with his kids," says a friend. "That's his priority."
MICHAEL JORDAN
A year and a half after leaving the Washington Wizards, His Airness, 41, seems in no hurry for another comeback. Instead, the NBA's five-time Most Valuable Player spends much of his time on the links (he reportedly has a 2 handicap) and in the stands watching heir Jordan—Jeffrey, 16, the eldest of his three children—play hoops for Loyola Academy, a private school on Chicago's affluent North Shore, where the family resides. Jordan and wife Juanita, 45, a real estate agent, team up on philanthropic and political causes; they donated $10,000 to Barack Obama's successful Senate campaign. Sometimes the whole family dines out at one sixtyblue, a Chicago eatery partly owned by Jordan. "He likes the steak special and the 160 Signature margarita," says an employee. Jordan has also revved up his appetite for motorcycle racing. Last summer he became owner-sponsor of Michael Jordan Motorsports, a bike-racing team. "Now I am hooked," he told a TV interviewer. "Next year I am looking to expand the team, looking to compete-I want to win."
LISA LOEB
A decade ago the soulful brunette with the cat-eye specs scored with "Stay (I Missed You)," her hit single from the soundtrack of 1994's
Reality Bites
. Now Loeb, 36, has been bitten by the reality-TV bug. She describes her still-unscheduled VH-1 series as "sort of like
Sex and the City
meets
The View
," adding, "I am very open about the fact that I'm single and I want to go on dates." Loeb has been available since late 2003, when she and Dweezil Zappa—her boyfriend of six years and, briefly, cohost on the Food Network's
Dweezil and Lisa
(still in reruns)-amicably parted. The L.A.-based singer remains "obsessed with food," she says. "I am still meeting lots of chefs."
Advertisement
Today's Photos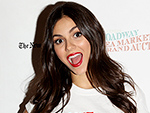 Treat Yourself! 4 Preview Issues
The most buzzed about stars this minute!