People Top 5
LAST UPDATE: Tuesday February 10, 2015 01:10PM EST
PEOPLE Top 5 are the most-viewed stories on the site over the past three days, updated every 60 minutes
Picks and Pans: Music
Looks Back
Blue Skies
&
Kelly Clarkson
's
Breakaway
POP
Breakaway:




Blue Skies:




In her surprising run to last season's championship round on
American Idol
, where she finished as runner-up to Fantasia Barrino, Diana DeGarmo, 17, often came off like
Kelly Clarkson
's little sister. Both DeGarmo and 22-year-old Clarkson,
Idol
's first-season winner, were sweet Southern gals (DeGarmo from Snellville, Ga.; Clarkson from Burleson, Texas) with aw-shucks charm, girl-next-door appeal and big if bland voices. Now, as DeGarmo releases her first CD and Clarkson issues the follow-up to her double-platinum 2003 debut,
Thankful
, the two seem to be even more connected. They even both use producer John Shanks, who also worked on
Ashlee Simpson
's and
Hilary Duff
's latest discs, and he brings the same pop-rock chops to
Blue Skies
and
Breakaway
.
Clarkson benefits with her album's breezy midtempo title tune, a Top 10 hit that was originally featured on last summer's soundtrack of
The Princess Diaries 2: Royal Engagement
, and the effervescent chugger "You Found me." The singer. who cowrote six songs on
Breakaway
, also teams up with producer-writers Ben Moody and David Hodges, both formerly of Evanescence, for two power ballads that you could also imagine Amy Lee bringing to life. After she made like
Christina Aguilera
for much of Thankful, it is refreshing to hear Clarkson unleash her inner Pat Benatar on such cuts as the bracing rocker "Since U Been Gone." However, with absolutely no real edge to speak of, you get the feeling that she's just trying out another pose.
DeGarmo does a bit more posing on
Blue Skies
. Although most of her CD follows the same pop-rock formula as Clarkson's, with catchy but cookie-cutter numbers like "Cardboard Castles," she hedges her bets by also dabbling in country-pop (the title song) and teen pop ("Boy Like You"). She also still seems to be trying to impress the
Idol
judges on schmaltzy ballads like "Go On and Cry" and "Dreams" (not to be confused with "Dream, Dream, Dream," which appears two tracks later). And on her disc's finest cut, the piano-laced single "Emotional," she does her best Vanessa Carlton imitation.
DOWNLOAD THIS: Clarkson: "Breakaway"; DeGarmo: "Emotional"
DOWNLOAD THIS: Clarkson: "Breakaway"; DeGarmo: "Emotional"
FUNK-ROCK
Rebel Soul Music
FUNK-ROCK
CRITIC'S CHOICE




When you are named after one of the great civil-rights leaders of the 20th century, and your music strives to take on such rebel soul men as Jimi Hendrix, Sly Stone and Prince, that's a lot to put on your guitar-strapped shoulders. But on his impressive second CD, released on his own Rebel Soul Records, Martin Luther McCoy does his forebears proud with insightful, socially conscious lyrics and the kind of righteously retro funk-rock that Lenny Kravitz wishes he could make. "In a sea of black music the water is so deep, won't you dive in?" Luther sings on the hip-hop-rocking title track, offering a more nourishing alternative for those tired of the "fast food" being spoon-fed to them on R&B radio. And there is plenty to feast on here, from the falsetto-kissed Earth, Wind and Fire-inspired uplift of "Rise" to the Princely sex suite of "Lust" and "Truth or Dare." With the keen urban awareness he displays on cuts like "Home." "Sleep Walking" and "Miss America" ("Urban dreams, manicured poverty is what it seems"), Luther clearly hopes that his music shall help his people overcome. —C.A.
DOWNLOAD THIS: "Rise"
DOWNLOAD THIS: "Rise"
RAP
Crunk Juice
RAP




Lil Jon is the producer behind two of 2004's biggest hits, Usher's "Yeah!" and Ciara's "Goodies," both of which kept subwoofers booming with the bass-heavy form of Southern hip-hop known as "crunk." But while that sound may make for some booty-shaking singles, its repetitious beats—combined with the shouted vocals—over the course of this disc may leave you with a hangover. Lil Jon, serving as both rapper and producer, and his posse run out of Juice early, before things pick up with guest spots from R. Kelly, Pharrell Williams and Usher, who returns the favor on the slow jam "Lovers and Friends." —C.A.
DOWNLOAD THIS: "Lovers and Friends"
DOWNLOAD THIS: "Lovers and Friends"
For information on where to find our Download This picks, go to www.people.com/download this or AOL (Keyword: People)
John Mellencamp
The artist formerly known as John Cougar, 53, has released a two-disc retrospective,
Words & Music; John Mellencamp's Greatest Hits
.
"I NEED A LOVER" (1979) This was the first hit record I ever had. The song went to No. 1 in Australia and I went down there to do some press. I got off the plane and there must have been 5,000 or 6,000 kids screaming. That trip gave me a taste of what it was like to be the Beatles.
"JACK & DIANE" (1982) We didn't want to have drums through the whole song, but you have to put something in that keeps time. The Bee Gees, who were recording next door, were using a new drum machine. I asked, "Could I borrow that thing? I want to keep time with that hand-clap sound it makes." We intended to take the claps out, but I turned them off and it sounded worse. So they stayed.
"HUTRS SO GOOD" (1982) I had been playing in bars all over the place. I wrote the song about what I was seeing going on between men and women. We started playing it long before we recorded it. I knew we had something because people were singing along.
"PINK HOUSES" (1983) I was driving down the interstate near Indianapolis. I saw a black guy sitting in his front yard and he waved at me. I don't know why. I remember thinking he looked content living in his little pink house. A week later it was a song.
"POP SINGER" (1989) When I wrote it, I was pretty much
Britney Spears
. I was everywhere and I couldn't stand it. I was going through a divorce and I was very tired of the pop-music thing. —OLIVER JONES
Contributors:
Chuck Arnold,
Oliver Jones.
Diana DeGarmo's
Advertisement
Today's Photos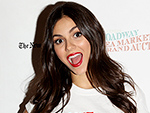 Treat Yourself! 4 Preview Issues
The most buzzed about stars this minute!