On Newsstands Now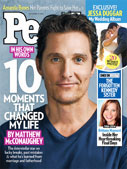 Matthew McConaughey: In His Own Words

Jessa Duggar's Wedding Album

Brittany Maynard's Final Days
Pick up your copy on newsstands
Click here for instant access to the Digital Magazine
People Top 5
LAST UPDATE: Tuesday February 10, 2015 01:10PM EST
PEOPLE Top 5 are the most-viewed stories on the site over the past three days, updated every 60 minutes
THRILLER




Psychologist David Callaway (De Niro) probably doesn't have any World's Greatest Dad mugs gathering dust in his cabinet. After his wife (Amy Irving) slits her wrists in their bathtub, he ill-advisedly moves their 9-year-old daughter Emily—who's nearly catatonic from the trauma—from Manhattan to an insular home in the country. Because this tired thriller couldn't have things any other way, the home is of course requisitely spooky. It's little wonder that Emily (Fanning) soon takes up with an imaginary friend named Charlie and begins mutilating dolls and dressing up in her dead mom's clothes. Meanwhile, all sorts of horrible things begin popping up in their tub, including a freshly slain family cat. Emily blames it all on Charlie. As Emily's psychologist (Janssen, whose fleeting appearances barely register) notes, "Trauma causes pain."
Especially for viewers of this lifeless movie with rote direction by John Poison (
Swimfan
) from a been-there-seen-that script by first-time screenwriter Ari Schlossberg. Cocooned in an array of comfy sweaters, De Niro can barely feign interest from scene to scene, while Fanning, doing her best Wednesday Addams impression (blank, wide-eyed glaze topped by a brown wig), matches his indifference. Neither shows signs of life until the excruciatingly protracted, nonsensical climax, but
Hide and Seek
loses its way long before then. In the thankless role of a local who romances De Niro, Shue adds a much-needed but all too brief spark of energy. (R)
John Turturro
SUSPENSE




Underwhelmed by a pretentious Broadway play she had just seen, actress Tallulah Bankhead once remarked to a companion, "There is less in this than meets the eye." Viewers may have a similar reaction to this murky psychological thriller.
Fear X
is about a shopping-mall security guard (Turturro) whose wife was shot, along with a cop, in the mall's parking garage. The killer has never been identified and the guard becomes obsessed with solving the case. On the job, he scrutinizes customers and looks for clues. During his off hours, he obsessively watches old security videotapes and collects index cards with data on potential suspects.
It's a decent premise, but
Fear X
, directed by Danish filmmaker Nicolas Winding Refn (who cowrote the screenplay with American cult novelist Hubert Selby Jr., of
Last Exit to Brooklyn
fame), is less interested in solving the mystery than in tracking the obsessive despair of its protagonist. The usually reliable Turturro wears a crabbed expression and sighs frequently. While a few moviegoers may find
X
powerfully significant, most will simply find it zzzzz-inducing. (Not rated)
Hotel Rwanda




The world turned a blind eye to Rwanda's horrific 1994 genocide, but hotel manager Paul Rusesabagina could not. With his quiet, compelling turn as a reluctant hero, Don Cheadle gives the performance of his career. (PG-13)
Million Dollar Baby




Director and star Clint Eastwood pulls no punches in his gritty and moving film about a timeworn boxing coach who shows the ropes to a headstrong Hilary Swank. (PG-13)
Assault on Precinct 13




Cops (led by Ethan Hawke) and robbers unite under siege in a sharp remake of the 1976 cult film. (R)
In Good Company




How's this for a midlife crisis? In this smart comedy, Dennis Quaid charms as he deals with a new boss (Topher Grace) young enough to be his son. (PG-13)
SPOTLIGHT ON
The Sundance Film Festival
Industry insiders and ardent film fans flocked to Park City, Utah, for an early peek at promising new indie movies. The lowdown on 2005's crop:
BEYOND FRIENDS In the likable ensemble comedy
Happy Endings
, Lisa Kudrow gives a knockout comic performance as a woman looking for the son she gave up for adoption 20 years earlier.
BEST SIGHT GAG A dissolute Pierce Brosnan, clad only in a black Speedo and matching ankle boots, marches drunkenly through a hotel lobby in
The Matador
. This larky comic thriller casts Brosnan as a hit man suffering from burnout.
HIGH WATTAGE Rising star
Naomi Watts
sparkles in Ellie Parker, a slight but amusing film following the travails of an aspiring Hollywood actress.
LET THEM EAT CAKE London drug dealer
Daniel Craig
puts the moves on
Sienna Miller
while trying to quit the business in Layer Cake, a stylish crime drama.
WHEN MOM MOVES IN A young lesbian Chinese American doctor is thrown for a loop in the winning offbeat romantic comedy
Saving Face
when her widowed mom (Joan Chen) shows up at her doorstep. Mom is pregnant but won't name the father.
CAREER CHANGE A pimp (Terrence Howard) hopes to make it as a hip-hop singer in
Hustle & Flow
, an entertaining drama that plunks a familiar follow-your-dream story into an unconventional, seamy setting. This should make the talented Howard a star.
FROM ER TO ELEKTRA
Goran Visjnic
After six seasons saving lives as
ER
's Dr. Luka Kovac, Croatian native Visjnic, 32, finally needs some rescuing himself. In
Elektra
he plays a dad who comes under the protection of assassin
Jennifer Garner
.
ON CONNECTING WITH GARNER The first time we met was in a gym working out our fight scenes. I was really impressed. She was working so many hours and so hard, which makes her look great in every shot.
ON COMIC BOOKS I'm still a big fan. I like [the classic French comic] Asterix. I have at least 100 issues in my house in L.A.
ON MEETING
GEORGE CLOONEY
It was my third or fourth day of filming
ER
six years ago. He recognized me as the new guy. He said, "Come on, man, you're going to enjoy yourself. This is a great crew, great cast." I admire him for that because he made my life so much easier. I felt at home. He's a generous guy.
ON ER'S FUTURE I just signed for another year and a half or two. We're running pretty strong, and nobody sees a reason to shut it down. I can tell you that Samantha [Linda Cardellini] and Luka are still together in the season finale. Of course, there's going to be a lot of troubles in that relationship.
ON BEING THE RESIDENT HUNK I wouldn't know about that. If that's the case, it doesn't have anything to do with me. It's genetics. [Thank] my parents.
Contributors:
Jason Lynch,
Leah Rozen,
Sabrina McFarland.
Robert De Niro, Dakota Fanning, Famke Janssen, Elisabeth Shue
Advertisement
Today's Photos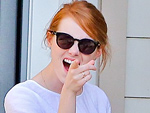 Treat Yourself! 4 Preview Issues
The most buzzed about stars this minute!