On Newsstands Now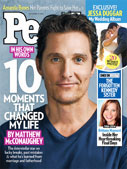 Matthew McConaughey: In His Own Words

Jessa Duggar's Wedding Album

Brittany Maynard's Final Days
Pick up your copy on newsstands
Click here for instant access to the Digital Magazine
People Top 5
LAST UPDATE: Tuesday February 10, 2015 01:10PM EST
PEOPLE Top 5 are the most-viewed stories on the site over the past three days, updated every 60 minutes
Picks and Pans: Books
Buzz Book
MEMOIR




Think your teen years were rough? In her first book, Zailckas, 24, chronicles a harrowing nine years of alcohol abuse, from her first drink in eighth grade to the day years later when she awakens from a blackout clueless about where she is but thankful that she isn't naked. Her journey is a dismal one: At 16, she passes out in a puddle of vomit at a party and has to get her stomach pumped; after a night of drinking during college at Syracuse, she is sexually assaulted by a friend.
The story's power lies not in Zailckas's crises but in her candor. Focusing less on the shock value of her experience than on how sadly common it is among her peers, she relays every detail of her desperation with subtle wit and refreshing insight. With so many troubled teens becoming authors lately, bookstores are flooded with boozy bios by former girls gone wild. This one rises to the top.
SHORT STORIES
By Rattawut Lapcharoensap
STORIES
CRITIC'S CHOICE




It's ironic that this brilliant debut collection of short stories so skillfully evokes the touristy bits of Thailand, given that recent news has focused on the devastation there. Written by Lapcharoensap, a 25-year-old Chicago-born, Bangkok-raised writer, the tales feature humorous and poignant portraits of ordinary Thai citizens and their foreign guests. Set everywhere from cheap beach resorts to dodgy Bangkok bars, they're snappily written and cleverly imagined. Lapcharoensap livens his tales with antic elements including Clint Eastwood, a pet pig who tags along as his Thai owner falls for a bikinied tourist. (When the barely clad visitor asks to ride an elephant, its owner snorts, "What if I went to her country and rode a bald eagle in my underwear, huh?") In another tale, a wheelchair-user Yank finds joy when "Mister Monk" lets him ride a bumper car at a Buddhist-temple fair. In the end, the author leaves us eager for a sequel—in part, perhaps, to remind us of the enduring strength of Thai culture.
By Dave King
NOVEL




In the 30 years since a Vietnamese land mine robbed him of the ability to speak, write or read, Howard Kapostash, the narrator of King's first novel, has abandoned any hope for meaningful connection. Speech therapy was awash, so he communicates with gestures, guttural sounds and a business card that reads: "Please remember: I am of normal intelligence!" Howard's routine includes mowing lawns, coexisting with boarders in his childhood home and pining for Sylvia, his high school sweetheart. Sylvia, unfortunately, cares more for cocaine and is being shipped off to rehab, leaving her 9-year-old son Ryan with Howard, the only reliable person she knows.
There are a few Lifetime moments as Howard and his housemates open their hearts to the sullen boy, but this compelling novel is hardly simplistic. Howard may have the heartwarming realization that he can participate in Little League ("for a mime, umpiring might be the world's easiest job"), but his years of severe isolation can also cause him to erupt with frightening violence. At times King overplays Howard's volatility, but in the end he draws a noble portrait of a wounded man.
By Pam Houston
NOVEL




Best known for
Cowboys Are My Weakness
, a bestselling l992 short-story collection, outdoorswoman Pam Houston writes in her first novel of love and loss on a Colorado ranch. Her protagonist, Rae, has survived two marriages, and stronger than any of her human bonds is her relationship with Dante, her three-legged Irish Wolfhound. Though Dante is dying, Rae draws strength from her canine companion, whose voice is among those that drive the narrative. The adrenaline quotient is lower than in Houston's earlier work and the story seems contrived at points, but
Sight Hound
will resonate with readers who admire Houston's emotional risk-taking.
How Societies Choose to Fail or Succeed
By Jared Diamond
NON-FICTION




The Pulitzer Prize-winning author of
Guns, Germs, and Steel
asks why humans consistently destroy their societies "through disastrous decisions." Examining extinct cultures including the Mayans, Easter Islanders and Norse Greenlanders for clues, the author cites deforestation and refusal to depart from tradition as crucial pitfalls ("ecocide" he calls it) and argues that modern society's rate of consumption is "unsustainable." Rendering complex history and science into entertaining prose, Diamond reminds us that those who ignore history are bound to repeat it.
By Robert Anderson
NOVEL




Since the appearance of Sylvia Plath's unabridged journals in 2000, no fewer than 10 books have been published about the lives of the poet and her husband, Ted Hughes. These include two novels, one tracing Plath's last days and another detailing the love triangle of Plath, Hughes and his paramour Assia Wevill from each principal's point of view. First-novelist Anderson takes a similar tack, only he adds the perspective of a romantic scholar living in New York who has been obsessed with Plath since high school. "I love Sylvia. I resent Ted," he explains. "Their poems forged my identity. And ruined my life." Anderson avoids redundancy thanks to his fittingly poetic language and success at connecting the poets with the narrator meditating on their lives. Some might find the prose overcharged and the plot submerged under the rush of language. But
Little Fugue
becomes a disarmingly original book as its fourth character moves from reader and fan to writer and central subject—proving that Plath's story is worth telling yet again.
THE ROAD TO WHATEVER Elliott Currie
A study of dysfunction among middle-class teens that places blame on a competitive society.
READY OR NOT, HERE LIFE COMES Mel Levine, M.D.
Guidance for teens intimidated by the tricky leap into adulthood.
WHAT IT TAKES TO PULL ME THROUGH David L. Marcus
Lessons learned from the lives of four troubled adolescents who get themselves back on track at a school for kids in crisis.
"I read a bunch of great books last year—
The Amazing Adventures of Kavalier & Clay
[by Michael Chabon],
Dry
[by Augusten Burroughs],
Plainsong
[by Kent Haruf]—but since I started working all the time, the books just pile up on the bedside table. I have become as dull as spit." —LAURA LINNEY
"
A Multitude of Sins
by Richard Ford. I like very much the landscape he makes about relationships between men and women. He is better at that than anyone else I have read." —JAVIER BARDEM
"My latest absolute crush on a writer is Augusten Burroughs. I have only read
Running with Scissors
so far but I ordered
Dry
from Amazon this morning. The way he writes is funny and appalling and terrifying and brilliantly witty. I find myself catching my breath at the end of every paragraph." —VANESSA REDGRAVE
The Male Biological Clock
Only women need to worry about fertility as they age, right? Wrong, says Columbia University urologist Dr. Harry Fisch, 46, whose new (and controversial) book is intended as a wake-up call to men.
Should men worry as much as woman? It's a different type of clock—it doesn't hit midnight at a specific point like a woman's—but as a rule it's really speeding up once a guy hits his mid-30s.
What changes do men undergo? Male hormone levels drop, and so does the quality of sperm. In about 40 percent of couples struggling with fertility issues, the problem is solely the man's.
You say if the mother is over 35, the older the father, the higher the chance of Down syndrome. Your critics say your finding have yet to be proved. I'm looking at research that's new and revolutionary. A very lucrative industry has been built around women's infertility. It's time to look at this problem in its entirety.
Contributors:
Beth Perry,
Asra Q. Nomani,
Ellen Shapiro,
Annette Gallagher Weisman,
Edward Nawotka,
Porter Shreve,
Vanessa Redgrave.
By Koren Zailckas
Advertisement
Treat Yourself! 4 Preview Issues
The most buzzed about stars this minute!