On Newsstands Now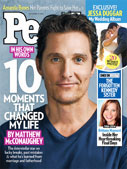 Matthew McConaughey: In His Own Words

Jessa Duggar's Wedding Album

Brittany Maynard's Final Days
Pick up your copy on newsstands
Click here for instant access to the Digital Magazine
People Top 5
LAST UPDATE: Tuesday February 10, 2015 01:10PM EST
PEOPLE Top 5 are the most-viewed stories on the site over the past three days, updated every 60 minutes
Message of Hope
They Were Known as the Lost Boys of Sudan: Small Children Who Fled a Fierce Civil War on Their Own. Now Three Who Have Thrived in the U.S. Return to a Refugee Camp to Prepare Others for Fast Food, Phones and Life in America
Just a decade ago, the well-dressed men—Duom Deng, David Ayiik and James Biar—were refugees too. Having watched their parents murdered and their villages destroyed in Sudan's civil war, they were forced to join thousands of other orphaned children on a 1,000-mile trek east to Ethiopia—only to spend the next five years wandering among refugee camps before settling in Kakuma in 1992. Aid workers called the thousands of male orphans the Lost Boys. (Girls also fled to the camps but for cultural reasons were placed with refugee foster families.) "We made ourselves brothers," says Deng, who is in his mid-20s. "We learned by ourselves to be good to ourselves and to others."
That philosophy stuck with Ayiik, Deng and Biar after they were granted visas in early 2000 to settle in the United States along with 3,600 other Kakuma refugees. In less than five years they transformed from wide-eyed immigrants who had never seen a kitchen freezer to young men working their way through college in San Diego. Now they have returned to Kakuma—thanks to the help of the local Rotary Club—to help the next group of U.S.-bound hopefuls prepare for their new home. "The desire to go back to the camp was straight from my heart," says Deng. "I wanted to see how the rest were doing. It was a big thought for me that I had left them."
Thousands of Kakuma's 86,000 refugees are Lost Boys. Most of them have applied for U.S. visas, which are in various stages of the selection process. They live in rudimentary mud huts, sleep on wooden slabs and subsist on rations of simple grains and water. Most have never owned a book, which made the 1,000 donated dictionaries Deng, Ayiik and Biar brought a hot commodity. Deng's digital camera was also a hit with the kids, some of whom had never seen their own image and collapsed in squeals of delight. "It is so important for the students to see the Lost Boys," says Tulasi Sharma, head of the Lutheran World Federation assistance program, which runs the camp's educational system. "To know that it is possible [to succeed] and to know that they have not been forgotten."
The trip had an effect on the San Diego Lost Boys too. "I was really uncomfortable to see them that way," Deng says of his friends who still live in deep poverty. "The food that they have is still not enough. They are not getting any vegetables, no oils, and the water gets cut off after just an hour. It is so sad to me, even now."
The three have come a long way, to be sure. Deng's family, members of Sudan's Dinka tribe, had just settled down to dinner when Sudanese soldiers swarmed their tiny village in 1987. "Suddenly we heard a cry from a neighbor and the sound of guns and horses," he recalls. "We heard that one of my uncles was killed; his wife and children were screaming. There were horses, guns, men everywhere." In the confusion he was separated from his mother and father, but like many parents they had warned him that if the men with guns came he should run and travel east.
With the sounds of the village burning, screaming women being raped and men being shot ringing in his 6-year-old ears, Deng, wearing a T-shirt and shorts—the only clothes he'd have for the next two years—ran with the other children, joining up with a larger group heading across the desert. "I remember eating leaves, I was so hungry and thirsty," he recalls. "Once I stepped on a dead person. It was very scary, and I went into shock. An older person pulled me away and said, 'Don't look, just keep going.'" Hundreds died of hunger or fell prey to lions and crocodiles, according to Ayiik. "I was very scared, but I think I made it because I saw other kids like me and I tried to be strong like them," he says. "I couldn't give up."
Years later, when the three first arrived in the U.S. with only a three-month stipend for rent and food, "they would put eggs and milk in the cupboard, not the refrigerator," says Judy Bernstein, a volunteer from Rancho Santa Fe, Calif., who mentored them. Lost Boys under 18 were placed in foster homes, but the rest fended for themselves. In preparation for job interviews, "they learned how to look someone in the eye, which is not part of the Dinka culture," explains Bernstein. Sharing, however, is: When one Lost Boy got a job interview, he would bring along three or four of his "brothers" so they might find work too.
Many of them spent a lot of their early time in America exploring zoos and grocery stores, sampling fast food and learning to cook for the first time. "In Sudan only women cook," says Ayiik, who has grown especially fond of burgers. "It was a hard thing to learn." Their first apartments were usually in tough parts of town and normally housed five guys in two bedrooms. For the San Diego Lost Boys, the local Rotary Club became a preoccupation after Bernstein took Deng and Ayiik to speak about their experiences with members. They formed their own group within the club, and the Rotarians helped with English lessons and job training. Club member Stephen Brown helped them raise money to return to Kakuma. "Not only are they selfless and polite, but they present themselves with a dignity that's amazing, considering what they've gone through," he says. "They have big smiles and good senses of humor."
And, finally, a place to call home. Deng is studying communication and general education at San Diego City College while working at a graphic design company; Ayiik studies business accounting at MiraCosta College and works as a file clerk; Biar, the shyest of the three, studies education at Cuyamaca College. "We passed a big disaster, and now we're having a good life and good experiences," says Deng. Eventually the men, who are all single, plan to return to Sudan to help in rebuilding—and perhaps find wives. These days they seem neither boyish nor lost. As Simon Laur, a 24-year-old refugee in the Kakuma class, suggested, "Maybe we should call you the Found Boys."
Ericka Sóuter. Dietlind Lerner in Kenya
Contributors:
Dietlind Lerner.
In a small, sweltering classroom in Kenya's teeming Kakuma refugee camp, a group of 20-year-olds crammed at desks fire questions at three young men wearing shirts and ties. "What is the weather like in America?" asks one student. 'Why are there murderers there?" says another. "If obesity is a problem, why are you skinny?" The men, who have brought along photos of women athletes, roller coasters and city buses, respond with care—and offer some tips. "In America it is a very good thing to say thank you," says one. "When you get to America, everyone will ask if you are hungry," says another. "In our culture it is insulting to ask that, so you say no. My advice to you: Say yes. We missed a lot of good food because of our culture!"
Advertisement
Today's Photos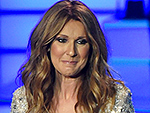 Treat Yourself! 4 Preview Issues
The most buzzed about stars this minute!