People Top 5
LAST UPDATE: Tuesday February 10, 2015 01:10PM EST
PEOPLE Top 5 are the most-viewed stories on the site over the past three days, updated every 60 minutes
Teri Hatcher: A Star Is Reborn
At 40, the Actress Has a Hit TV Show, a Daughter She Adores and a Body That Can Still Handle Nude Scenes. Now If She Could Just Find a Sexy Plumber of Her Own...
Teri Hatcher
was feeling so desperate she curled up and cried on her kitchen floor. She had split from actor Jon Tenney after nine years, was worried about the challenge of being a single mom to young daughter Emerson and, at 38, was anxious that her career options were disappearing on the horizon of middle age. She hadn't taken a serious Hollywood acting gig since Lois & Clark ended in 1997 and, suddenly panicky over money, she was afraid of losing her home. "I was in some deeply deeply sad places," says Hatcher. "I wanted something to be solid for Emerson. When I was crying there, I was feeling I wouldn't be able to pay my mortgage for much longer—there was a lot of money that I'd had that I didn't have anymore. That was really a low point."
Today, the 40-year-old Hatcher has the take-charge confidence of a soccer mom behind the wheel of a new diesel station wagon. Accepting a Golden Globe Jan. 16, she referred to herself as a "has-been," but in the past tense: More than a decade after she became a star playing Lois Lane to Dean Cain's Superman, she's at a career pinnacle thanks to the ABC smash hit
Desperate Housewives
. For those who live in a complete cultural cul de sac, Housewives is about five women on a trim suburban street called Wisteria Lane, where suicide, murder, adultery, hit-and-run accidents, S&M, drug abuse and even rumors of infanticide are part of the landscape. Yet the tone remains somehow cheerful, thanks in large part to Hatcher as Susan Mayer, a divorced mother gingerly falling in love (with a handsome but mysterious plumber) and trying, well, not to be as desperate as her neighbors. "She's a fresh face again," says series creator Marc Cherry, who says Hatcher "owned" the role the minute she auditioned in January 2004.
How does it feel to get a second burst of fame? Hatcher is happy, grateful—and careful. "There's just no room to not get along," she says, dismissing reports of on-set feuding and noting that, apart from 29-year-old
Eva Longoria
, her fellow actresses on the show—Marcia Cross, Felicity Huffman and Nicollette Sheridan—are all 40 or over. "For those of us who have been in this business for 150 years, you get it--you've won the lottery." She's both seasoned mentor and mother to Andrea Bowen, 14, who plays Susan's daughter and confidante Julie. "Ever since we started, Teri has always said, 'If you ever have any problems, you come to me. I'm here for you,'" Bowen says. "And she'll always say, 'Are you okay? Do you need any food?' It's nice to have someone on set looking after me."
The thing is, Hatcher may have curled up in a ball and cried, but she has a determination that often prevails. "If you ask where I get my strength—I don't meditate, I don't go to therapy," she says. "I'm kind of a boot-strapper person." That attitude should get her past the annual divorcees' hurdle, Valentine's Day. "I don't have a valentine," says the actress, who made headlines recently when she told
FHM
magazine, "It's been so long since I've had any sex that I don't remember." For last year's Feb. 14, she, a pal and her daughter just went out to dinner at a local restaurant. "My girlfriend and I gave each other lottery tickets and G-strings, and my daughter got a Valentine's Day Barbie, which she gets every year. So this year, my girlfriend has a boyfriend. Hopefully, instead of me, he'll be giving her a G-string."
Plans for Valentine's Day 2005 are up in the air, but Hatcher, who says she has begun dating again but is not in a serious relationship, is content. (And is sex still on hiatus? "I'm good," she says, giggling. "That's my update. I'm very satisfied with my life, let's put it that way.") Still, she's longing for romance—someone to send her tulips or orchids ("I never liked roses; they're too unoriginal"). Says Hatcher: "It's going to have to be somebody I can really believe wants me and accepts me. I'm not looking for someone to support me, and I'm not looking for someone to give me a baby." And no actors, please. "None of us should be dating each other. Horrifying!"
Her marriage to actor Jon Tenney, 43, came during the first peak of her career. The only child of Owen Hatcher, an electrical engineer, and Esther, a computer programmer, the Sunnyvale, Calif., native had appeared on
The Love Boat
and been a
Solid Gold
dancer before landing a small recurring role on
MacGyver
. Then, after a few movie roles, came
Lois & Clark: The New Adventures of Superman
in 1993. (That same year she was one of Jerry Seinfeld's girlfriends on a memorable
Seinfeld
episode, the one where Elaine and Jerry obsessed over whether or not Hatcher's breasts were real (her famous exit line: "They're real—and they're spectacular").
She met Tenney on a blind date during
Lois & Clark
's four-year run. By the time the series was canceled, she didn't care: She and Tenney had wed and were expecting Emerson. "I wanted to be a mom," she says, and she didn't mind telescoping her career to lucrative bit parts, including a Bond girl in 1997's
Tomorrow Never Dies
.
Then Radio Shack offered her "this exorbitant amount of money...millions" to do TV commercials with former NFL star Howie Long. "A number of people came up to me," says Long, "and told me they loved those commercials with my wife. I said, 'Oh no.' "
Meanwhile, the real marriage died. "I'll never expose the reasons for the depths of sadness from my marriage," says Hatcher, whose previous marriage, to a physical trainer, lasted less than a year in the late 1980s. She adds, however, that she had assumed it was more important to provide Emerson with two parents than to worry about her own fulfillment. "People told me, 'Honey, you have to be happy first, then you could be a good mom. 'I said, 'Screw that. My daughter shouldn't be responsible for my failures. We're just going to work it out.' " When that proved impossible and she filed for divorce in 2003, it was still crucial to protect Emerson, whose parents today share joint custody (Tenney lives a few minutes away). "You can only have your meltdowns when your children are asleep," Hatcher says. "I don't have meltdowns in front of Emerson."
As for relationships now, she vows to avoid meltdowns altogether. "The second a red flag comes up [with a date] I'm probably going to go, Nope, I don't have time to go wrong with somebody. I don't have the energy to put up with drama and crap."
After the divorce, she had to tunnel back into work. Movies? Dubious. "I wasn't on the hot list, and age-wise, I really wasn't on the hot list." (As to the breasts that were so real and spectacular on
Seinfeld
, "by now," she jokes, "they're just real.") But she managed to sell a pilot script to ABC about a single mom. "I, me, stupid little
Teri Hatcher
, sold a pilot." Then, better still, she got hold of the script for
Housewives
and experienced a click of recognition with Susan Mayer. "I had to test, audition, the whole rigmarole. But I have to admit I had one of the greatest auditions I ever had. I kind of left the building knowing I had this."
The dramatic possibilities for Susan Mayer, on the other hand, remain wide open, although Hatcher and Marc Cherry have ruled out certain dire developments for the character—no alcoholism, no skin cutting. For the most part, says Hatcher, "I'm happy to fall out of as many bushes and trees as they like." One other activity is developing a skin-care line. "It's about releasing your inner beauty," she says. "It's about not covering up and trying to change." But the 5'6", svelte actress is quick to discount unmeetable Hollywood beauty standards. "Let me just say that every cover of every magazine I've done has been air-brushed to death," she says. "No woman in America should walk around thinking that's what they should be. You shouldn't be beating yourself up."
Raising Emerson is what really sets her world aglow. At the end of the workday, it's just a five-minute drive from the studio to their four-bedroom home in the San Fernando Valley. The decor is "warm, cozy, funny," says Hatcher, mixing high-end design and garage-sale bric-a-brac the girls find driving around in a 1974 pickup. Emerson gets her mother's Globe trophy. "She has a shelf in her room that she keeps all these special things on," says Hatcher. "I told her that if I won that she could keep it there."
Over Christmas, they vacationed in Cabo San Lucas and took a whale-watching cruise. When a humpback whale popped up by the boat, Hatcher, frightened but excited, scrambled into a mask and snorkel, hopped in the water and eventually touched it. "I love that my daughter was there to see me jump in," she says. "I love that she saw me struggle with my fear and get over it. I am the woman who will be afraid and jump in anyway."
Tom Gliatto. Michael Fleeman, Cynthia Wang and Brenda Rodriguez in Los Angeles
Contributors:
Michael Fleeman,
Cynthia Wang,
Brenda Rodriguez.
Advertisement
Today's Photos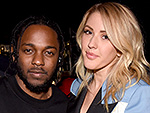 Treat Yourself! 4 Preview Issues
The most buzzed about stars this minute!