People Top 5
LAST UPDATE: Tuesday February 10, 2015 01:10PM EST
PEOPLE Top 5 are the most-viewed stories on the site over the past three days, updated every 60 minutes
His Super Bowl weekend with the boys did nothing to harm the state of their union
So did
Nick Lachey
spend the Super Bowl weekend making passes at a blonde bombshell? One who does not happen to be his wife,
Jessica Simpson
? The singer was at a pre-game party with several friends when, according to a witness and as reported in New York's Daily News, a bodyguard for Lachey approached a 6-ft. blonde and said, "You want to meet Nick? Because Nick certainly wants to meet you." Small talk ensued and a phone number was offered, although the young woman declined the bodyguard's invitation to set up a hotel rendezvous. Was the invite really Lachey's idea? "Not true," says his rep, adding that Lachey had nothing to do with the incident. Still, the singer, who was downing beer and tequila, did enjoy the testosterone-driven weekend in Jacksonville, Fla. "It's kind of a guys thing. We hang out and do our thing, enjoy the game and enjoy the parties." By all accounts Lachey was on good behavior the following night, when he joined his father-in-law, erstwhile preacher Joe Simpson, and singer Ryan Cabrera, who dates Nick's sister-in-law Ashlee, at Playboy's Super Bowl party. And yes, Lachey did pose for photos with female fans and Playboy bunnies after Joe departed, but he also called Jessica for a 15-minute chat. "He was really sweet," said a source. "He told her he missed her and loved her." Of course, Simpson did her fair share of partying last month while filming
The Dukes of Hazzard
in Baton Rouge (see box, page 19). And despite the talk of marital discord that has been swirling around the pair, there was no evidence of a deep freeze when they reunited at Manhattan hot spot Butter Feb. 7, the night after the Super Bowl. The couple hung out, sang along to music and drank with friends until the wee hours. "She is very supportive of what I'm doing, and I'm very supportive of what she's doing," says Lachey. "This week it will be back to L.A. for both of us, finally!"
+ LIFE IN LOUISIANA
Shopping at trendy boutiques—she snagged a red '70s disco dress—dining out and partying until the wee hours kept Simpson busy during breaks from filming in Louisiana recently. Lachey paid a short visit, but Simpson managed to have fun even when he was not there. "She loves karaoke and she brings everyone with her," says one insider.
The Parent Trap
The bitter battle between
Lindsay Lohan
's parents has heated up since mom Dina filed for divorce last month. First, dad Michael Lohan, 44, called a press conference to ask for half of the 15 percent management fee he says Lindsay pays her mom. Next, lawyers for Dina, 42, and Lindsay, 18, struck back with a letter threatening to sue any publication that reports on Michael's "malicious, false" remarks. Then Michael said he'd forget the money if the family agreed to star in a reality show. Although Lindsay continues filming the romantic comedy Just My Luck in New Orleans, Dina says the family feud is taking its toll: "It's definitely hurting her."
Nicole's Engaged
Up next for
Nicole Richie
? The Married Life. The Simple Life star recently became engaged to her boyfriend of over a year, Adam Goldstein (also known as DJ AM)—just a day after denying to PEOPLE that she was engaged. Wearing a diamond-and-pink-sapphire ring, Richie, 23, told PEOPLE that the two recently moved into a Hollywood Hills home with their kitten Shalom. "We have very different tastes," says Richie, "so you can tell which parts of the house I had anything to do with."
Not-So-Fat Joe
Rapper Fat Joe may need to reconsider his name. He has dropped 80 lbs. and eight suit sizes in one year. After seeing a weight loss special on
Oprah
, the "Lean Back" man made it his 2004 New Year's resolution to lower his blood pressure and slim down. "All of [the people on
Oprah
] lost like 100 lbs.," says Joe, who brought his weight down from 370 lbs. to 290 lbs. "I was like, 'Oh my God, I gotta get on this diet.' " Joe started by cutting out fried food and nonessential carbs and working out every day. He also hired a trainer who added boxing to his usual routine of hopping on an exercise bike, elliptical trainer or treadmill. It hasn't been easy. "What scares me the most is that I really love to eat," says Joe, who now eats mainly baked chicken, oven-baked steak and broiled seafood. "Me being Puerto Rican and not eating rice and beans—it's hard!"
Birthday Bike Ride
Joe Kindregan celebrated his 17th birthday by taking a spin in L.A. on
Ben Affleck
's new motorcycle on Feb. 5. The two have been pals since 1998, when Kindregan, who has a genetic disease that confines him to a wheelchair, visited the set of Forces of Nature. Joe's mother, Suzi, said his illness made it difficult to wear a helmet for the trip around the block, but "they didn't go fast."
Airborne Angelina
Just call her the Aviator. Taking to the Santa Monica skies,
Angelina Jolie
hopped in the pilot's seat on Feb. 3 for a private flying lesson. The reason? The star recently bought one of the safest single-engine planes, a Cirrus SR22-G2, with a base price of $334,700. Should Jolie lose control of her aircraft, she can pop a parachute that will carry the entire plane to safety. Jolie got her pilot's license in December, spurred on, perhaps, by her son Maddox, 3. "Every time Mad sees a plane, he's amazed," Jolie, 29, said last year. "If I could actually fly a plane by the time he's 4, I'll be like Superman to him."
Baby Names VS. Dog Names
Celebs think out of the box when it comes to their kids—but not their pets
LIV TYLER
Baby's name
Milo
Dog's name
Neal
HELEN HUNT
Baby's name
Makena Lei
Dog's name
Johnny
GWYNETH PALTROW
Baby's name
Apple
Dog's name
Holden
+ FUHGEDDABOUTIT
Whacked: James Gandolfini's wedding plans. The Sopranos star and his fiancée of a year, writer Lora Somoza, 36, have called it quits. "It's amicable and they're friends," says his rep. Somoza moved to L.A. Gandolfini, 43, remains in New York City.
Tuning Her Out
Millions may be watching Jen Schefft's search for love on the third
Bachelorette
, but her former fiancé Andrew Firestone isn't among them. He gets snippets of news about her "from a magazine, TV or on the Internet," says the millionaire vintner, who was engaged to Schefft for 10 months after choosing her on the third Bachelor. The couple split a year ago but remain friends. "I hope she finds somebody," he says.
POP QUIZ
Alan Alda
In 1979 Alan Alda played a U.S. senator in
The Seduction of Joe Tynan
. Now he plays Sen. Arnold Vinick on NBC's
The West Wing
, and he's gotten an Academy Award nomination for his portrayal of Sen. Ralph Owen Brewster in The Aviator. So what better time to phone Alda, 69, and—what else?—talk politics.
It's hard to believe this is your first Oscar nomination.
Yes, it is! I was really shocked and absolutely delighted. People are coming up to me on the street genuinely happy for me. It's a very nice feeling.
What's up with these new senator gigs?
It was just a coincidence. But it's really fun that they're both Republicans, and they're completely different people. The guy on The West Wing is a very principled guy. The guy on The Aviator is a sleazebag.
Do you have a favorite political film?
I always liked The Candidate, Redford's movie.
Are you politically active these days?
For a long time now, no. I just concentrate on what I do best, which is to write and act and direct.
Is the Oscar race political? Can votes be bought?
I keep reading how there's a lot of campaigning—and there is. But there was a time when the voting was decided by the big studios and you voted only for your studio's picture. Now it's democratic.
What's life like when you're not a senator?
I spend a lot of time with my grandchildren. I'm a geek, and I spend a lot of time on the computer. I build Web sites, and I'm always getting e-mail and fixing computers.
And we hear you're busy with a side project?
I'm writing a book. It's a memoir. You'll love the title. Or, I wonder if you'll love the title. It comes from an incident that happened to me when I was 8. It's called Never Have Your Dog Stuffed.
Huh?
The dog came back from the taxidermist looking ferocious. My beloved dog! But the thing is...I really learend from that. Things change. Life changes.
ON THE BLOCK
DAMON'S DOWNTOWN DEN
PRICE: $4.95 million
PLACE: New York City
Hip-hop entrepreneur Damon Dash is selling his four-bedroom loft in Manhattan's trendy Tribeca neighborhood. (Among the neighbors:
Ashley Olsen
!) The Damon Dash Music Group and Rocawear clothing CEO's 5,200-sq.-ft. duplex includes 3½ baths, 20-ft. beamed ceilings and access to the building's roof deck.
Contributors:
Olivia Abel,
Marisa Wong,
Tom Cunneff,
Mark Dagostino,
Laura Downey,
Michael Haederle,
Liza Hamm,
Courtney Hazlett,
Steve Helling,
Diane Herbst,
Linda Kramer,
Mark Lambert,
Kwala Mandel,
Liz McNeil,
Lori Morris,
Gail Nussbaum,
Jennifer Odell,
Natasha Stoy.
Nick & Jessica
Advertisement
Today's Photos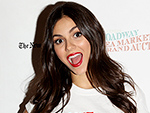 Treat Yourself! 4 Preview Issues
The most buzzed about stars this minute!