People Top 5
LAST UPDATE: Tuesday February 10, 2015 01:10PM EST
PEOPLE Top 5 are the most-viewed stories on the site over the past three days, updated every 60 minutes
Picks and Pans Main: TV
Sounds Off
One ABC Makeover leads to another, but three's a crowd
Extreme




Home




How'd They Do That?




Brand extension is big at CBS (three
CSI
s) and NBC (soon a fourth
Law & Order
), so ABC has a right to two
Extreme Makeovers
. In fact, the radical residential renovations on
Extreme Makeover: Home Edition
(Sundays, 8 p.m. ET) are more fun—and less yucky—than the cosmetic surgery on
Extreme Makeover
(Thursdays at 8 p.m.).
But the network pushed the franchise too far last month when it slapped together a spinoff with the unwieldy title
Extreme Makeover: Home Edition: How'd They Do That?
(Mondays, 8 p.m.). Toss this one in the Dumpster.
The original
EM
turns me off even when it has a powerful story to tell. The Feb. 10 episode featured a man wrongly convicted of murder and stigmatized as "the snaggle-toothed killer" who wanted doctors to give him a new look after his exoneration and release from prison. He was probably entitled after all he'd been through. But his case had to share time with a makeover that included a "Brazilian butt lift" for a mother and a breast enhancement for her daughter. "We were able to achieve cleavage," the surgeon reported proudly.
Despite blatant plugs for a sponsoring department store,
Home Edition
deserves credit for helping people who truly need transformed living space. When a sick child can't survive in her family's house unless it's rendered germ-free and handicapped-accessible, you applaud Ty Pennington's team for going the extra mile. But if he keeps bellowing at his crew through that bullhorn and wearing out the word "awesome," even his beneficiaries might want to have him arrested for disturbing the peace.
How'd They Do That?
rehashes a previously aired
Home Edition
and adds a few details that weren't worth including the first time. Why'd they bother?
REALITY
Nickelodeon (Sundays, 8 p.m. ET)




School's a breeze at newly coeducational Pacific Coast Academy, an elite boarding institution whose amenities include an on-campus sushi bar, and 13-year-old Zoey (Jamie Lynn Spears) is basically lovin' it. For "tween" viewers, this mildly amusing sitcom sure beats homework.
Britney's kid sister, formerly on the Nickelodeon sketch show All That, is no great shakes as an actress. Still, she seems comfortable as a spunky girl with no outstanding eccentricities. Most of the laugh-getting responsibility falls on other characters: Dustin (Paul Butcher), Zoey's eager little brother; Nicole (Alexa Nikolas), her high-strung roommate; science-crazy Quinn (Erin Sanders), always looking to try out bizarre inventions; cocky Logan (Matthew Underwood), who's cute in an obnoxious sort of way; and Chase (Sean Flynn, grandson of Errol), the smart, friendly boy trying to appear cool about his crush on Zoey.
The series is hardly above contrived situations—we're talking major crisis when Zoey faces the prospect of kissing Logan in a school play—but the young target audience won't object to a likable cast, a sunny attitude and a side order of sushi.
COMEDY
Grammy Awards (CBS, Feb. 13, 8 p.m. ET) Newlyweds
Jennifer Lopez
and Marc Anthony perform together publicly for the first time as a married couple.
Trista and Ryan's Honeymoon Hotspots (Travel Channel, Feb. 14, 9 p.m. ET) They met and married on reality TV. Now they spend two hours telling ordinary newlyweds where to go, from the slopes of Vail to a South African safari lodge.
Scrubs
(NBC, Feb. 15, 9 p.m. ET)
Clay Aiken
guest stars as a dorky cafeteria worker who gets a chance to shine in the hospital talent show.
The Road to Stardom with Missy Elliott
(UPN, Feb. 16, 8 p.m. ET) Talk about the fast track: The five finalists jet to L.A., move into a mansion and get some career advice from
Madonna
.
Survivor: Palau
(CBS, Feb. 17, 8 p.m. ET) Twenty castaways are stuck on a South Pacific island in the 10th-season premiere.
Tori Spelling
Now 31, the former
90210
star returns to TV Feb. 12 in the Hallmark Channel romantic comedy
Family Plan
. Her costar: Jordan Bridges, Beau's son.
ON WORKING WITH JORDAN We grew up together. His grandparents and my parents have beach houses next to each other in Malibu. I said to him, "You were the only little boy I ever played with growing up; weren't we supposed to play doctor? We never did. Were you not interested in me?" He said, "I had my ways of showing interest. I always put sand down your pants."
ON BEING A NEWLYWED It's great. Charlie [Shanian] makes me feel safe. Fifty years from now I'll look in his eyes and feel exactly the same way.
ON GRANDKIDS FOR PAPA AARON He's not good at dealing with that. Someone asked, "Are you thinking about kids?" And Dad said, "Don't ask her that yet. She just got married." And I said, "Dad, that's a reality." He said, "You're still my baby."
ON
90210
My cousin's nieces are 13 and 16, and they watch it after school. It's just as exciting to them now. I'm proud to be a part of something that was part of television history. But when I go there all their friends are freaking out. I can't get away from it!
Contributors:
Terry Kelleher,
Monica Rizzo.
REALITY
Advertisement
Today's Photos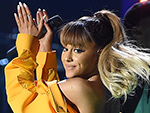 Treat Yourself! 4 Preview Issues
The most buzzed about stars this minute!