People Top 5
LAST UPDATE: Tuesday February 10, 2015 01:10PM EST
PEOPLE Top 5 are the most-viewed stories on the site over the past three days, updated every 60 minutes
Picks and Pans: Books
Buzz Book
By Bruce Wagner




The Chrysanthemum Palace
is full of daring language that veers between being wickedly funny and just plain wicked. Nobody writes more knowingly about Hollywood than Wagner, a Beverly Hills High alum who was once married to actress Rebecca De Mornay. Wagner is a multitasker—scripts, TV pilots and novels—whose career took off after
Wild Palms
, his noir-ish cartoon strip, appeared in Details magazine. Here he flaunts his insider status in off-the-cuff wordplay (L.A. has "a great sense of rumor") and extended riffs on screen-writing and a monster television series called
Starwatch
. The book is narrated by Bertie Kohn, the 38-year-old son of
Starwatch
's creator; he floats around the edges of "the industry" both exploiting and disdaining his father's lowbrow success. So when Bertie's childhood friend Clea, the daughter of a famous actress, hooks up with Thad, son of a celebrated novelist, Bertie observes the ensuing train wreck with the empathy of a fellow celebrity child. All three offspring have parlayed their name recognition into minor acting careers, which have devolved into roles on
Starwatch
, and the scenes on the set are delicious Trekkie satires. The Oedipal plot turns are sometimes overwrought, but the book sustains its catty energy with an endless string of hip cultural asides about everyone from Primo Levi to Charlie Rose. Some of the swipes at bestselling authors—Alice Sebold in particular—cross the line from clever to cruel. Like Thad, its most magnetic character,
Chrysanthemum Palace
is "raw and cultured, cultivated and kitschy" and great fun.
NOVELBy Francine Prose
CRITIC'S CHOICE




In Prose's fiction, no one is safe: Her subject is human weakness, and her approach is no-holds-barred. Her new novel is the best kind of social satire: razor-sharp, funny and merciless. Vincent Nolan, 32, an ex-skinhead sporting SS tattoos, walks into the Manhattan offices of World Brotherhood Watch, a human rights foundation headed by Holocaust survivor Meyer Maslow, and declares, "I want to help you guys save guys like me from becoming guys like me." Meyer, whose commitment to changing "one heart at a time" doesn't extend to having neo-Nazis as houseguests, sends Vincent home with his chief fund-raiser, Bonnie Kalen, a single mom with two sons. Vincent quickly becomes the foundation's poster boy, "Mr. Changed Man," and the darling of self-congratulatory liberal donors. Prose skewers the publicity circus with relish but has even more fun exposing her characters' insecurities—the snark, wimp or egomaniac within. Whether Vincent has truly changed remains an open question, but Prose leaves no doubt that the fragile impulse to do good is all too easily overwhelmed by vanity.
NOVEL
By Jose Canseco




During a 16-year career, supersize slugger Jose Canseco belted 462 homers—but his most memorable shots may be those he takes in this controversial diss-and-tell. Recounting his own journey from dorky teen to MVP and
Madonna
boy toy, Canseco, 40—now unapologetic about a "juice" habit he denied during his playing days—opens the clubhouse door on what he contends was rampant use of anabolic steroids and human growth hormone while Major League Baseball looked the other way. Claiming to have injected steroids with ex-teammates including home run king Mark McGwire and Jason Giambi—who have denied his charges—Canseco says, "the challenge is to find a top player who hasn't [used steroids]." It's easy to write off
Juiced
as a form of 'roid rage, a final swing for the fences by a has-been. Tougher to dismiss are the few more credible sources who have so far come forward in support of some of Canseco's claims, including one FBI agent. Or, truth be told, our own eyes.
NONFICTION
By Judy Budnitz




Village Voice cartoonist Judy Budnitz returns to her quirky roots with this collection of short stories set in warped landscapes where reality shape-shifts in unexpected ways. Her best stories challenge the bond between mother and child: In "Where We Come From," a pregnant woman hoping to sneak into the U.S. gestates her baby for years, until she resembles a spider with "limbs like sticks." When she finally makes it, she delivers a walking, talking "nice Big American baby" only to lose him as she is sent back across the border alone. In "Miracle," a white man and his white wife are shocked when a blue-eyed, golden haired son the color of obsidian emerges from her womb. The father blames her cravings for "chocolate and burnt toast," but the mother cherishes her changeling until his skin becomes perfectly pink. Budnitz's surreal tales leave us questioning the nature of familial love; with each curious twist, the reader is left a little uncomfortable—and wanting to read more.
SHORT STORIESThe Hopes of Snakes In her new book The
Hopes of Snakes & Other Tales
from the Urban Landscape, journalist Lisa Couturier reflects on the relationship between city dwellers and the wild things who are their sometimes-unseen companions.
•[In a peregrine falcon nest atop a Manhattan skyscraper, the author and a naturalist found] a piece of wing from a cedar waxwing, regurgitated pellets of bones and feathers, a blue jay's head and an unidentifiable piece of another bird. A few peregrine feathers blew out...destined for the city streets, where they would be mistaken for pigeon feathers, if they were noticed at all.
•Even as they chase one another, playfully, as though popping out from under dirty tissues is popping out from under golden leaves of corn, [subway mice] are on alert for the trains...they sense oncoming trains much before trains are seen by lesser mortals.
•A park naturalist [in Maryland] found a black rat snake on a rock. The snake had been poked with dozens of pins, including one in the snake's eye, which had shriveled away. The naturalist told me of his plans to rehabilitate the snake, though he was worried. If he released a one-eyed snake it would be an easier target for more abuse. I could tell it made him sad. He said, "Did you know snakes don't cry?"
Contributors:
Lee Aitken,
Janice Nimura,
Pam Lambert,
Lisa Kay Greissinger.
NOVEL
Advertisement
Today's Photos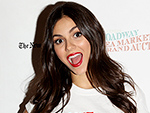 Treat Yourself! 4 Preview Issues
The most buzzed about stars this minute!