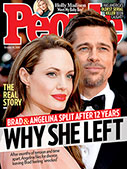 This Week's Issue!
People Top 5
LAST UPDATE: Tuesday February 10, 2015 01:10PM EST
PEOPLE Top 5 are the most-viewed stories on the site over the past three days, updated every 60 minutes
The Courage to Fight Back
Following a Brutal Attack in Her Pakistani Village, Mukhtaran Bibi Considered Ending Her Life. She Opted to Fight for a Better One—for Both Herself and Her Neighbors


The details are almost too horrific for anyone to recount. Instead of punishing Mukhtaran's brother, tribal elders singled out Mukhtaran—the illiterate daughter of a dirt-poor timber merchant—to punish her family. For the boy's alleged misdeeds, they said, his sister Mukhtaran, then 29, was to be raped by members of the rival clan. Screaming, she was dragged across a cotton field to a mud-walled house, where with a gun to her head she was assaulted by four men as her father waited helplessly outside.

Mukhtaran's ultimate triumph against her attackers, however, was nearly as shocking. In Pakistan, women who have been raped routinely kill themselves—one had done so only two days earlier in Mukhtaran's village of Meerwala. "Women have one option, and that is to die," she says. "Here there is no justice." But Mukhtaran refused to surrender to fate.

Traumatized by the attack and her family's fear of retribution, Mukhtaran at first kept silent. But many in her traditional community were outraged. "It made my blood boil that an innocent woman had to undergo such humiliation," says Abdul Razaque, the town's Muslim religious leader, who denounced the rape in a public sermon. News of the crime spread around the country, attracting the attention of politicians and international journalists. At Razaque's urging, Mukhtaran went to the police station while a throng of photographers and reporters waited outside. At a trial in the summer of 2002, Mukhtaran faced her attackers head on. The four rapists and two village elders were convicted and sentenced to death by hanging. They are currently appealing.

When Pakistani president Pervez Musharraf sent 500,000 rupees ($8,400) and offered a house in the capital city, Mukhtaran opted to stand her ground in her caste-bound village. With 24-hr. police guards to protect her, she used the money to open the village's first-ever schools—one for girls and another for boys—that are teaching math and English, along with practical skills like embroidery, to Meerwala's first generation of students.

Mukhtaran is now a star pupil: "I can write my own name and count to 100," she boasts, although she attends lessons separately from the other students, who call her baji, or elder sister. Still, she is their biggest booster. "Parents are not willing to send their children to school," she says. "Only yesterday we made a round of the village, trying to persuade them. They want the children to work in the fields."

International press reports, including a story in The New York Times, have opened a flood of donations for Mukhtaran, and she has traveled as far as Spain to tell her story at a human rights conference. But the reality of life in remote Meerwala has actually changed little. Mukhtaran carries a cell phone and has moved from a mud-walled house to a brick one, where she dines on meat as a once-a-week indulgence. Yet the most treasured reward of her fame, she says, has been a trip, accompanied by her father, to the Muslim holy city of Mecca. "It was an indescribable feeling," she says. "I can never forget it."

Even before the attack, Mukhtaran, the second of seven children, never quite fit the obedient profile required of women in her rural society. Over a decade ago, she divorced a husband chosen by her parents ("Both of us had a short temper," she explains) and had settled into a life of quiet drudgery—cooking over an open fire, cleaning and foraging for wood. In 2002, one of her brothers, Abdul Shakoor, 14, was accused of seducing a young woman from a higher caste. The allegation was later proved false by a government inquiry. Unfortunately for Mukhtaran, the accusers still live across the field. "[Members of that clan] want to kill me," says Mukhtaran. Only recently, she adds, she made a trip to a market without her bodyguards and was threatened by two men wearing" hoods.

Ironically, since the attack, Mukhtaran has become a prime marriage prospect in Meerwala, another feat for a woman who is both divorced and a rape victim. She has turned down at least 12 offers, including one from Razaque, fearing that greed, not love, was behind them. Still, she dreams of settling down. "I wish I had children of my own," she notes. "Even one would be fine." Mukhtaran also takes pride in the example she has set for other women in her village. "We have heard of several cases of women who were being beaten by their husbands," she says. "They warn them: You better stop because, if you continue like this, we will go to Mukhtaran Bibi.'"

Chris Strauss. Declan Walsh in Meerwala
She was only trying to defend her little brother—accused of having a sexual relationship with a daughter of a higher caste family in her village. And almost three years later, Mukhtaran Bibi is still unable to talk about how she was punished one sweltering June 2002 night in her Pakistani village. "It's too difficult for me," she says. Her bright eyes quickly turn distant. "I will not sleep for weeks if we go back there again."
Advertisement
Treat Yourself! 4 Preview Issues
The most buzzed about stars this minute!