People Top 5
LAST UPDATE: Tuesday February 10, 2015 01:10PM EST
PEOPLE Top 5 are the most-viewed stories on the site over the past three days, updated every 60 minutes
Martha's Moment
In a Jubilant Homecoming, Martha Stewart Left Prison and Set Out to Buff Her Image and Rebuild Her Empire. Oh, and She Made Hot Chocolate Too
Wait a minute—Martha made nachos? Now that she has been released from Alderson and begun her five months of house arrest at her estate in Bedford, N.Y., it's clear that Stewart has undergone some sort of change. How profound or lasting it will be remains to be seen, but for now she seems more, well, human than the chilly, cabbage-chopping diva the world saw when her ordeal began. "She is only halfway through her sentence, but it's fantastic to see her having met the challenge," says her close friend Charles Simonyi, a software company CEO. "She went through a difficult experience with dignity."
Nothing reflects the new Martha more than the friendships she made in prison. By all accounts Stewart bonded with several women, including her roommate Kimberly Renee Bennett, 33, serving 50 months for conspiracy to distribute cocaine. Inmates spoke fondly of Stewart's role as a quasi-liaison between them and prison authorities—about how she started a yoga class, how she lobbied to have yogurt sold in the vending machines, how she sent signed pictures of herself to relatives of prisoners, how she discreetly distributed good-bye care packages (filled with toiletries and other necessities purchased with her $290 allowance at the commissary) to some of the needier inmates. How she was always uttering her trademark exclamation: "Fabulous!" "Martha never acted higher than anybody else," says one inmate. "People can say what they want about her, but she's really nice."
On March 3—her last evening at Alderson—Stewart was the guest of honor at a farewell party; she and some 20 women watched a
Larry King Live
show about—yep—Martha Stewart. Shortly before leaving she had her hair styled by an inmate, then put on a gray poncho hand-knit for her by a prison friend, Xiamoro Hernandez. "She was getting teary," an inmate recalls, "but she held it together."
At 12:30 a.m. on Friday March 4, Stewart and her daughter Alexis jumped into a blue SUV that sped them to West Virginia's Greenbrier Valley Airport, where a 10-seat Falcon 50 jet—sent for her by Simonyi—sat fueled and waiting. With 72 hours to do whatever she wished before beginning her house arrest, Stewart arrived at her estate around 2:45 a.m. and stayed up all night to watch the sunrise. At 9:15 a.m. she emerged from the house in a cream-colored quilted jacket and matching scarf and black pants. With a small media army watching, she nuzzled her horses, petted her dog Paw Paw and later served hot chocolate to shivering reporters. Appearing happy and relaxed, she admitted to various cravings, saying, "I'm dreaming of cappuccino" and "I really missed lemons."
It was an idyllic scene that could have come straight from the pages of her magazine. All weekend family and friends visited, and Martha took guests on a tour of her greenhouse. At one point several children had a snowball fight. Eva Scrivo, her longtime makeup-and-hair stylist, dropped by to help Martha with some highlights and a cut: After months of fixing her own hair in prison—and teaching some of the inmates how to do so too—she was "so excited" to have a new do, says Scrivo.
Then on March 7 Stewart got back to work. Not yet fitted with an electronic monitoring anklet (she had it put on later that day), a slimmer Stewart appeared before close to 500 employees at the Manhattan offices of Martha Stewart Omnimedia. It was a much-needed pep talk. Since the beginning of the scandal that landed her in prison, the company's stock has roller-coastered: It dropped when she was indicted in 2003, climbed steadily during her time in prison and began falling again following her release (ad pages in Martha Stewart Living and company revenues have also both dropped sharply). Meanwhile, her brand loyalty, once higher than Coca-Cola's, sank lower than Enron's, according to marketing expert Robert Passikoff. Building it back up "is going to take more than a spring palette of colors for her anklet," says Passikoff. "People want to see contrition."
Sure enough, Martha unveiled a new humanity in her speech. "There's a growing need to preserve human connections in a time of rapid social change," she said. "We've focused too much on the how-to and not enough on the why." That day the company's stock dropped 9 percent.
Those who know Stewart expect that trend to change. Allowed to leave her house to work 48 hours a week, she has told friends, "I'm ready to hit the ground running." Indeed, says Margaret Roach, editor-in-chief of
Martha Stewart Living
, "her to-do list is, I'm sure, quite long." Stewart has already started writing a new monthly column in her magazine, met with producers for her new daytime talk show to debut in the fall and is revving up for
The Apprentice: Martha Stewart
, a prime-time spinoff of Donald Trump's show expected to air within the next year. "These five months in prison have really brought a new dimension to her life," says the show's producer and
Survivor
creator Mark Burnett, who visited Stewart in prison. "Here is a 63-year-old woman who did her time with a really positive outlook. She'd be great on
Survivor
."
To be sure, challenges remain. For one thing, she'll have to wear that cumbersome anklet for five months (see box). Besides an appeal of her conviction, which will be heard on March 17, Stewart faces an SEC complaint that could result in her being barred from serving as an officer or director of her company. But if it's true that prison really changed her, she should get through it just fine. And she's always known just what to do with lemons.
Alex Tresniowski. Alicia Shepard and Melody Simmons in Alderson, Sharon Cotliar and Jennifer Longley in New York City and Courtney Hazlett, Diane Herbst and Lisa Ingrassia in Bedford
Contributors:
Alicia Shepard,
Melody Simmons,
Sharon Cotliar,
Jennifer Longley,
Courtney Hazlett,
Diane Herbst,
Lisa Ingrassia.
Advertisement
Today's Photos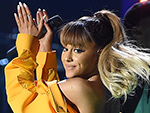 Treat Yourself! 4 Preview Issues
The most buzzed about stars this minute!