People Top 5
LAST UPDATE: Tuesday February 10, 2015 01:10PM EST
PEOPLE Top 5 are the most-viewed stories on the site over the past three days, updated every 60 minutes
Picks and Pans: Music
Catching Up with
Moby Hotel
CRITIC'S CHOICE




As the one American pop star to emerge from the electronica movement in the '90s—his breakthrough 1999 album
Play
went double platinum—Moby was the baldpated poster boy for a musical trend that never really took off in the States, even if everyone from
Madonna
to Britney dabbled in it. Now that he's approaching 40 and well past his raver days, it would have seemed that the techno wizard was doomed to be nothing more than a nostalgic memory on VH1's
I Love the '90s
. However, Moby shows on
Hotel
that he's not planning on checking out of the Relevancy Inn any time soon. Indeed, this disc finds Moby right in step with the neo-new-wave sound of bands like the Killers and Franz Ferdinand as well as the moody Brit pop of Coldplay and Keane. The anthemic, rock-edged "Beautiful" and the coolly atmospheric "Slipping Away" should have Chris Martin and company sweating, while the synth-pop dance track "Where You End," with its melancholy melody and swirling keyboard textures, recalls classic New Order (whose 1982 song "Temptation" is covered here). Moby, using his plaintive voice effectively, sings lead on most tracks, while Laura Dawn provides an ethereal, Dido-esque presence on cuts such as the otherworldly love song "Dream About Me." Moby continues his trademark technique of incorporating gospel vocals on the driving "Lift Me Up," with its chantlike chorus, and the Bowie-esque "Raining Again." But unlike in the past, those vocals do not come from samples. In fact, Moby does not use any samples on Hotel, proving once and for all that he is not just a terrific knob-twirler but a real, honest-to-goodness musician. He's also a savvy marketer: This disc will be available at W hotels. That helps explain a supplemental second CD, Hotel: Ambient, that is full of the kind of insomniac-friendly instrumentals one might expect to come along with turndown service.
DOWNLOAD THIS: "Beautiful"
It's Me Again




On her impressive 2002 debut
Southern Hummingbird
, Tweet caused a bit of a flap with her hit "Oops (Oh My)," an unabashed ode to female masturbation. On this follow-up, the songbird once again has a track that may ruffle some feathers. It's called "Sports, Sex & Food," and with its unenlightened advice about how to please a man ("The way to his heart is sports, sex and food") set against a handclapping gospel-blues groove, it would make Gloria Steinem bust a blood vessel. It's precisely this willingness to shake up the R&B status quo, though, that makes Tweet so fresh and funky. With her mentor Missy Elliott producing seven cuts, Tweet keeps it offbeat with left-field samples of Nat King Cole (on the first single "Turn Da Lights Off"), Louis Armstrong (on the alluring "You") and, best of all, the
Taxi
sitcom theme (on a hail-worthy "Cab Ride"). Smoothing out the trip-hop beats is an old-school soulfulness that shines through on uptempo numbers like the discofied "Things I Don't Mean" and lush, sensual slow jams like "Small Change," on which Tweet, with a grit and earthiness showing beneath her airy vocals, tells a no-good man that "your worth is less than small change."
DOWNLOAD THIS: "Sports, Sex & Food"
COUNTRY
Kerosene




Lambert, who finished third in the first season of the USA Network's reality series
Nashville Star
, makes her major-label debut with this more than respectable album. And while she'll remind you at times of Gretchen Wilson and Dolly Parton, this worthy 21-year-old Texan is clearly her own singer. In fact, Lambert had a hand in composing 11 of 12 tracks on Kerosene, including the haunting "Greyhound Bound for Nowhere," one of two tunes she cowrote with her father, Rick, and "What About Georgia," a song about an irresponsible man. While Lambert cranks up the energy level on "I Wanna Die," which leans toward country-rock, and the title tune, about a combustible personality, she seems more comfortable with subdued numbers, such as the conversational "Me and Charlie Talking."
DOWNLOAD THIS: "I Wanna Die"
Everything's OK




Hallelujah, Al Green is back to spread love and happiness with the exuberantly soulful Everything's OK. Having gotten his R&B groove back with 2003's I Can't Stop after years of mostly gospel recordings, the Reverend Green, 58, continues his secular revival here. The disc harks back to the Rock and Roll Hall of Famer's vintage years in the early '70s, with Green once again collaborating with Willie Mitchell, the producer who helped craft the Memphis soul sound that defined hits like "Let's Stay Together," "I'm Still in Love with You" and "Tired of Being Alone." While it's virtually impossible to top those classics, these succeed in recapturing the magic of a golden era with plenty of blaring horns, churchy organs and wah-wah guitar. For his part, Green attacks it all as if his very salvation depended on it, from the rousing title track to a cover of "You Are So Beautiful" that steals the song from Joe Cocker.
DOWNLOAD THIS: "Real Love"
INSPIRATIONAL
Dream




Be Be Winans tries to have it both ways—please both contemporary-gospel fans and quiet-storm R&B junkies—on his latest. The strangely subdued results, though, play it too safe to truly inspire either audience. There are songs about all kinds of love (spiritual, romantic, familial, platonic), and the centerpiece excerpts Martin Luther King's "I Have a Dream" speech. While it's all palatable, it's rarely powerful.
DOWNLOAD THIS: "Safe from Harm"
For information on where to find our Download This picks, go to www.people.com/download this or AOL (Keyword: People)
Billy Idol
Eighties new-wave rebel Billy Idol, 49, is back for more, more, more with
Devil's Playground
, his first album of new material since 1993's Cyberpunk.
ON HIS EXTENDED RECORDING BREAK
I had been rocking for 20 years by 1994, so it wasn't such a bad thing. With grunge going on, I just stood back.
ON HIS MUSICAL OFFSPRING
My son Will [Mom is Idol's ex-girlfriend actress Perri Lister] is 16 years old now, and he's got his own band—Lucas. It's sort of a cross between the Deftones and Radiohead.
ON WHY HE KEEPS HIS HAIR PLATINUM
As long as I got the bleach, why not? Besides, I get more girls like this.
SHOULD PLAY HIM IN A BIOPIC
Ewan McGregor. He said he wanted to. But he'd have to be Billy at 20, then Billy at 50, although I look pretty much the same, just a little bit beaten up, that's about it. Yeah, scars from those rock and roll nights.
Contributors:
Chuck Arnold,
Ralph Novak,
Johnny Dodd.
Advertisement
Today's Photos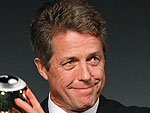 Treat Yourself! 4 Preview Issues
The most buzzed about stars this minute!