Archive Page - 12/1/12 39 years, 2,079 covers and 53,260 stories from PEOPLE magazine's history for you to enjoy
On Newsstands Now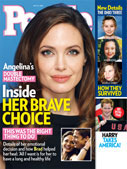 Angelina: Inside Her Brave Choice

New Details on the Ohio Three

Prince Harry Takes America!
Pick up your copy on newsstands
Click here for instant access to the Digital Magazine
People Top 5
LAST UPDATE: Monday May 20, 2013 03:10AM EDT
PEOPLE Top 5 are the most-viewed stories on the site over the past three days, updated every 60 minutes
Blessed Journey
With Fearlessness, a Firm Hand and Unwavering Faith, for 26 Years John Paul II Made the Entire World His Pulpit
1920-2005
Cardinal Achille Silvestrini, a former diplomat for the Roman Catholic Church, arrived on foot at the Vatican's Apostolic Palace at 10 a.m. on April 2. He had been summoned and knew time was of the essence. Escorted through the expansive apartment to the room where the ailing John Paul II lay, Silvestrini says the pontiff's face twitched in apparent recognition as the visitor's name was announced. "He was lying under white sheets, in his pajamas, completely still, with his head slightly to the side and his eyes almost shut," recalls Silvestrini, 81. The Italian cleric sat beside the Pope's bed and grasped his hand. "I kissed his hand and then held it," says Silvestrini. "Then I thanked him for all he had done—and in particular for having touched my life."
By the time he died at 9:37 that night at age 84 from septic shock and heart failure, John Paul II had touched so many that it was hard to remember a world without him—the boy from a Polish town who rose to lead the billion-member Roman Catholic Church and literally change the world. Almost immediately after his death—the Pope, according to an eyewitness, heard the end of a prayer at a Mass being recited in St. Peter's Square below, said "Amen," then drew his last breath—the outpouring began, with heads of state and ordinary followers eulogizing the man who had been at the head of the Catholic Church since October 1978. "Pope John Paul II was unquestionably the most influential voice for morality and peace in the world during the last 100 years," says evangelist Billy Graham, whose own poor health will keep him from attending the pontiff's April 8 funeral, an event expected to draw President George W. Bush, former Presidents George H.W. Bush and Bill Clinton and hundreds of other international dignitaries. "He was respected by men and women from every conceivable background across the world."
In Rome lines snaked out of Vatican City as pilgrims—4 million were expected—began to file past John Paul's body as it lay in state in front of the altar of the Renaissance-era St. Peter's Basilica. "What broke my heart was knowing with each step I was closer to seeing him no longer alive," says Linda Bustamante, 19, of El Paso, Texas, one of many Americans in the crowd. "But when I saw him so peaceful, my tears dried up." Marta Gakh, 30, from Ukraine, paid her respects with her husband and 11-month-old son. "He'll never remember this," she said of the boy, "but I will remind him and he will know that he was able to say goodbye to the Pope that loved children so much."
And they loved him back. As much a celebrity as a religious leader—U2's Bono called him "the best frontman the Catholic Church ever had"—he visited two-thirds of the world's countries on more than 100 trips and sought out meetings with young people on almost every occasion. His personal popularity will make it difficult for his church to replace him. Its ranks are stagnating in Europe—number of priests ordained in Dublin last year: one—and it is still suffering the aftershocks of the priest pedophilia scandals that jolted the American faithful in recent years. Church expansion is centered in Latin America, Africa and the rest of the developing world. Might the next Pope be from there? "The center of the Catholic Church has moved beyond Western Europe," says John Haldane, a professor at Scotland's University of St. Andrews and a Catholicism expert. In John Paul, says Haldane, the church's faithful grew accustomed to a leader who spoke beyond their ranks. "He was really a pope for the world," says Haldane, "not just for the church."
For the cardinals, the task of replacing such a figure will wait a few days (see box, page 60). First came the Vatican's centuries-old rituals for marking the pontiff's passing. After John Paul's personal physician, Dr. Renato Buzzonetti, confirmed his death using an EKG, a light linen cloth was placed over the pontiff's face. Spanish Cardinal Eduardo Martinez Somalo, the camerlengo, or chamberlain, who presides over the church between popes, repeatedly called the Pope's given name, Karol. His so-called fisherman's ring, which each pontiff uses to seal correspondence, was then taken in order to be ceremonially destroyed. (The pieces of the ring would later be placed in his coffin, along with his death certificate and coins.) At 10 p.m., Archbishop Leonardo Sandri—who often spoke for the Pope in his later years when his strength failed him—announced the news in St. Peter's Square: "The Pope has returned to the house of our father."
The April 8 funeral—a highly choreographed Mass following a 436-page Latin guidebook—will be televised across the globe. Finally, John Paul will be laid to rest, in three nesting caskets, in the crypt below St. Peter's, near 147 of his predecessors in a tomb once occupied by Pope John XXIII, whose remains were moved to the main floor of the basilica when John Paul beatified him in 2000.
The first non-Italian on the throne of St. Peter in 455 years, John Paul II, the Polish Pope, was visibly relaxed among his followers, a typical product of his simple Eastern European upbringing: He dined on hearty Polish sausage and beer, sometimes serenaded his colleagues with folk songs and followed soccer teams like Cracovia—among his favorites—on TV. Yet he shifted easily among eight languages and set out from the start of his papacy on a series of travels that would eventually make him the most cosmopolitan of all Popes. "He wanted to reach out to the world," says Father Theodore Hesburgh, former president of the University of Notre Dame. "If you left him in a spot for more than a week, he'd start learning the language."
A theological conservative, he was always vigorous in his defense of traditional Church doctrine in such matters as abortion, contraception and divorce. In the face of controversy, says Georgetown University theology professor Chester Gillis, John Paul's response was to keep a strong grip on power. "He did not enfranchise local communities," says Gillis. "He centralized the power of the Vatican."
With that same firm hand on the tiller, he steered his worldwide flock through the titanic political and social shifts of the late 20th century. His legacy was concrete. Having seen his own native land fall to Communists after World War II, John Paul pressured leaders of Poland and the Soviet Union and played a key role in ending the Communist grip on the Eastern bloc. "Without him, the fight against Communism would have lasted for years longer," says former Polish president Lech Walesa. "He made it happen without bloodshed."
John Paul's passion for pressing the flesh distinguished him from popes past, but it also nearly cost him his life. Early in his term, he'd wade into crowds each Wednesday afternoon as he made a circuit in an open-topped car through St. Peter's Square. During such a swing on May 13, 1981, Mehmet Ali Agca, a 23-year-old Turk, fired a Browning 9-mm pistol at him (see box, page 63). One bullet struck the Pope in his abdomen and another ricocheted from his left hand to his right arm--a stroke of fate he always credited to the Virgin Mary's protective powers.
The Pope made a parable of his misfortune. Two and a half years later he paid a visit to Agca in his cell at Rome's Rebibbia Prison. "I spoke to him as a brother whom I have pardoned," he said after the 21-min. visit. He would repeat that message many times: Even in a world of hatred and strife, reconciliation must always be possible. "It is essential that religious people and communities should, in the clearest and most radical way, repudiate violence," he said at a post-9/11 multifaith peace pilgrimage to Assisi, Italy, "starting with the violence that seeks to clothe itself in religion."
John Paul quickly rebounded from the shooting to resume his strenuous regimen, routinely waking at 5:30 a.m. and retiring at 11:30 p.m., filling his days with formal audiences, working meals and meetings, punctuated with breaks for solitary prayer and writing. The pontiff's breakfast was a caffe latte and a roll, and he lunched on pasta (when his guests were Italian) or meat and fish. For exercise he would pace intently for 30 minutes each night on the roof of the papal palace, taking in a view of Rome's skyline. He had a pool built at Castel Gandolfo, the papal retreat, and, on a vacation to the Italian Alps, he once said of the Vatican, "One must know that prison to appreciate this freedom."
He did occasionally slip away. In the early '90s, for instance, his aides arranged a clandestine daylong ski trip to a mountain 50 miles from Rome. Appraising the slope his aides had selected, "the Holy Father looked at it and shook his head—too easy," Joaquin Navarro-Valls, his spokesman, told the Los Angeles Times. Another slope was hastily chosen, and the Pope spent hours on the mountain, with only a snack for lunch, camouflaged in off-the-rack skiwear.
John Paul had acquired his love of sports and the outdoors as a boy. His brother Edmund, 13 years his senior, taught him to ski and spent countless hours kicking a soccer ball with him in the city of Wadowice. There Karol Józef Wojty-la was born on May 18, 1920, in a small second-story apartment across from St. Mary's Church. His father, Karol, was a stern retired army officer; his mother, Emilia, a schoolteacher who had never quite recovered from the death of an infant daughter before Karol's birth. In 1929, just before Karol turned 9, Emilia died of heart and kidney problems. Three years later Edmund, by now a young doctor, contracted scarlet fever from a patient and also died. The Pope would keep his brother's stethoscope in a Vatican desk drawer.
The elder Wojtyla devoted his full energies to raising Karol. At Wadowice's public high school, where a Jewish classmate was his best friend, young Karol excelled academically and became enamored of singing, dancing and, most of all, theater. But he also had a unique religious fervor and would spend countless hours in solitary prayer in a local convent church. In 1938 he moved with his father to Kraków, where they lived in a tiny basement apartment so that Karol could enroll in Jagiellonian University, where he focused on Polish literature and took an active interest in writing poetry and acting.
His education was abruptly interrupted by the Nazi occupation of Poland in 1939. To avoid being forced to work for the Third Reich, Karol secured a job as a manual laborer at a stone quarry and in a chemical factory outside Kraków. Hearing him sing on the job, the Pope recalled in a memoir, his boss told him, "You should be a priest... Then you'll be all set."
After his father's death in 1941 from a heart attack left him alone in the world, Wojtyla became more intensely religious. At 22 he entered a clandestine seminary run by Kraków's archbishop across the street from Gestapo headquarters. He was ordained in 1946 and quickly gained a reputation as a powerful preacher and intellectual. In 1964 he became Archbishop of Kraków, and three years later Pope Paul VI named him a cardinal.
As a leading Catholic figure in Eastern Europe, Cardinal Wojtyla was a prominent critic of Poland's Communist regime. He traveled widely and forged a close relationship with Pope Paul VI. Still, no one could have predicted the events following that Pope's death in the summer of 1978. His successor, John Paul I, died of a heart attack just 33 days into his rule. Crowds gathered outside the Sistine Chapel while a conclave of cardinals spent two days debating. Finally, on Oct. 16, white smoke emerged, signaling that a choice had been made-Wojtyla, the first non-Italian since 1523.
The news was shocking. But John Paul's smiling conviviality struck a resonant chord with Catholics and non-Catholics alike. Within a short time he found himself greeted by crowds almost everywhere he went—though after the assassination attempt he traveled in his bulletproof Popemobile. On five tours of the U.S.—in 1979, 1987, 1993,1995 and 1999—he attracted throngs and inspired souvenirs like a soap product called Pope-on-a-Rope. The message he delivered was not always the one the crowds wanted to hear. In the U.S. he decried materialism and urged Catholics toward a more spiritual life. He sought to review many of the revolutionary reforms of the Second Vatican Council in the mid-1960s, which called for an increased role for the laity in Church functions. "I am not severe, I am sweet by nature," he once said. "But I defend the rigidity principle."
He never wavered in his opposition to abortion, and in a book released in February he appeared to draw comparisons between lawmakers sanctioning it and the Germans who made possible the Holocaust. He publicly opposed stem-cell research, rejected the possibility of women entering the priesthood and infuriated many by upholding the Church's outright ban, widely ignored in the U.S., on artificial contraception—even for the purpose of preventing AIDS. (He argued that contraceptives have grave consequences for the dignity of women.) On the subject of homosexuality, in 2003 the Vatican released a document that called same-sex marriage "against natural moral laws."
Seeking backing for his positions, John Paul stacked the ranks of cardinals in the U.S. and elsewhere with fellow conservatives and took pains to quell dissent within the Church. "The Church is now more polarized than before," says Georgetown's Gillis. At the same time, he reached out to the other religions of the world. Attending a Jewish service in Rome in 1986, he became the first Pope in modern times to visit a synagogue, taking the opportunity to condemn anti-Semitism and express outrage at the Holocaust, which he also did dramatically in a 1979 visit to Auschwitz. "He has done more than any human being for Jewish-Christian relations," says Rabbi Jack Bemporad, director of the Center for Inter-religious Understanding in Secaucus, N. J., who met John Paul several times. For all the force of his public persona, those close to him spoke of his mystical, devotional side. He prayed with fervid intensity. "He was a man of peace. He was a man of prayer, and you could really feel, almost touch, the kind of feeling of God around him," says his long-time friend Italian Archbishop Giuseppe Pittau, 76. "He had a simple spirit really. You could see him praying with such attention, and nothing else interfered with it."
Even as his health failed and Parkinson's disease took its toll, he made little effort to hide it from the public, presenting his suffering as an aspect of life that all should see. He began to walk with a visible stoop and eventually was so weak that aides had to deliver many of his speeches. After he was hospitalized Feb. 1 for a respiratory infection, his health rapidly declined, though he fought bravely. "He was preaching his last homily," says Monsignor William Kerr, executive director of the Pope John Paul II Cultural Center in Washington, D.C. "During his own illness, he communicated strong and moving messages about the value of life."
And even as he clung to the last hours of his life on April 2, the man who had spent so much energy taking his message to the corners of the globe maintained his connection to his beloved flock. "You have come to me," he said, as tens of thousands prayed for the Pope outside his window, "and I thank you."
Thomas Fields-Meyer. Praxilla Trabattoni, Simon Perry and Kate Carlisle in Rome, Sara Hammel in London, Slawek Zurek in Warsaw, Nancy Jeffrey, Daniel S. Levy, Nina Biddle and Courtney Hazlett in New York City, Susan Keating, Rose Ellen O'Connor and Ellen Shapiro in Washington, D.C. John Slania in Chicago and Sharon Harvey-Rosenberg in Miami
Contributors:
Praxilla Trabattoni,
Simon Perry,
Kate Carlisle,
Sara Hammel,
Slawek Zurek,
Nancy Jeffrey,
Daniel S. Levy,
Nina Biddle,
Courtney Hazlett,
Susan Keating,
Rose Ellen O'Connor,
Ellen Shapiro,
John Slania,
Sharon Harvey-Rosenberg.
Advertisement
Treat Yourself! 4 Preview Issues
The most buzzed about stars this minute!