Archive Page - 12/1/12 39 years, 2,079 covers and 53,260 stories from PEOPLE magazine's history for you to enjoy
On Newsstands Now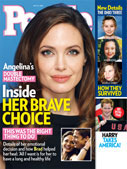 Angelina: Inside Her Brave Choice

New Details on the Ohio Three

Prince Harry Takes America!
Pick up your copy on newsstands
Click here for instant access to the Digital Magazine
People Top 5
LAST UPDATE: Saturday May 18, 2013 10:10PM EDT
PEOPLE Top 5 are the most-viewed stories on the site over the past three days, updated every 60 minutes
There Goes the Bride
Jennifer Wilbanks Faked Her Kidnapping, Disappointed 500 Wedding Guests and Captivated a Nation—and John Mason Still Wants to Marry Her
A wonderfully romantic moment or sheer craziness—take your pick. What is known for sure is that Wilbanks's decision to vanish four days before her April 30 wedding—a lavish affair for more than 500 guests—plunged her relatives, friends and fiancé into a whirlwind of conflicting emotions. "It's been a roller coaster of sadness, concern, anger and then sadness again," says Jennifer's close friend Kristine Alexander. "I mean, we were looking in Dumpsters for her, scared that we would find her." And the person at the center of it all apparently had no idea of the fuss she'd kicked up—and insists she still loves John very much. Wilbanks's lawyer Lydia Sartain tells PEOPLE, "She says that this was not just about the wedding. She is very remorseful. I think she never in a million years thought it would reach this level of media attention. She is just astounded."
That may be, but Wilbanks planned her escape carefully, buying a Greyhound bus ticket a week before she fled and cutting her long hair to disguise her appearance. Her vanishing left Mason devastated. "There was one of two outcomes for this," Mason, 32, told PEOPLE soon after she was found but before he learned that she had fled. "Either Jennifer was going to be in heaven with Jesus, or she would come back to me." Since surfacing in Albuquerque on April 29 and confessing to police that her 911 call claiming she was kidnapped by a Hispanic man and white woman was a hoax, Wilbanks, 32, has been staying at her mother's house an hour from the couple's home in Duluth, where she is "under a doctor's care," says Sartain. "She is in a very fragile state. I think she was just overwhelmed with everything in her life and just broke down. She just didn't feel in control. There is no doubt about it: She is a troubled person."
While Wilbanks sorted through what her pastor called "some very specific issues," her friends and family sorted through bruised feelings and finely wrapped gifts. "The bridesmaids are angry," says a friend of Jennifer's. "They had been going to countless parties and bought expensive dresses. She was their best friend and they feel duped."
All of which raises questions about the relationship between Mason and Wilbanks and about what could have driven her to such a desperate act. Both devout Baptists who abstained from having sex during the 18 months they dated, the couple spent most nights together in his single-story house in Duluth, which she redecorated from "a bachelor pad with no pictures on the wall and old furniture," says Mason's colleague Andy Parsons, into a comfortable home with a striking glass-top dining table, an armoire and a sofa. Still, the two were not "technically living together," Mason told Hannity. "In God's eyes, our relationship is still very pure." This could have been one source of stress for Wilbanks. Says a friend: "She told people the fact she and John were not having sex was upsetting."
Both had certainly done the singles scene. Jennifer, who had breast-augmentation surgery before meeting Mason, "had lots of boyfriends, some for short times, some for longer times," says a friend. "What cute, sweet, lively woman wouldn't?" As for Mason, "He was wild when he was young," says his friend and running buddy Ted King. "He dated a lot, went out a lot." Mason, the manager of his family's medical clinic, came to disapprove of premarital sex after committing himself to his Baptist faith five years ago. Says Andy Parsons: "Over the past few years he's been saving himself for the right woman."
Those who know them say Mason could not have been surer that Wilbanks, who works at an OB/GYN clinic, was that woman. Both avid runners from locally prominent families—his grandfather was the first doctor in town and his father the mayor, while hers owned a sporting goods store—they met after Wilbanks's aunt gave Jennifer's number to John in 2003. "She said, 'I've got a niece that runs, is John dating anyone?' " his mother, Vicki Mason, says. "He called her that night and they talked till 3 o'clock in the morning." On one of their dates they shared a spaghetti dinner at Mason's house. "My wife and I snuck up to see them on their first date," says King. "I peeked in the window and they were holding hands and praying over the pasta before they ate it." Not long after, "I asked her, 'How's it going with John?' and she said, 'He's wonderful,' " says Shelly Ray, one of her closest friends and bridesmaids. "She said, 'This is the man I am going to marry.' "
The wedding would be no small affair (see box). Though Wilbanks hired a wedding planner, "she was involved in every detail down to the cake knife and flower girl's silver basket," says Christopher Davidson, who also provided formal attire for the entire wedding party. "She chose it all. She was not an absentee bride."
Not yet, anyway. Friends and family noticed that as her wedding day drew closer, Wilbanks—who was undergoing premarital counseling with Mason at the Peachtree Corners Baptist Church—grew more and more anxious. "Sometimes she would hang up the phone after talking to someone about the wedding and say, 'Aaarrrggghhh, this is so frustrating,' " says a coworker. At her wedding shower on April 24 "she was stressed, but we told her to soak it up and enjoy it," says another close friend. "She was so excited about marrying John, but they were different. She liked nice things, and he was a big sports fan."
Even so, no one had any inkling that Wilbanks was on the verge of skipping town. On Tuesday, April 26, at 8:30 p.m., Wilbanks told Mason she was going for a five-mile jog. Instead she took a taxi to the Greyhound bus station near Atlanta's airport. With scissors she brought from home she sheared off several inches of her hair. Traveling with only $140 in cash, she told police, Wilbanks spent most of the next three days aboard a bus, going from Atlanta to Texas to Las Vegas before finally arriving in Albuquerque.
Back in Duluth, when Mason got worried that Wilbanks was not back from her run, he hopped in his car to search for her, checked the local hospital and finally called police around midnight. The next morning hundreds of volunteers and more than 100 police officers fanned out across Duluth to search for Wilbanks. Before long police turned their attention to Mason, who was interrogated several times but never named a suspect. "I went from just sheer panic to anger at people pointing the finger at me," he told PEOPLE. "I'm trying to find my wife-to-be and now I've also got to worry about a personal legal defense? How fair is that? One minute I was on my knees crying, and the next minute I was mad and lashing out at whoever was near me." On Friday, April 29, police called off the search. Still, says her friend Shelly Ray, "John's faith never wavered. He even met with the musicians for the wedding on Thursday."
At 1:30 a.m. on Saturday, April 30 in Duluth—only 17 hours before her scheduled wedding—Wilbanks finally rewarded his faith. She called Mason from a pay phone outside an Albuquerque 7-Eleven. "I said, 'Baby, is that you?' " Mason recalls. "I said, 'I love you,' and she said 'Baby, I love you too.' "
Next Wilbanks called her mother, Joyce Parrish. "She said, 'I'm scared, Mama, come get me,' " says Parrish. "She said, 'Mama, they came up and grabbed me. They wanted money.' " News that Wilbanks was alive reached a crowd of friends and relatives gathered on the lawn in front of Mason's bungalow in Duluth. "There were 150 people in this yard just having a party," says Alan Jones, the pastor who was to officiate at the couple's wedding. "It was the most adrenaline I've ever felt." That sense of elation, however, would not last long. In Albuquerque, after intense questioning by detectives, Wilbanks finally admitted she had simply run away. "One detective said, 'Can we stop looking for the van?' " says Trish Ahrensfield, an Albuquerque police officer, "and she said, 'Yes, you can stop looking.' "
Soon everyone knew that Wilbanks had lied about being kidnapped. "We felt betrayed," says pastor Jones. Georgia authorities are still deciding whether to bring charges, and may try to recoup the $60,000 spent searching for her. In the meantime her friends and family are supporting Wilbanks as she spends some time searching for herself. "Everyone is so quick to get angry and condemn her, but she was in such a lonely place and must have had such desperate feelings," says Mary Grimsley, a friend from Gainesville. "And if John can forgive her, then everyone else should forgive her too."
Alex Tresniowski. Siobhan Morrissey in Duluth, Elizabeth Cobb in Duluth and Gainesville, Inez Russell and Michael Haederle in Albuquerque, Deborah Geering, Lori Johnston and Aaron Baca in Gainesville, Steve Helling in Orlando and Natasha Stoynoff and K.C. Baker in New York City
Contributors:
Siobhan Morrissey,
Elizabeth Cobb,
Inez Russell,
Michael Haederle,
Deborah Geering,
Lori Johnston,
Aaron Baca,
Steve Helling,
Natasha Stoynoff,
K.C. Baker.
Advertisement
Treat Yourself! 4 Preview Issues
The most buzzed about stars this minute!