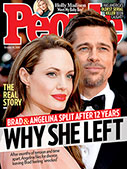 This Week's Issue!
People Top 5
LAST UPDATE: Tuesday February 10, 2015 01:10PM EST
PEOPLE Top 5 are the most-viewed stories on the site over the past three days, updated every 60 minutes
From Beverly Hills to a Mexican Jail
Raised in Beverly Hills, Mother Antonia Gave Up Wealth and Privilege to Help Tijuana's Condemned


For 28 years, Mother Antonia, 78, has lived among the inmates, now numbering 6,000, in what was once one of Mexico's most dangerous prisons. Working to improve the lives of those incarcerated, the Roman Catholic sister is also beloved by guards, who say she has helped make their jobs safer and more humane. Outside La Mesa, the Sisters of the Eleventh Hour of St. John Eudes, a religious community Mother Antonia founded in 1997, serve Tijuana's poor. "Mother Antonia brings hope to men and women here," says La Mesa's warden, Francisco Jiminez, "And they find hope themselves. She spreads the love of God."

Even more remarkable is the road she traveled to reach San Diego's border city, Tijuana—a journey chronicled in a new book, The Prison Angel, by Mary Jordan and Kevin Sullivan. Born Mary Clarke in Los Angeles, Mother Antonia grew up amid money and movie stars, married twice and raised seven children before finding her calling. Those who know her best aren't surprised by the choices she's made. "The greatest gift my siblings and I had was that our mom was on loan from God to raise us," says her oldest son, Jim Brenner, 57, a Los Angeles ink salesman. "Now she's taking care of the rest of the world."

Starting with the forgotten men and women of La Mesa. The only member of her order allowed to dwell inside the penitentiary, Mother Antonia subsists on a weekly budget of $20 for food, sleeps in a tiny cell and spends 10-hour days working (see box). Her deeds, which are funded by benefactors on both sides of the border, include advising mothers separated from children and making donated clothing presentable. She also be-friends and protects the most vulnerable members of the prison's population—transvestites and the elderly. And in Tijuana's neighborhoods she and other Sisters of the Eleventh Hour provide support for the families of both inmates and guards, even helping arrange funerals for those who die in prison. "She's the most important person here," says a 63-year-old female prisoner sentenced to 10 years for heroin trafficking. "She never rests."

Doctors say she should. Stricken with problems that include blocked arteries and two leaky heart valves, Mother Antonia keeps an oxygen tank by her cot to help her breathe. But she ignores advice to leave the prison. "Giving to others is a privilege," she says. "The only thing I'm concerned about is that I'm not doing enough."

It's far from the life Mary Clarke was born into. The daughter of a wealthy Los Angeles businessman, she grew up in a Beverly Hills mansion in the '40s, with Hollywood stars Dinah Shore and Cary Grant for neighbors. By her teens, Mary was a striking beauty who was offered a job in a play by choreographer Busby Berkeley, but she turned him down. Raised by her father, Joseph, a devout Catholic who was widowed when she was 3, she hungered for a more traditional life. "All I ever wanted," she says, "was to be a good wife and mother."

In 1946 she became a 19-year-old bride to sailor Ray Monahan, but the union ended in divorce after four years. Within a year she wed college athlete Carl Brenner and raised children James and Kathleen, from her first marriage, alongside their kids Theresa, Carol, Tom, Elizabeth and Anthony. Stirred by her faith, she also threw herself into collecting for the poor. Long hours devoted to charity work became a source of tension in the Brenners' marriage, and in 1972 they divorced. "That wound," she says, "is like a knife in my heart."

By then Mary had been making church-sponsored relief visits to La Mesa, and in 1977, with her marriage over and her children grown, she felt a powerful spiritual pull to do far more. "I wanted to dedicate my life to the poor," she says. "I didn't want to just pity them. I wanted to become a significant part of their lives." Convinced established orders would not accept a woman her age, she sewed her own habit, drove to a church and whispered her own vows of obedience and service. That Easter she told her kids. "None of us were surprised," says son Tom, 49, a California clothing manufacturer. "She's always had a passion for helping others."

After selling her belongings, she drove to Tijuana, persuaded La Mesa's warden to let her stay and began the dangerous task of winning inmates over with small acts of kindness. Soon other women began approaching Mother Antonia to help. "I've never met a soul she hasn't stopped to take care of," says Sam Thompson, minister of the Christian Life Fellowship in Orange, Calif. "She's a walking gift of love."

For Mother Antonia, there is no higher praise. "It's such a joy to give yourself to someone else," she says. "I guess you might say I'm in love with these people who the rest of the world finds unlovable."

Johnny Dodd in Tijuana


Inside the walls of Tijuana's La Mesa prison, two dozen men accused of everything from petty theft to felonies pace in an outdoor holding cell. Earlier, these men appeared before Mexican judges for crimes that could keep them behind bars for months or years. Now, penned and angry, they glare menacingly through a chain-link fence—until a tiny figure in nun's habit appears. "Mamá, mamá!" they shout, shoving fingers through the barrier, trying to touch her. "How are you, my sons?" replies the cheerful woman they call Mother Antonia. She leads them in prayer, urging them to ask forgiveness from their victims. The men nod like shamed schoolboys. And weep.
Advertisement
Treat Yourself! 4 Preview Issues
The most buzzed about stars this minute!