Archive Page - 12/1/12 39 years, 2,080 covers and 53,257 stories from PEOPLE magazine's history for you to enjoy
On Newsstands Now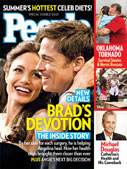 Brad's Devotion: The Inside Story

Oklahoma Tornado: Heroic Rescues

Michael Douglas on Catherine's Health
Pick up your copy on newsstands
Click here for instant access to the Digital Magazine
People Top 5
LAST UPDATE: Friday May 24, 2013 12:10AM EDT
PEOPLE Top 5 are the most-viewed stories on the site over the past three days, updated every 60 minutes
What Happened to Shasta and Dylan?
Weeks After Police Found Their Big Brother, Mother and Her Boyfriend Brutally Murdered, These Idaho Siblings Remain Missing—and Police Have Few Leads
Instead, something much more sinister had happened. Police, alerted by a neighbor, discovered Groene, 40, her boyfriend Mark McKenzie, 37, and her son Slade, 13, inside their white-cinder-block home, bound and bludgeoned to death. But Groene's two youngest children—Shasta, 8, and her brother Dylan, 9—had vanished without a trace. In the days that followed, 56 FBI agents scoured the neighborhood while several hundred searchers fanned out by air, horseback and boat looking for the two children across 400 acres of marshes, ponds and fields—coming up empty. "They found nothing," says Kootenai County Sheriff's Capt. Ben Wolfinger. "Everybody is frustrated."
The children's disappearance grew even more mysterious on May 26: DNA tests showed none of the copious blood inside the home matched that of the missing kids. "We know these kids are out there, and we know we're going to find them. And we'll find whoever did this too," says Shasta and Dylan's cousin Jennifer Inwood, 31, who came from Seattle to join the search. But given the time that has elapsed since the killings, Wolfinger suspects that if Shasta and Dylan are indeed alive, they may no longer be in Coeur d'Alene, a city of 37,000 "where everyone knows everyone." Says the children's father, Steven Groene, 48, a foreman at a recycling plant: "There is somebody out there who knows what happened, and they need to come forward. They hold the lives of those two children in their hands."
At press time, investigators were sifting through 40 tons of garbage at a nearby landfill, and authorities say that they still have no suspect or motive in the murders or kidnappings. But Groene, whose 15-year marriage to Brenda ended in 2001, said in a May 22 interview with FOX newsman Geraldo Rivera that he failed a polygraph question concerning whether he had any information about his children's whereabouts. An officer, Groene said, told him, "'You know something about the whereabouts of your children. I think you need to tell us now,' and obviously I said, 'No way. No way, man.'" In the same interview, Groene, who has proclaimed his innocence, also revealed that he and Brenda had argued two days before the murders about his request to have the children visit him for a few days before he went on vacation. He says he was asleep at the time of the murders—but can't prove it because, even though he lives with Brenda's mother, she didn't see him arrive home that night.
Fights over—and with—the children had apparently been part of the family's life for some time. McKenzie, a project manager at a stainless-steel company, was arrested in November 2002 for beating up and pulling a shotgun on Brenda and Steven's oldest son, Vance, 20. Brenda, a waitress, had been arrested in June 2003 for possession of drug paraphernalia, and Groene told Rivera that the two had argued about his belief that his ex-wife and McKenzie were using methamphetamines. At a May 24 candlelight vigil, one of Slade's friends told PEOPLE that the creative boy with a good sense of humor hated going home because he didn't like being around all the drugs and had talked about running away.
But despite these problems, by all accounts Shasta and Dylan were healthy, popular children, nicknamed "Salt and Pepper" because of their closeness. At Fernan Elementary School, whose chain-link fence is decorated with red and blue ribbons in the children's honor, both were good students. Dylan took teachers' lunch orders and delivered them to the cafeteria. He was also a reading buddy to his young neighbor, 6-year-old Bryar Kaveshan. Shasta was shyer, but both "had smiles that could light up a room," says Fernan principal Lana Hamilton. Counselors are on hand for children who need to talk, and classmates have drawn pictures for the rescuers as a form of therapy. "One in particular that grabbed my heart was a child who asked if police had thought to look in a tree," says Hamilton. "This is hard for adults—let alone children—to understand."
The murders have left Brenda Groene's neighbors worried that the attack might have been random. But smaller questions remain too. Two days before the murder, Bryar Kaveshan walked next door to the Groene house looking for playmates. The only one home, though, was Slade. The teen invited him in, and the two of them played a Metal Gear Solid video game on PlayStation. Bryar was thrilled when Slade said he could borrow it. Bryar still has it. When he learned that Slade was dead, he asked his mother if that meant he had to keep the game.
"Until they find Dylan," Sheri Kaveshan told her son. "Okay," Bryar responded, "I'll save it for Dylan."
Bob Meadows; Sandra Marquez in Coeur d'Alene
Contributors:
Sandra Marquez.
Seeing several police cars and an ambulance flashing their lights in front of her neighbor Brenda Groene's home the night of May 16 didn't really alarm Sheri Kaveshan. "There are a lot of accidents that happen out here," says Kaveshan, 35, of the rural lakeside community of Coeur d'Alene, Idaho, where she, her husband and their two young sons live. "I just assumed that someone crashed through the fence."
Advertisement
Treat Yourself! 4 Preview Issues
The most buzzed about stars this minute!