People Top 5
LAST UPDATE: Tuesday February 10, 2015 01:10PM EST
PEOPLE Top 5 are the most-viewed stories on the site over the past three days, updated every 60 minutes
Picks and Pans: Music
Catching Up with
Somewhere Down in Texas
COUNTRY
CRITIC'S CHOICE




As befits his elder statesman status, George Strait goes so far as to suggest on one ingenious song off this terrifically enjoyable disc that we'd be better off "If the Whole World Was a Honky Tonk": "Wouldn't need no lawyers to decide who is wrong and who is right/ No need for big expensive trials/ Brother, we'd just step outside." The singer, who has been recording since 1981, contemplates his eventual retirement on the title tune, and he further salutes his home state on "Texas": "Fort Worth would never cross my mind/ There'd be no Austin city limit sign/ No lone star of any kind/ If it wasn't for Texas." Sounding more and more like Merle Haggard as his voice deepens, Strait can still get romantic on "High Tone Woman" and even "She Let Herself Go," which rises above its dismissive title to show empathy for a jilted woman. With the esteemed Tony Brown coproducing, he envelops the album in the kind of calm warmth that he is especially skilled at generating. And he brings in Lee Ann Womack for the cozy duet "Good News, Bad News." Not everyone, of course, can call on Womack and expect her to come, but few singers have so consistently earned respect as Strait. At this point, he's one of those 800-lb. armadillos who can do pretty much whatever he wants.
DOWNLOAD THIS: "If the Whole World Was a Honky Tonk"
Classic Moments
R&B




FOR MANY years now, Patti LaBelle has had trouble coming up with original material that measures up to her towering voice. So if s a smart move for the "Lady Marmalade" belter to Patti-fy these old R&B and pop gems popularized by the likes of Aretha Franklin and Bonnie Raitt. With her range and power, LaBelle can make any song her own, and she does just that on a remake of the Pretenders' "I'll Stand By You," which she turns into a gospel rouser. Not everything works, including her duet with Elton John on "Your Song," and the disc could use more uptempo cuts like the funky "You Gonna Make Me Love Somebody Else." Still, there are more than enough memorable Moments.
DOWNLOAD THIS: "I'll Stand By You"
Times Like These
COUNTRY




Jewell, winner of USA Network's
Nashville Star
in 2003, rarely rises above the routine on his latest, but he doesn't embarrass himself either. The singer possesses a warm voice and easy, avuncular style that is best on such straight-ahead country tunes as "If She Were Any Other Woman." But songs that require some subtlety and sense of humor, like "You Ain't Doin' It Right," seem beyond him.
DOWNLOAD THIS: "If She Were Any Other Woman"
Out of Exile
ALT-METAL




Audioslave fails to break free of alt-metal conventions on the band's second CD. The supergroup that arose out of the ashes of Soundgarden (lead singer Chris Cornell) and Rage Against the Machine (guitarist Tom Morello, bassist Tim Commerford and drummer Brad Wilk) still packs a potent if predictable wallop on cuts like the searing title track. And the No. 1 rock single "Be Yourself" has plenty of melodic punch. Even so, you keep wishing that they would really catch your ear with something new.
DOWNLOAD THIS: "Out of Exile"
All or Nothing
RAP




After 11 years and five solo albums, Fat Joe truly achieved hip-hop heavyweight status in 2004 with the No. 1 smash "Lean Back," recorded with the Bronx-born emcee's posse Terror Squad. The not-as-rotund rapper, who has recently slimmed down from 370 lbs. to 290 lbs., continues his roll with a crowd-pleasing set that is sure to get the block party pumping this summer. Booty-shaking beats combine with good-time rhymes on club jams like the chart-climbing single "Get It Poppin'," with its catchy chorus featuring Nelly, and the booming "Everybody Get Up," on which Joe slyly remarks, "Got chicks mad at me 'cause I lost some weight." Elsewhere, Joe shifts into gangsta-lover mode on tracks such as "So Hot," a tepid collaboration with R. Kelly, and "Listen Baby," which smoothly samples the Marvin Gaye-Tammi Terrell version of "Ain't No Mountain High Enough." Public Enemy is also sampled on the rock-edged "Safe 2 Say (The Incredible)," one of the disc's hardest cuts. Lyrically, however, Joe saves his biggest blows for the diss track "My Fofo," where he fires back at 50 Cent for 50's shots at Joe on
The Massacre
. Shrewdly adopting 50's half-sung flow, Joe calls his rival "the fakest thug you ever seen."
DOWNLOAD THIS: "Get It Poppin'"
De Nova
ROCK




With their gritty, rootsy rock and retro bluesy swagger, the Redwalls would make a great double bill with Kings of Leon. On the Chicago-based quartet's major-label debut (following 2003's independently released
Universal Blues
), the band, while not breaking any new ground, delivers a sound that is twangy and tough, with plenty of soul and garage-punk attitude. Just check out the rebel anthem "It's Alright," with its '60s stomp, raucous energy and lead singer Logan Baren's bad-boy vocal. Other highlights include "Thank You," a heart-on-ripped-sleeve declaration.
DOWNLOAD THIS: "It's Alright"
U.S.A. (United State of Atlanta)
RAP




If Lil Jon is the king of crunk, then the Ying Yang Twins are the court jesters. On the Atlanta duo's hot new album, D-Roc and Kaine inject their Dirty South hip-hop with an often dirty sense of humor. Tracks like the X-rated hit single "Wait (The Whisper Song)," with its hushed vocals over a spare, spooky groove, will provoke both laughter and lap-dancing. The Twins, though, have a serious side too, as shown on cuts such as "Live Again," a sympathetic tale of a stripper that features a guest vocal by Maroon 5's Adam Levine. And on the OutKast-style "Ghetto Classics," they address the state of the street.
DOWNLOAD THIS: "Wait (The Whisper Song)"
Foo Fighters,
In Your Honor
: The Foo crew doubles your pleasure on a two-disc set with one CD of the quartet rocking out at its hardest and another of the band stripped down and mellowed out as never before.
The White Stripes,
Get Behind Me Satan
: Pop's oddest couple revel in their eccentricities and straight-from-the-garage sounds on a bold and bizarre disc that seems startlingly like the work of a great unsigned band.
Amy Grant,
Rock Of Ages...Hymns & Faith
: This quietly inspiring collection of religious standards, including a moving take on "Rock of Ages," is a praiseworthy sequel to 2002's
Legacy...Hymns & Faith
.
Embrace,
Out of Nothing
: Brit-pop band that sounds an awful lot like Coldplay (Chris Martin even wrote the U.K. hit "Gravity") deserves to have U.S. listeners welcome them with open arms.
Bryan Adams From the "Summer of '69" to the summer of 2005, '80s rocker Bryan Adams, 45, is back with a new CD,
Room Service
, and a tour with Def Leppard through Aug. 10.
ON RECORDING ROOM SERVICE IN HOTELS Because I tour so often I didn't book enough time in the studio to finish my work. So I rented a little [portable] studio thinking that I would do bits and pieces of the record here and there, and I ended up doing most of it in different hotel rooms. It was great.
ON WHO HAS THE BEST ROOM SERVICE Probably the Italian hotels. They've got really great food. The French hotels are very good also.
ON TOURING WITH DEF LEPPARD When the promoter approached me, I said, "Okay, sure." It sounded like a fun package. We'll be playing a lot of hits.
ON PEOPLE CONFUSING HIM WITH RYAN ADAMS People's confusion over the names probably happens more to him than to me. I'm sure there are people who go to see his show and think they're going to see me, because they think there might be an error in the spelling. But he's great.
Contributors:
Ralph Novak,
Chuck Arnold,
Carla Hay.
Advertisement
Today's Photos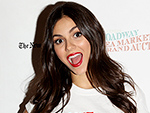 Treat Yourself! 4 Preview Issues
The most buzzed about stars this minute!