People Top 5
LAST UPDATE: Tuesday February 10, 2015 01:10PM EST
PEOPLE Top 5 are the most-viewed stories on the site over the past three days, updated every 60 minutes
Picks and Pans Main: TV
Reno 911!
COMEDY




What's more important in a sitcom, imagination or execution? If you prize originality, this new series will underwhelm you. It's basically
The Odd Couple
with a kid. Jingle writer Charlie Harper (Charlie Sheen, who also played a Charlie in
Spin City
) is a swinging-bachelor sort casually ensconced in his Southern California beach house. Suddenly Charlie is giving shelter to his brother Alan (Jon Cryer), a fussy chiropractor, and Jake (Angus T. Jones), Alan's 10-year-old son. Like Felix Unger in the old days, Alan was thrown out by his wife, Judith (Marin Hinkle), although Judith's thoughts of turning lesbian do give the show a contemporary touch. Charlie tolerates Alan at his pad rather than see him move in with their controlling mother, Evelyn (a typically sharp-tongued and snooty Holland Taylor, on the rebound from Baby Bob). Besides, Charlie is growing fond of Jake. They've already had the nephew-uncle conversation legally required in all family sitcoms:
"I wish my dad was as cool as you."
"Don't sell your dad short. He loves you more than anything in the world."
All right,
Two and a Half Men
is trite in too many ways. What's surprising is the goodly number of laughs it does offer. Cryer may overdo the fast-talking, hand-wringing, Woody Allenish business in the opener, but in the second episode his timing emerges as the show's biggest asset. He deserves to break his sitcom losing streak (last setback: ABC's
The Trouble with Normal
). Sheen seems sluggish at times and manages only minimal conviction when his character is supposed to be angry. Still, he plays off Cryer capably and delivers his share of the punch lines with some assurance. The nice thing about Jones is that he eschews cute-kid mugging. But if he doesn't start showing a little more expression, we'll wonder if the boy's having any fun.
ABC (Wednesdays, 10 p.m. ET)
CRIME DRAMA




Pardon a little post-
Gigli
piling-on, but the 1998 film version of Elmore Leonard's novel
Out of Sight
would have been even better with an actress more interesting than
Jennifer Lopez
in the female lead.
Problem solved. This promising new series, adapted from the movie with some of the grit removed, stars Carla Gugino (
Spy Kids
) as Miami-based U.S. marshal Karen Sisco. Like Lopez, Gugino is a looker who can be tough, but she makes the character more open, more alive. Karen is a tad softer now, yet still fully capable of dropping any fugitive foolish enough to think a woman won't shoot.
The role of Karen's private-eye dad, played by Dennis Farina on the big screen, has been expanded and handed over to reliable Robert Forster (
Jackie Brown
). The senior Sisco keeps in almost constant cell-phone contact with Karen, giving her professional and personal advice while he nonchalantly goes about his own business of tailing insurance scammers and wayward husbands. His aphorisms tend toward the banal ("Ya learn by doin'.... Sometimes ya learn by doin' wrong"), but the character is so colorful that I can already see him as a spinoff candidate.
HBO (Sundays; check listings)
FAUX REALITY




It's hard to separate fact from fiction in this series about Washington, D.C., political operators. And I'm not sure it's worth the effort.
George Clooney
and movie director Steven Soderbergh are among the executive producers behind
K Street
's tricky concept. A fictional consulting firm, staffed by made-up characters (portrayed by John Slattery, Mary McCormack and Roger Guenveur Smith) as well as real-life Beltway insiders (James Carville and Mary Matalin, playing themselves), handles timely issues involving actual politicians, who appear in cameos. The improvisational acting can be painfully awkward, particularly when amateur Carville drags professional Slattery down with him, and the topical talk too often lacks coherence. Even political junkies may be glad it's only a half-hour show.
ABC (Wednesdays, 8:30 p.m. ET)
COMEDY




It's stereotypes on parade, with blaring horns and banging drums, in this dreadful new sitcom.
Bobby O'Neil (Reid Scott) is an Irish Catholic living in Boston, so naturally he works in a bar owned by his portly, bombastic, hidebound father, Mace (Lenny Clarke from
The Job
). One night Mace informs a couple of his customers that Bobby's fiancée, Harvard student Liz (Maggie Lawson), isn't Catholic. The rest of the drinkers overhear—Mace being a loudmouth—and the place falls deathly silent. Then he reveals a greater outrage: "She was raised by a coupla fruit loops!" It turns out Liz's gay adoptive fathers (John Benjamin Hickey and Christopher Sieber) are in the bar, ludicrously posing as blue-collar macho men. When they take exception to Mace's language, he yells, "I'll kick your butt all the way back to fairyland!"
Clarke labors to establish his character as a Beantown Archie Bunker, while Hickey and Sieber play a couple of effete snobs who demonstrate their parenting skills by bickering with each other when their daughter needs advice. A tip for Bobby and Liz: Elope and don't come back.
WB (Fridays, 8:30 p.m. ET)
COMEDY




"Good morning, my multigenerational, multiethnic family," teen Keith (J Mack Slaughter) says in this uninspired sitcom. Did he lift that line from a WB press release?
Keith and his single mom, Maddie (Diane Farr), have moved in with her friend Tanya (Holly Robinson Peete). That inconveniences Tanya's spouse, Ed (beefy Kevin Michael Richardson, who shoulders most of the comic responsibility), their kids Danika (Megalyn Echikunwoke) and Bobby (B.J. Mitchell), and Ed's pop (J. Anthony Brown). Though Keith and Maddie are white and their hosts are black, the show refrains from beating the racial angle to death. But it's too crude and obvious in other respects (oh, that toilet humor in the opener) to deserve points for restraint.
WILDEST CAREER MOVE
Tarzan
(WB, Oct. 5, 9 p.m. ET) Underwear model Travis Fimmel swings into the acting field in this series premiere, playing a jungle man who's a fish out of water in New York City.
STRANGEST REALITY SPECIAL
Surviving Nugent
(VH1, Oct. 5, 9p.m. ET) Seven contestants try to impress wild rocker Ted Nugent and win $50,000 by taking on challenges in the Michigan woods. Warning: Anyone watching this two-hour oddity may contract Cat Scratch Fever.
MOST NEW FACES IN A RETURNING DRAMA SERIES
The Practice
(ABC, Oct. 5, 10 p.m. ET) No "same old, same old" on this revamped lawyer show. James Spader and Rhona Mitra have just joined the cast, and this episode features guest stars Sharon Stone and Chris O'Donnell.
FABULOUS GUEST SHOT OF THE WEEK
Good Morning, Miami
(NBC, Oct. 7, 9:30 p.m. ET)
Queer Eye for the Straight Guy
's five makeover wizards try to give this sophomore sitcom some sparkle.
3 Reasons I Love...
1. Because it's the closest thing on TV to the hilarious movie mockumentaries of Christopher Guest (
A Mighty Wind
). A parody of real-life cop shows, this half-hour comedy follows seven Reno officers as they bicker, snack, waste time and otherwise manage not to defeat crime. The tone: deadpan with burps of sheer nuttiness. Evading arrest by two female deputies (they're distracted by a bowl of chips), a palsied old man in his underwear putters off on a scooter, shouting, "You'll never get me alive, b——!"
2. Because they don't come any dumber or dumberer than Deputy Trudy Wiegel (Kerri Kenney). Pulling her car into the garage while listening to a teach-yourself-French tape, she repeats the English words instead of the French. Unaware that the motor's running, she nearly asphyxiates herself. Says a partner: "She's like a bad casserole that you just want to forget about."
3. Because the squad's motto, coined by Deputy Clementine Johnson (Wendi McLendon-Covey), will inspire young citizens to enroll in their local police academy. Reassuring the victim of a robber-flasher, Johnson tells her, "We aim—to try."
Comedy Central (Wed., 10:30 pm ET)
Contributors:
Terry Kelleher,
Tom Gliatto.
CBS (Mondays, 9:30 p.m. ET)
Advertisement
Today's Photos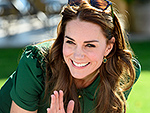 Treat Yourself! 4 Preview Issues
The most buzzed about stars this minute!