People Top 5
LAST UPDATE: Tuesday February 10, 2015 01:10PM EST
PEOPLE Top 5 are the most-viewed stories on the site over the past three days, updated every 60 minutes
Picks and Pans: Movies
DVD View
Russell Crowe, Paul Bettany, Billy Boyd, James D'Arcy, Max Pirkis
CRITIC'S CHOICE




This seagoing drama puts a viewer so convincingly in the middle of the action on board a British warship in 1805 that you'll swear you can feel the salt spray. The rousing story of how Capt. Jack Aubrey (Crowe), commander of the HMS Surprise, and his crew determinedly pursue a larger, faster, French enemy vessel around Cape Horn is Hollywood filmmaking at its smartest and most satisfying.
Fans of nautical novelist Patrick O'Brian are likely to be enraptured by Master and Commander, given that it has been so adroitly adapted by director-cowriter Peter Weir (
The Truman Show
) from the 1st and 10th books of O'Brian's 20-volume series. Let me stress, though, that having devoured the books isn't a prerequisite for enjoying the film and its up-close look at what officers and sailors ate, where they slept and how ship-to-ship combat was conducted during the Napoleonic Wars.
At the heart of both the novels and M&C is the warm but occasionally contentious friendship between Captain Aubrey and Dr. Stephen Maturin (Bettany), the ship's sawbones. The captain is a man of action and Maturin a more introspective sort, but each is capable of moving beyond type to surprise the other (and us). And both do much to earn, and keep, the respect of the ship's crew.
Crowe again proves he is that rarity: a major movie star who can actually act. No firebrand, his Captain Aubrey shoulders the heavy mantle of leadership with a hard-won knowledge of its weight. Bettany, if less charismatic, is equally effective. (PG-13)
ADVENTURE
Brendan Fraser, Jenna Elfman




That wascally wabbit is having a caweeah cwisis: How can aging cartoon icon Bugs Bunny, whose résumé sparkles with great, trailblazing shorts, compete with fresh, feature-length wonders like
Shrek
and
Finding Nemo
? Action is not the answer: Like 1996's
Space Jam
, which teamed Bugs with Michael Jordan, Action scrambles live actors and animation, and dishes up something with all the appeal of a cold omelette. Bugs and Daffy Duck race from a Hollywood backlot to Vegas to Paris to the jungle in a jumble of a plot that has something to do with a studio executive (Elfman), a security guard (Fraser) and the villainous chairman of the Acme Co. (Steve Martin), which supplied Wile E. Coyote with all that TNT over the years. The animation is unexceptional—no significant advance over the 1988 classic
Who Framed Roger Rabbit?
—and the acting by the humans is pretty bad. Martin, in a foppish wig, hisses his lines and swivels his hips. He looks like a
Queer Eye for the Straight Guy
makeover gone wrong. (PG)
COMEDY
Tupac: Resurrection




Very strange—a vanity project from the dead. This film about slain rapper Tupac Shakur is narrated entirely by the deceased, thanks to clever use of interviews he gave before he was shot and killed in 1996 at age 25. We first hear his voice narrating as if from eternity, with images of racing clouds. (You expect Kevin Spacey to join him in a duet from his own high-floating repose in American Beauty.) This perspective works well enough as Shakur, a charming interviewee, recalls his childhood with his mother, Black Panther Afeni Shakur (who coproduced the film with MTV). But once he arrives at his brief, messy adulthood—tangled up in gangsta fame and crime—he has little to say. Which means that the movie dies before he does. (R)
DOCUMENTARY
Hayden Christensen
Vancouver, B.C.-born Hayden Christensen, 22, shifts from
Star Wars
to newsroom battles as a fraudulent journalist in Shattered Glass, which he produced with brother Tove, 30.
ON PLAYING A LIAR "Playing a con is an actor's dream, because a small part of us always feels like we're getting away with something. But it's tough to lie through your teeth with a strong sense of confidence."
ON BONDING WITH COSTAR PETER SARSGAARD "We played a lot of Ping-Pong. It sounds silly, but in theater classes you play games like tossing an imaginary ball back and forth. I beat Peter at Ping-Pong; he beat me at chess."
ON STAR WARS "I wasn't really a fan as a kid. I wasn't even born when the first one came out. [In the next film] there's a spectacular light-saber fight at the end, which will put all other swordfights to shame."
ON (NOT) BEING PUNK'D "I met
Ashton Kutcher
, and we were like, 'Yeah, let's hang out.' The next night I saw his show and got really paranoid. I totally blew him off."
Looking to increase your hipness quotient? Check out three ultra-cool new DVDS, released under the umbrella title of the Directors Label, that showcase the influential music videos and short films of three innovative young directors.
The Work of Director Spike Jonze
(Palm Pictures, $19.99)




Jonze, who directed the quirky
Being John Malkovich
and
Adaptation
, first gained attention in the mid-'90s for making weirdly watchable music videos such as having the Beastie Boys parody '70s cop shows for "Sabotage" and Christopher Walken gliding through a hotel lobby to Fatboy Slim's "Weapon of Choice." Viewing these plus 14 others, one sees Jonze grow exponentially in the sophistication of his ideas and execution.
Extras: Short films (the deceptively breezy
How They Got There
is a hoot) and documentaries, mostly music-themed. (Not rated)
The Work of Director Michel Gondry
(Palm Pictures, $19.99)




The French-born Gondry (
Human Relations
) dolefully claims he opted for quantity rather than quality here, but his Lego-licious video for the White Stripes' "Fell In Love with a Girl" and 26 others are striking in their conceptual integrity. (Not rated)
The Work of Director Chris Cunningham
(Palm pictures, $19.99)




London-based Cunningham's mind-searing imagery (check out what he does to Björk in "All Is Full of Love" and
Madonna
in "Frozen") have deservedly earned him a shot at directing the forthcoming movie version of William Gibson's cult novel
Neuromancer
. (Not rated)
Contributors:
Leah Rozen,
Tom Gliatto,
Anna David.
ADVENTURE
Advertisement
Today's Photos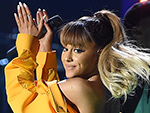 Treat Yourself! 4 Preview Issues
The most buzzed about stars this minute!