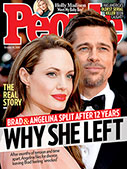 This Week's Issue!
People Top 5
LAST UPDATE: Tuesday February 10, 2015 01:10PM EST
PEOPLE Top 5 are the most-viewed stories on the site over the past three days, updated every 60 minutes
Jessica's New Start
Recovering Slowly from Her Injuries and Her Terrifying Ordeal, Rescued Pow Jessica Lynch Wrestles with Fame—and Starts Planning a June Wedding to Her Boyfriend Ruben Contreras


She could start by looking in the rearview mirror. The pride of Palestine, W.Va., was in the Big Apple Nov. 10 for appearances to promote I Am a Soldier, Too, writer Rick Bragg's authorized book on Lynch's now-folkloric ordeal in Nasiriya, Iraq, where she survived a deadly ambush, grave injuries and, apparently, torture and rape before GIs rescued her from Saddam Hussein General Hospital April 1. All that seems a world away as the limo tools up Sixth Avenue, and Lynch feverishly dials Sgt. Ruben Contreras—her not-quite-but-almost fiancé. "Hey, baby, it's me," she coos. "Gosh, there's Tiffany's. Is it really expensive?" The pair plan to wed in June just before Contreras is discharged, though Lynch, 20, is still waiting for a formal proposal. Finally she arrives on crutches at the Vera Wang bridal boutique, where she gazes dreamily at a cream satin gown—then laughs, "I'm wearing tennis shoes for my wedding. I'm making a fashion statement."

If only that were the reason. Seven months after her rescue, Lynch still needs a brace on her crushed left leg, and it will be some time before she shoes her paralyzed left foot in anything remotely chic. She can manage 40 halting steps on her own but still faces months of physical therapy (she hasn't gone for psychotherapy). At the same time, she's negotiating celebrity with all its hype—initial reports greatly exaggerated her heroism in battle—and hurt. The latest tabloid headlines: Hustler publisher Larry Flynt's announcement that he paid for photos of a prewar Lynch topless. (Flynt says he won't publish the pictures; Lynch and family refuse to comment on them.)

If Lynch has handled it all with equanimity, it may be because she's focused on improving her health and getting on with the rest of her life with Contreras, 24, who is just as upbeat about the future. "As long as we can be together," he says, "everything will be all right." The first time he laid eyes on her, in June 2002, Lynch was snoozing in the bleachers during a briefing at the Fort Bliss gym. After she awoke, he programmed his number into her cell phone and asked her to call. She obliged, and a few days later, they went to see a movie, Scooby Doo (where she fell asleep again), then ate at Taco Bell. The army frowns on dating in the ranks, so Lynch and Contreras held hands only while in their civvies and kept their distance in uniform. Last winter Contreras was shipped out to Iraq. But the two were soon reunited when Lynch was deployed, and her boyfriend managed to pitch his tent right next to hers. "I was just like, 'Wow.' I got to see him every night. I got to see him every morning," says Lynch. In between, they passed loved letters. "I told him I loved him and I hoped he would be safe," she says.

As the world now knows, it was Lynch who would face mortal danger. Her memory of March 23, when her convoy took a wrong turn in the desert, is vague in spots. But she remembers vividly how the enemy surrounded them, how her sand-clogged M-16 rifle jammed, and how her best friend and roommate Lori Piestewa, 23, drove their Humvee in circles, trying to aid fallen comrades as Iraqis dragged bodies off as trophies. "I lowered my head down to my knees and I closed my eyes," Lynch told Bragg. Then the Humvee spun out of control, headlong toward a tractor trailer.

She woke up in an Iraqi hospital three hours later. Medical records show several compound fractures, including the spine, and a crushed right foot. There is also evidence of sodomy (which her Iraqi doctors deny having seen). Lynch mercifully can't recall the assault, but she included it in the book. "I just wanted to put it out there so people would know what happens in wartime," she says. "Yeah, it hurts me. It hurts Ruben. It hurts my family. But it happened."

For nine days she lay in silent terror, at first not daring to sleep. At one point doctors wheeled her away to amputate her left leg. But they backed down when Lynch shrieked, "Please, no!" and struggled wildly. But there were also moments of compassion, like the night an elderly nurse sang her to sleep with a lullaby. Why the Iraqis spared her remains a mystery. "I don't know if it was because I was tiny or blonde or female," she says. She sustained herself with visions of loved ones. "I always had Ruben or Lori or my parents there, saying, 'Don't give up,' " says Lynch, unaware that Piestewa had been killed. Then, late on April 1, she heard words out of a dream. "Jessica Lynch, we're United States soldiers, and we're here to protect you and take you home." Her now-famous response: "I'm an American soldier too."

Ecstatic to hear of her rescue, Contreras, still in Iraq, could only write to his girl while she was in intensive care at the Landstuhl military hospital in Germany. "They would give me little pieces of paper that had notes from him," she says. "They actually let me take one to surgery with me." In June he at last got to visit her at Walter Reed Army Medical Center in Washington, D.C., where he presented her with a small marquis diamond "promise ring." "I wanted to hold her and squeeze her," he says. "But she looked so delicate."

For all her mental toughness, she still is. Lynch's surgery-scarred body resembles a relief map. She can't fully control her bladder and bowels, a consequence of spinal nerve damage. Doctors have told her she has two years to recover. Beyond that time, it's unlikely she'll improve, but she intends to try. "I didn't give up in the hospital," she says, "and I'm not giving up now."

ROSE ELLEN O'CONNOR in New York City


The world's most famous aspiring kindergarten teacher rubs her numb left leg and gawks out a limousine window as the sights of Manhattan flash by. "Where are the celebrities?" asks retired Army Pfc. Jessica Lynch. "I know they're here. This is New York."
Advertisement
Treat Yourself! 4 Preview Issues
The most buzzed about stars this minute!