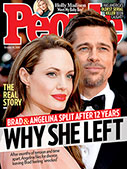 This Week's Issue!
People Top 5
LAST UPDATE: Tuesday February 10, 2015 01:10PM EST
PEOPLE Top 5 are the most-viewed stories on the site over the past three days, updated every 60 minutes
Monsters or Misjudged?
Investigators Believe Ray and Vanessa Jackson Starved Their Four Sons for Years. Did They? and Why Did It Take So Long for Anyone to Notice?
And yet DiMattia, like so many others, didn't comprehend what he saw with his own eyes—four woefully frail boys who investigators say were starved for years by their parents. Even now, hindsight hasn't helped those who knew the New Jersey family fit all the pieces together. Since the Oct. 24 arrest of Ray and Vanessa Jackson for allegedly feeding their adopted sons pancake batter, peanut butter and not much else—and the firing of nine child welfare workers three days later—the scandal has swirled into something out of a Tom Wolfe novel, with a congressional hearing, three investigations, a beleaguered pastor and a biological mother desperate to get her son back. On Nov. 12 the Jackson family appeared on 60 Minutes II to deny the boys were abused. "We want our children back," Ray told Dan Rather. Meanwhile, conflicting stories abound about the mysterious couple at the center of it all. "None of us feel this was done intentionally to harm the children," says one longtime friend of the Jacksons.' "That's what's puzzling for all of us. In my heart I feel something is missing here. It doesn't make sense."
To others, it's less a conundrum than a clear-cut case of abuse. When police in Collingswood, N.J., took the boys—Bruce, 19, Keith, 14, Tyrone, 10, and Michael, 9—they were each several inches shorter than normal height and weighed about a third of what they should have. (The other children in the household—one biological son, two adopted girls and one foster daughter—were all healthy.) Ray Jackson, 50, and Vanessa, 48, told neighbors the four boys suffered from eating and behavioral disorders. Indeed, state authorities indicate Bruce had digestive problems when he entered foster care. But last week Bruce's biological mother, Joanne Principal, 40, emerged to deny her son was sick when authorities took the 5-month-old boy away during a difficult time in her life. "He was healthy, beautiful, full of life," says Principal, who tried to visit him at a hospital Nov. 10 after recognizing him from a photo on TV but was turned away. Now, she says, "I want him with me. I want a second chance."
What's more, in the custody of authorities, the boys have rapidly gained weight. Bruce, 4 ft. tall and only 45 lbs. when police found him rooting through a neighbor's trash for food Oct. 10, has put on at least 20 lbs. in just four weeks. The doctors who examined the boys "assured me that the single cause of their condition was starvation," says Kevin Ryan, director of New Jersey's Office of the Child Advocate. "I've never seen an instance of child abuse as horrible as I witnessed here."
Yet some in their community have rallied around the Jacksons. Supporters started a Web site claiming Bruce had a history of lying. The Rev. Harry Thomas Jr., the Jacksons' pastor, testified at a Nov. 6 congressional hearing examining the case and claimed that Bruce ate drywall because of his bizarre eating disorders and not because he was hungry. "The Jacksons have been vilified by the press," says Thomas, who put up his home as collateral to meet their $200,000 bail. "I know that family, and they're marvelous people." Thomas's defense of the Jacksons "is just blind ignorance," says Rep. Mark Foley, a Florida Republican who attended the hearing. "He's turning the tables on the children and blaming them for all the problems."
How, then, to reconcile the picture of the Jacksons as kind and caring parents with the allegations of extreme neglect? One theory: They were in over their heads. The couple took in Bruce in 1991 and had adopted all four boys by 1997. According to state records, two were thought to have some eating problems and two may have been born with fetal alcohol syndrome, though only Bruce was officially diagnosed with an eating disorder. Despite a $28,000 annual federal stipend for caring for the children, the Jacksons had financial problems: They owed $9,000 in rent this October and had their power shut off in April. Still, if they were having a hard time caring for four troubled children, they didn't show it. "There was never a sign of stress on either of them," says longtime friend Wendy Lowry, a sentiment echoed by other friends and neighbors. "They were all really happy together."
Nor was the occasional odd sight at the Jackson household enough to set off alarms. Pete DiMattia remembers Bruce and Keith cutting the grass with hand clippers. "I'd see them for hours, sitting in a crouch and cutting," he says. Any concerns he did have would be assuaged when he saw "an official state car coming to the house once a month," he says. "I assumed the kids were being taken care of." Still, how could neighbors not have noticed the boys' jutting ribs and skeletal limbs? Apparently some of the children wore long pants and sleeves year round, making them look skinny and not emaciated.
But that doesn't explain why the Jacksons failed to enlist the help of doctors. Records show they took their foster daughter Breanna, 10, to the doctor several times. But there's no evidence they sought medical help for their sons in at least four years, despite being covered by Medicaid. And what about the four caseworkers and one inspector who paid 38 visits to the Jacksons' home since 1999 and reported no abuse? Prosecutors are weighing charges against them, though Carla Katz, president of their union, believes they were scapegoated and wants them reinstated. "There isn't enough staff, and caseloads are way too high," says Katz. "Until these systemic failures are changed, firing workers isn't going to change anything."
While investigators consider filing criminal charges against the Jacksons, the four boys are eating regularly and about to enter therapy. But they face long odds in their recovery. Even with intensive care "they'll never get to where they should have been," says Douglas Waite, medical director of the Children's Village in Dobbs Ferry, N.Y., a treatment center for troubled boys. "It's possible for them to begin to heal, but these are scars that remain for life."
The boys face yet another daunting obstacle—life without each other. One is now in a hospital, two in another medical facility and the fourth in a foster home. "Whatever adversity they endured, they always had each other, and now they don't," says Kevin Ryan. "They'll never again have a shot at what should have been a happy life together. That is a tragedy that none of us will ever be able to repair."
ALEX TRESNIOWSKI
Diane Herbst and Liza Hamm in New Jersey and Alexandra Rockey Fleming in Washington, D.C.
After the Jacksons were arrested, friends put up a Web sit defending the family.
Contributors:
Diane Herbst,
Liza Hamm,
Alexandra Rockey Fleming.
Ask yourself—if you think you would have done something—what is sinister and what is merely strange? Should Pete DiMattia have been alarmed and not just curious, for instance, when he watched Bruce and Keith Jackson, two of his neighbor's four scrawny sons, take out the garbage on Sundays? "Even though the trash cans were on wheels, the boys had to stop periodically to rest," says DiMattia, 37. "They didn't do kid things. They had troubled looks. Those boys could've eaten ice cream with Santa Claus and they still wouldn't smile."
Advertisement
Treat Yourself! 4 Preview Issues
The most buzzed about stars this minute!