People Top 5
LAST UPDATE: Tuesday February 10, 2015 01:10PM EST
PEOPLE Top 5 are the most-viewed stories on the site over the past three days, updated every 60 minutes
Picks and Pans Main: TV
Sounds Off
CBS (Sun., Nov. 23, 9 p.m. ET)




Bathos always seems to be just around the corner in this Hallmark Hall of Fame movie, but
Fallen Angel
is at least partially redeemed by good performances and a degree of restraint.
Gary Sinise (
Forrest Gump, George Wallace
) stars as Terry McQuinn, a fast-track Los Angeles lawyer who returns to his hometown in Maine when his estranged father dies. Terry feels the pull of the past even before his first contact with Katherine Wentworth (Joely Richardson, from Nip/ Tuck), who has come to Maine with her blind daughter Olivia (Jordy Benattar) to spend Christmas at her summer home. Terry and Katherine knew each other briefly as children, though she has no memory of a tragic experience they shared. Gradually, shyly, they move toward love this time around, but their relationship is tested when Terry feels he must show Katherine some buried truths.
It would be wrong to pretend that
Fallen Angel
is free of treacle. Little Olivia's handicap appears contrived to make her even more adorable, and your sermon detector will start beeping when Katherine talks of how her daughter has helped her learn the virtue of living in the moment. But Sinise and Richardson are fully credible as a couple of sincere but wary grown-ups who sense an empty space in their lives. And the drama, despite its plausibility problems, has a quiet way of pulling you in.
SCI-FI
UPN (Wednesdays, 9 p.m. ET)




"Chicks dig spies," a buddy told Jake Foley (Christopher Gorham) in the September premiere of this diverting series. "Yeah, but they don't dig geeks," Jake replied, including himself in that unattractive category.
As he spoke, Jake was a mere computer technician at the National Security Agency, but his life soon took a sharp turn when he was accidentally infected with nanites, molecule-size robots that gave him superhuman powers. The NSA decided to build a special-operations team around the suddenly upgraded Jake, though he had no spying experience outside his dreams.
Gorham (
Popular
) is an appealing lead, and the show is fun to watch as long as it stays committed to the idea that Jake is still a seminerd despite his special features. (I liked it when he groused about losing overtime pay in the switch from techie to agent.) But lately there are signs that the protagonist may be getting too confident, too resourceful and too sexy. After a steamy one-night stand with an ex-CIA femme fatale, he stood up to NSA bigwigs and saved his team's bacon. If Jake gets used to being a hero, it'll be an entertainment downgrade for 2.0.
COMEDY
Thanksgiving Reunion
TBS (Sun., Nov. 23, 8 p.m. ET)




"This is Thanksgiving hell," says one of the characters in this strenuously unfunny comedy. Wouldn't you rather go to Grandmother's house?
Judge Reinhold plays a prominent but unhappy anesthesiologist who drags his spendthrift wife (Hallie Todd) and two kids from L.A. to Idaho for a Thanksgiving visit with a nutty family headed by his long-lost cousin (
Malcolm in the Middle
's Bryan Cranston). This will give you the flavor of the proceedings: Reinhold brings a cranky old neighbor (Antony Holland) along on the trip, and the geezer contributes to the hilarity by repeatedly passing gas and having a sexual fling fueled by "those Bob Dole pills." Cranston sweats and strains but can't save this turkey.
DRAMA
Hallmark Channel
(Sun., Nov. 23, 8 p.m. ET)




Despite its good intentions, this sentimental TV movie isn't convincing enough to linger in the viewer's memory.
Britt (Dana Delany), a single artist with an infant son, goes home to spend Thanksgiving with her widowed mother, Maggie (Doris Roberts, from
Everybody Loves Raymond
), and her prim sister Valetta (Megan Gallagher). Amid all the talk and turkey preparation, the film offers only one strong scene: Maggie's admission to Britt that she has Alzheimer's disease and fears the future. Otherwise, the script raises issues—such as the supposed shakiness of Valetta's marriage—only to gloss them over. In the end, even Maggie's decline seems sad but neatly manageable.
COMEDY
Nickelodeon (Saturdays, 8 p.m. ET)




After 12 years as toddlers, the animated
Rugrats
kids are having an overdue growth spurt. They make a fairly successful move to middle school in this spinoff series, which opens with four back-to-back episodes Nov. 29.
The strength of
Rugrats
(still airing on Nickelodeon, occasionally in new episodes) is its originality: The tots turn precocious when their adult guardians aren't around.
All Grown Up
is more a matter of inevitability. Well, they had to get older sometime. In depicting the gang as "tweens," the writers have showbiz too much on their minds: Susie (voiced by Cree Summer) dreams of a singing career, and Tommy (E.G. Daily) is an aspiring movie director. But some of the character development is funnier and more interesting. Milquetoast Chuckie (Nancy Cartwright) now longs to rebel. "I've never felt so alive!" he cries after risking punishment by mischievously photocopying his tush. And Angelica (Cheryl Chase), while as overbearing as ever, can't conceal her social insecurity.
Many of the early laughs are produced by former pro wrestler Estes "Slam Bang" Pangborn (
Carnivàle
's Clancy Brown), the school's vice principal. He's a comic combination of poet, child psychologist and blustering muscleman.
>FROM GEST TO GUEST SHOT
Arrested Development
(FOX, Nov. 23, 9:30 p.m. ET)
Liza Minnelli lends her fabulousness to this witty sitcom, appearing as a widowed socialite who bedevils Bluth family matriarch Lucille (Jessica Walter).
HARK! THE HERALD IDOLS...
An American Idol Christmas
(FOX, Nov. 25, 8 p.m. ET)
Sweeps month and
Idol
go together like mistletoe and holly, so FOX rushes the yuletide with this special featuring
Kelly Clarkson
, Ruben Studdard and
Clay Aiken
singing holiday tunes.
JUSTIFIED RETURN
Justin Timberlake
: Down Home in Memphis
(NBC, Nov. 25, 9 p.m. ET)
The singer shows us his home turf in his first network special as a solo act, joined by Black Eyed Peas and Al Green.
QUICK, BEFORE HE MELTS
Frosty the Snowman
(CBS, Nov. 28, 8 p.m. ET)
You remember that jolly, happy soul. He's back in this 1969 animated classic, narrated by Jimmy Durante.
>Mel Brooks Funnyman actor, director and producer Mel Brooks, 77, a three-time Tony winner for Broadway's The Producers, is wisecracking once again as a sheep named Wiley in PBS's new animated series Jakers! The Adventures of Piggley Winks (check local listings).
ON WHY HE'S BEING SHEEPISH
"For my only grandchild, Samantha, 5. She wouldn't make any sense out of 'Springtime for Hitler' [in The Producers], but she'll relate to this."
ON PREPPING HIS LAMB CHOPS
"I thought about sheep. But that's it. I never went to a farm to find out what sheep really do during the day."
ON MATTHEW BRODERICK AND NATHAN LANE'S RETURN TO THE PRODUCERS
"Nathan and Matthew said [to each other]: 'I miss you! When can we do it again?' They called me and I said, 'Anytime!' It's going to be great and a tough ticket."
ON WHAT'S NEXT FOR HIM
"We're thinking of bringing
Young Frankenstein
to Broadway. We won't know if it's the real McCoy until we write it. Right now it feels pretty good." CHAMP CLARK
Contributors:
Terry Kelleher.
DRAMA
Advertisement
Today's Photos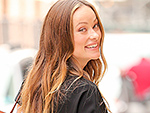 Treat Yourself! 4 Preview Issues
The most buzzed about stars this minute!