People Top 5
LAST UPDATE: Tuesday February 10, 2015 01:10PM EST
PEOPLE Top 5 are the most-viewed stories on the site over the past three days, updated every 60 minutes
Cable Guys
With Dishes Like These, Who Needs a Satellite?
CARPENTER GUY
Trading Spaces and Trading Spaces Family, TLC
Stocking two smash home-improvement shows with custom-made furniture keeps him mostly out in the backyard during broadcasts. But the latest carpenter to join the
Trading Spaces
family doesn't mind. "Building is a method of meditation. You get so in a zone," says the Michigan native, 27, who learned carpentry as a kid. At the L.A. house he shares with three buddies, he has a new coffee table—"the last thing I built"—but, for the moment, no girlfriend to admire it. "You're supposed to have a plant, then an animal, then a baby right? I'm still working on the plant." Future pets, partners and progeny will luck out, says his pal Dan Zanotti, a med student. "Carter is unassumingly nice. When we were young, we watched those Sally Struthers things on TV, and he actually adopted a child overseas and wrote letters to the kid."
Real Fan Mail
"Carter, it does transpire/Is the object of much desire/He's cute as a button/And sexy as hell/This missive he did inspire."
Hunter Ellis
FLY GUY
Tactical to Practical, The History Channel
This Hummer-driving, scuba-diving castoff from
Survivor: Marquesas
seemed the perfect host for a show on high-tech gear inspired by the U.S. military. But when Ellis, 35, got the call from the History Channel, he responded, "What, I haven't paid my cable bill?" A rugged former Navy fighter pilot who bunks with a buddy in Manhattan Beach, Calif., Ellis doesn't "like being anchored anyplace." Observes
Tactical
producer Annette Lindemann: "In a dangerous situation I'd want Hunter with me. He exudes self-assuredness."
Real Fan Mail
"I drool over watching Hunter."
Nick Baker
NATURE GUY
National Geographic Ultimate Explorer, MSNBC
He swims with sharks, stalks giant beetles in the Amazon and cozies up to leeches and maggots—that is, when he's not playing harmonica in a blues band or cycling competitively. An ebullient fixture on wildlife shows in Britain for years, he says his current job is "the ticket to my fantasies. I have once-in-a-lifetime experiences pretty much every day." Except one. "I'm not married, but I'd like to be," says Baker, 31, who shares a 300-year-old cottage in England's Dartmoor National Park with spiders, scorpions, snakes and hissing cockroaches. "I want babies." One problem, says his mother, Sandy (whose picture he carries everywhere): "His whole life has been insects and animals. Even when he's had girlfriends, his insects have been put first."
Real Fan Mail
"Nick Baker is witty, smart and, best of all, the CUTEST host. And that accent! He's the Bond of bugs."
Eric Stromer
THE OTHER CARPENTER GUY
Clean Sweep, TLC
He got into construction to pay the bills between acting jobs, but "it ended up defining who I am," says Stromer, 42, who has remodeled the L.A. homes of Mel Gibson, Dylan McDermott and Elijah Wood. He's now a Hollywood idol himself, albeit not a very polished one. "I work on an organizational show, but I'm actually really sloppy," says Stromer, who prefers to clean up in the gym with 5 am. workouts. "On a scale of 1 to 10, 10 being messy I'm a 12." That suits his wife of seven years, Amy Tinkham, just fine. Stromer's at his sexiest, she says, when "he has sawdust in his eyebrows and grout in his fingernails."
Real Fan Mail
"I thought for sure you were Robert Redford's son! You have his extremely good looks, magnetism, sense of humor, etc. If you're not doing anything the Friday after Thanksgiving, my 30th high school reunion is happening...."
Patrick Stinson
HOLLYWOOD GUY
E! News Live, E!
Among the men with microphones who troll the red carpet for celeb sound bites, Stinson, 41, is a standout with one Hollywood diva. "Beyoncé loves him," says his coanchor Giuliana DePandi. "She always remembers him and tells him stuff she doesn't give anyone else." The green-eyed go-to guy for gossip is so "gentle, smart and genuine," adds DePandi, "people want to tell him more." With nearly two decades on TV, including stints on
A Current Affair
and MSNBC, the still-single reporter cuts a trimmer figure after shedding 20 lbs. "I worked my butt off at the gym and started eating every three hours to keep my metabolism up," he says. Guilty pleasures? "Bad infomercials, like how to make your own beer. I bought those space bags that you pack with. I've never used them."
Real Fan Mail
"Patrick Stinson is so damn hot. He's got the most gorgeous eyes on the entire planet."
Rossi Morreale
SCRAP METAL GUY
Junkyard Mega Wars, TLC
Think the contestants turning detritus into dual-engine dragsters are clever? Check out the show's exuberant host. To surround himself with girls at his Arkansas high school, "I was vice president of the Future Homemakers of America," declares Morreale, 26, who learned to sew and still does. "I bought one of those Handy Stitches and I fix everything. I love it!" He also beat out 60,000 contestants for a spot as a tempter on
Temptation Island 2
. "I'm always being the loud, crazy, having-a-good-time guy," admits the college football star, who spent his last birthday dancing atop a piano at a bar near his Hermosa Beach, Calif., home. "After a few cocktails he dropped his pants to reveal a battery-operated thong with blinking red lights all over it," says MTV veejay
Vanessa Minnillo
, 23, his best friend "When he walks into a room, you know 'Ross Dawg' is there " Since splitting with his girlfriend, the Dawg's been arriving stag, but who knows? "I've dated up to seven women at once," Morreale concedes. "They didn't all know about it."
Real Fail Mail
"Okay, I know it's probably against Junkyard safety rules, but can next week's episode include Rossi without his shirt? I'd love to see what's under all of that Junkyard gear."
Quddus Philippe
MUSIC GUY
Total Request Live, MTV
The 300 screaming teens outside MTV's Times Square studio each afternoon aren't only there for the guest musicians. Veejay Quddus has his own share of admirers, some overly friendly. "Folks come up and touch my hair, and I feel like a Chia Pet," he says. A former model, Benjamin Quddus ("man pf peace," in Persian) Philippe, 23, lives in Brooklyn with two friends. "I love having roommates because they keep you in check," he says. "They'll tell you, 'Your room looks like a landfill!' " When he travels, he's never without his photo album. "I really love my family," he says, "and I can't bring them in my suitcase, so I might as well bring the next best thing."
Real Fan Mail
"Wow! You are seriously the most attractive person I've ever seen in my life. Feel free to just sweep me off my feet."
Tyler Florence
FOOD GUY
Food 911 and Tyler's Ultimate, The Food Network
"People either really want to learn to cook," says the
Food 911
host, "or they just want me to come to their house." The premise of his show is to visit viewers' kitchens to fix culinary disasters. It's a job that has risks. "I got flashed," recalls Florence, 32. "What do you say? 'Nice muumuu'?" In 2005 he plans to open his own restaurant in Manhattan, where he lives with girlfriend Evyn Block, but now, as host of a second show,
Tyler's Ultimate
, he's on the road most of the year, cooking classic dishes with international chefs. "I just live life on my own terms," he says, "and I smile a lot."
Real Fan Mall
"I find everything about him yummy!"
Kyan Douglas
GROOMING GUY
Queer Eye for the Straight Guy, Bravo
Taking a garden-variety schlub from drab to fab can be just plain gross for the five
Queer Eye
makeover specialists. "One bathroom had so much scum in the tub you could carve your name in it," says Douglas, 33, the Bravo hit's hair-and-skin expert. "I washed my hands four times because I felt like I would get a rash." As a teenager in his mother's Tallahassee, Fla., kitchen, he would "make skin-care products in the food processor," he says. Now the former New York City colorist can "joozh" hair to perfection in three seconds flat. His latest project? A love life. "There is someone that I am getting to know, but it is kind of a long-distance thing," says Douglas, who is keeping celeb company these days. "I have hung out with Demi and Ashton a couple of times, and Julianne Moore told me I was her favorite." Costar Carson Kressley—
Queer Eye
's fashion guy—succinctly sums up his appeal: "Honey, just take a look at him!"
Real Fan Mail
"Kyan, my gosh, you do such wonderful work! My closest girlfriends and I all watch together, and we all have such big crushes on you."
Advertisement
Today's Photos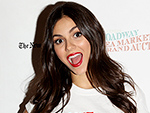 Treat Yourself! 4 Preview Issues
The most buzzed about stars this minute!