People Top 5
LAST UPDATE: Tuesday February 10, 2015 01:10PM EST
PEOPLE Top 5 are the most-viewed stories on the site over the past three days, updated every 60 minutes
Picks and Pans: Music
Spotlight On...holiday
Alicia Keys
[




]
Some might have worried that Alicia Keys, after winning five Grammys and selling 5 million copies of her remarkable 2001 debut Songs in A Minor, would pull a Lauryn Hill. (Hill, after sweeping the Grammys in 1999 with her smash solo debut The Miseducation of Lauryn Hill, disappeared from the music scene only to emerge as a shadow of her former self with 2002's bizarre MTV Unplugged No. 2.0.) Diary, though, should lay any doubts to rest. Keys hasn't kept fans waiting too long for her follow-up and, more important, she lives up to the staggeringly high expectations set by Songs. Like The Godfather Part II, this is the rare sequel that doesn't disappoint. In fact, with the first single, "You Don't Know My Name," and "If I Ain't Got You," Keys has a killer one-two punch that matches Songs' "Fallin' " and "A Woman's Worth." "You Don't Know My Name," with its '60s-style street-corner harmonies and a spoken interlude during which she makes a cell-phone call to an unsuspecting crush, sounds so much like an old-school soul classic, you'll swear it has to be a remake (it isn't). "If I Ain't Got You," which showcases Keys' raw vocal emotion and classically trained piano playing, is a stunning ballad that brings to mind vintage Aretha. It's that good. Retro R&B influences abound throughout, from echoes of Marvin Gaye's "Save the Children" on "Nobody Not Really" to the sizzling '70s funk of "Heartburn" to a hip-hoppish reworking of Gladys Knight and the Pips' 1970 hit "If I Were Your Woman." As on Songs, Keys honors R&B's golden age with an old soul far beyond her 23 years.
RAP
Jay-Z
CRITIC'S CHOICE
[




]
"They say they never really miss you till you're dead or you're gone." So begins Jay-Z on "December 4th" (also his birthday), his opening salvo on what the rap star claims will be his final CD. If the son of Brooklyn is truly ready to hang up his mike at 34, after seven years and nine albums in a career that has defied the flavor-of-the-month tendencies of the genre, he goes out on top with this awesome display of his dope, deft skills. Indeed this means hip-hop artists have released the two best albums of the year (OutKast's brilliant double disc Speakerboxxx/The Love Below being the other one). After the relative disappointment of last year's spotty The Blueprint 2: The Gift & The Curse, Jay-Z delivers highlight after highlight here with whatever style he attempts: the Latin jazz of the live-sounding "Encore," the bouncy funk of the "sexy, sexy" single "Change Clothes" and the Run-D.M.C.-like rock of the instant classic "99 Problems." Lyrically he "shows uncommon introspection on tracks like the Eminem-produced "Moment of Clarity" while boasting about his legacy on cuts such as "What More Can I Say." But it's not bragging when you can back it up like this.
LATIN POP
Enrique Iglesias
[




]
Those searching for deep meaning behind the title of Iglesias's glossy new album will be disappointed: It's the Latin-pop heartthrob's seventh disc (three in English, four in Spanish), and he used to wear the number 7 on his soccer jersey as a kid. There has never been anything deep about Iglesias's musical approach, though, and while he makes no exception with 7, it is his best English-language effort to date and proof that he has mastered the art of making pop fluff. Iglesias is still no great singer but piles on the radio-ready hooks on breezy dance numbers, punchy mid-tempo tracks and romantic ballads like "Addicted." He also brings a light rock edge to songs like "Free," about liberating his libido.
POP/JAZZ
Crystal Gayle
[




]
Crystal Gayle's hair is still down to her knees and she can still sing up a storm. On this ardent, very musical collection, she displays the talent for singing pop/jazz standards first evident when she recorded "Cry Me a River" in 1978 and later shown on her 1999 album of Hoagy Carmichael tunes. The artfully produced disc includes another rendition of "Cry Me a River," that moodiest of all torch songs, as well as swingy versions of the Duke Ellington classic "I'm Beginning to See the Light," Ray Charles's "Hallelujah I Love Him So" and "Sentimental Journey." Gayle gets a chance to exercise her bluesier country chops on the romantic title tune.
RAP
Ja Rule
[




]
In recent years rapper Ja Rule has become famous for his R&B-flavored collaborations with such singers as Ashanti ("Always On Time"),
Jennifer Lopez
("I'm Real") and Mary J. Blige ("Rainy Dayz"). To prove that he hasn't gone soft, though, Ja attempts to get back to his hardcore roots on his fifth disc, which, unlike last year's The Last Temptation and 2001's Pain Is Love, doesn't feature any guest singers or rework any soul classics. Maybe you can't go home to the hood again, though, because the results here are mixed. While the gruff-voiced Ja successfully rediscovers his inner thug on gangsta tracks like the menacing "The Life" and the rumbling "Things Gon' Change," he fires mostly blanks with his repeated pot shots at rival (and fellow Queens, N.Y., native) 50 Cent. Meanwhile the first single, "Clap Back," an infectious party song, actually sounds more like a response record to Busta Rhymes' "Make It Clap."
COUNTRY
Josh Turner
[




]
With the deaths of Waylon Jennings and Johnny Cash, Nashville certainly has an opening for a man's man with a deep, rich baritone. Newcomer Turner, a 25-year-old South Carolinian, fits the bill. What's more, Turner is comfortable with a wide range of material, from the semi-gospel title song to the intelligently rueful ballad "I Had One One Time" to the proud-to-be-a-redneck romp "Backwoods Boy." He also smartly covers Jim Croce's 1973 barroom brawl tune "You Don't Mess Around with Jim." Turner's heart always seems to be in his work, even on the slightly wimpy "In My Dreams," and he is surrounded by accomplished musicians. Nobody will ever replace Jennings or Cash, but Train puts Turner on the right track.
BLUES
Van Morrison
[




]
'I'm not promoting no hit record," the Man sings (on "Goldfish Bowl"). "And I don't have no TV show." This is news to no one: Morrison, deserving as he is, hasn't had a hit since—when? "Brown Eyed Girl"? "Domino"? Yet throughout this lush, soul-infused album, he laments the burdens of success in tunes like "Fame" and "Too Many Myths." People ask too much of him, he says, because he happens to be "a guy who sings songs." Sorry, mate. As long as Morrison keeps putting out finely crafted records like this one, bristling with gems like Lightnin' Hopkins's "Stop Drinking" and his own "Meaning of Loneliness," sung in that richer-than-ever oak-barrel growl, he's not going to be left alone.
>One Wish—The Holiday Album Whitney Houston Houston brings a decided spirituality and gospel fervor to her first Christmas collection. In strong voice throughout, the diva takes it back to church, where she began singing, on such carols as "The First Noel" and "Joy to the World" (one of two songs that originally appeared on 1996's The Preacher's Wife soundtrack). The soulful set, however, may be best remembered for the singing debut of Houston's daughter Bobbi Kristina, 10, who, on the duet "The Little Drummer Boy," shows that she could follow in the footsteps of her mother, father Bobby Brown and grandmother Cissy Houston.
Ashanti's Christmas Ashanti There's nothing revelatory on this 10-track R&B disc of new holiday confections like the slinky, jazz-laced "Christmas Time Again" and such reworked classics as "We Wish You a Merry Christmas." But Ashanti's choir-girl alto shines on unadorned standards like "Silent Night" and "Winter Wonderland."
All I Want for Christmas Is a Real Good Tan Kenny Chesney Willie Nelson rides to the rescue on this otherwise routine effort, joining Chesney for a duet on "Pretty Paper." On the too-cute title song, Chesney plays off the '40s novelty tune "All I Want for Christmas Is My Two Front Teeth," while his unexceptional rendition of "Jingle Bells" will leave you feeling ho-hum.
Go Tell It on the Mountain The Blind Boys of Alabama The venerable choral group refreshes the genre with this passionate, inspiring album. The group's gospel roots are movingly evident, and they benefit from the presence of a number of guest artists, including Aaron Neville, Mavis Staples and Chrissie Hynde, who helps the Boys import the moody British classic "In the Bleak Midwinter."
A Very Special Acoustic Christmas Various Artists With its elemental feeling, bluegrass is a fertile ground for producing traditional Christmas music, as this album richly demonstrates. Marty Stuart has fun with "Even Santa Claus Gets the Blues," and Ralph Stanley, Ricky Skaggs and Patty Loveless are among others who perform admirably. Not all the artists are roots folk, though: Norah Jones sings and plays the quiet "Peace."
American Idol: The Great Holiday Classics If you're a fan of the FOX TV talent show, then this may be just your cup of egg nog. Featuring mostly traditional carols sung by Ruben Studdard,
Clay Aiken
and Kimberley Locke as well as first-season faves Justin Guarini and Tamyra Gray, the CD has a little something for everyone.
Kelly Clarkson
, who gets her own bonus two-track disc, wins our vote with a powerful a cappella version of "O Holy Night."
Contributors:
Chuck Arnold,
Ralph Novak,
Steve Dougherty.
R&B
Advertisement
Today's Photos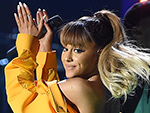 Treat Yourself! 4 Preview Issues
The most buzzed about stars this minute!