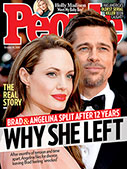 This Week's Issue!
People Top 5
LAST UPDATE: Tuesday February 10, 2015 01:10PM EST
PEOPLE Top 5 are the most-viewed stories on the site over the past three days, updated every 60 minutes
Picks and Pans: Books
Buzz Book: Big Hair
By Gabriel García Márquez
CRITIC'S CHOICE
[




]
Who would have imagined that the wildest flights of fantasy in Gabriel García Márquez's magical realist novels are rooted in memory and personal history? Or that the story of this Nobel laureate's life would be as lushly romantic and theatrical as his most inventive fictions? As his dazzling autobiography reveals, some of the most unlikely events in masterpieces such as One Hundred Years of Solitude and Love in the Time of Cholera were based on real incidents from his early years in rural Colombia and from the colorful annals of his large, dramatic family.
Living to Tell the Tale, the first volume of a projected trilogy, begins when García Márquez, a fledgling journalist in Barranquilla, is asked by his mother to accompany her to his native village to sell the family house. The trip to his hometown—the model for the fictional Macondo—awakened childhood memories that would shape his work and change his life forever. "In front of me," García Márquez recalls, hinting at the kinds of narratives he would later weave, "the adults would complicate the story to confuse me, and I never could assemble the complete puzzle because everyone, on both sides, would place the pieces in their own way."
The book ends in the 1950s, as García Márquez, en route from Colombia to Geneva, writes a love letter to his future wife. He was then 27; he is now 75. He leaves the reader eager for the next installments of this entertaining and profoundly moving account of how a writer finds his true subject and translates experience into great art.
HISTORY
by Caroline Alexander
[




]
Most historical tomes read like dry rehashes of diary entries and news clips, but Alexander manages to keep things flowing at a quick and easy pace in The Bounty, her attempt to navigate the murky waters of myth about what happened aboard the fabled ship in 1789. She weaves a detailed narrative of the events of April 28, when Master's Mate Fletcher Christian and three other crewmembers seized command of their vessel from the captain, Lt. William Bligh. According to Alexander, the truth resides in a gray area. Bligh, who was reviled in the book and film Mutiny on the Bounty, actually treated his crew better than earlier retellings would lead us to believe. (She says he was also a marvelous sailor who successfully navigated 3,600 miles to safety after Christian dumped him and 18 crewmates into a 23-ft. boat.) And Christian wasn't the saint he became in lore. The only omission marring The Bounty's well-rounded account is an explanation of the method behind Christian's madness.
NOVEL
by Cathleen Schine
[




]
A smart and witty novel of relationships unfolding, full-blown and faded, She Is Me shines with lyric sensuality and insight. The story, a modern meditation on Flaubert's Madame Bovary, pivots on the midlife transformations of Greta Bernard, a Santa Monica garden designer and a young grandmother. Greta's is a family of earthy intellectuals with an easy bond. They can talk about anything among themselves, but their intimacy is challenged by a succession of crises.
Her mother, Lotte—still glamorous, still vain, still a self-described "pistol"—is fighting an aggressive skin cancer. Greta's daughter Elizabeth has just moved to Los Angeles with her partner Brett and their son Harry, abandoning her academic career to write a modern screen adaptation of Madame Bovary.
Greta is herself battling colon cancer, which she must hide from the fragile Lotte. She also realizes she might be gay as she falls in love with Daisy, the director of Elizabeth's film, but this is a fact she feels she must hide from everyone. Balancing the points of view of the three women with humor and warmth, Schine meticulously scrutinizes the many ramifications of marriage and adultery, parenthood and childhood.
THRILLER
by Richard North Patterson
[




]
Patterson closes his trilogy featuring liberal politician and now President Kerry Kilcannon. The author uses his novels as vehicles for his politics, and this time he has the National Rifle Association in his sights: Patterson is a fierce supporter of gun control. Unfortunately, Balance turns into a diatribe as Kilcannon, who is on a mission "to eradicate gun violence as surely as we ended polio," faces the insidious lobby the Sons of the Second Amendment. The deliciously dirty intrigues should make this political thriller a winner, but Patterson's lectures kill the fun.
NOVEL
by Edward Docx
[




]
Jasper Jackson is a young London calligrapher with a connoisseur's eye for food, art and women. He keeps his kitchen stocked with secret stashes of breakfast foods so he can impress his next conquest by "just happening to have" whatever she desires for a morning-after meal. It's a lifestyle that serves him well until his steady girlfriend Lucy finds out what he's been up to and flees the scene, heartbroken.
Jasper feels vaguely guilty, but his attack of conscience is cut short by the appearance of Madeleine—beautiful, intelligent and just outside his grasp. Madeleine has secrets of her own, and Jasper is about to learn the meaning of the word "payback."
This debut novel is sharp and wryly funny, and while there is a certain satisfaction in watching Jasper suffer, we can't help rooting for him as he fumbles through his first encounter with love. Throughout, he relates his plight to the Songs and Sonnets of John Donne, which he is transcribing in calligraphy. It's a clever device that lends depth to the novel and to the character, transforming a womanizing snob into someone almost lovable.
>And you thought The Texas Chainsaw Massacre was scary. James Innes-Smith combed barber shops for old photos to create Big Hair, his sequel to Bad Hair. Truly hair-raising.
Contributors:
Francine Prose,
Maggie Haberman,
Melanie Danburg,
Sherryl Connelly,
Michelle Vellucci.
AUTOBIOGRAPHY
Advertisement
Treat Yourself! 4 Preview Issues
The most buzzed about stars this minute!