People Top 5
LAST UPDATE: Tuesday February 10, 2015 01:10PM EST
PEOPLE Top 5 are the most-viewed stories on the site over the past three days, updated every 60 minutes
The Beauty Next Door
Jennifer Aniston, Everyone's Favorite Friend, Leads 2004's Pack of Most Beautiful People
Friends
, and your husband,
Brad Pitt
, is busy shooting a film—so what do you do now,
Jennifer Aniston
? Step 1: Stay in bed. Step 2: Pull up covers. Step 3: Repeat as necessary. "I felt on the verge of something new and exciting, but I was also experiencing a huge void and deep pain," says Aniston of that first emotional day after filming the 236th and final episode of
Friends
, airing May 6. "I was like Bambi, not knowing how to stand up." When she finally got out of bed, she threw herself a wrap party—the seaweed kind—at a spa a few hours from her L.A. home. "I totally needed it," she says of her weeklong, one-woman retreat. Although her costars dove into other projects, Aniston "made a conscious decision to not do anything," she says. "I didn't want to be in denial and have it bite me in the butt four months later. I didn't want to go, 'Where am I? Who am I?' "
Call it
Jennifer Aniston
: The Limbo Months. Happily so. Chatting about life after
Friends
, she touches on everything from her fear of flying ("I know there's a whole theory behind it and aerodynamics—still, it's a
big, heavy plane
"), her lack of a sweet tooth ("That always drove Matthew Perry crazy—I could have one M&M"), the perils of life with her husband under the tabloid laser ("He's the one to tell me, 'Don't read that crap! Stop it!' ") and how their marriage survived the Grizzly Adams beard Pitt grew in 2002 for a movie ("You marry someone for better or worse," she says, mock-serious. "But I helped him shave it. We did all sorts of facial designs as it got less and less. There was the Amish look, the bounty hunter thing, the French guy...").
And while we're on the subject, Aniston would like to say a few words about...plucking. "I love plucking my eyebrows," she admits. "It's like my Zen time. I get that magnifying mirror and I go to town." Anything else? "Courteney [Cox] is the only one I ever let pluck. She did it once, and I pluck hers. She lets me pluck hers more." Anything else? "If you described me as an animal, I'd be a baboon," says Aniston, laughing. "And I don't know how that makes me sound! My husband says sometimes we'll be gazing at each other and all of a sudden he sees my focus just like go somewhere and he's like, 'Oh, what are you...What? What is it? Why are you looking at my hair?' "
In short, Aniston, 35, sounds relaxed and happy; during the course of an interview she is by turns funny, thoughtful, vulnerable, self-protective. Clearly she relishes the opportunity, after a decade on
Friends
, to take a breath and absorb all that has happened. "To be a public person is to have a lot of energy thrown at you," she says. "People put out so much of who they think you are, and then you can kind of get lost. What's real and what's fantasy? And what's the priority here? For 10 years I haven't had time to deal with that."
So now she's trying to figure it out, day by day. There's the house: After moving into a $13.5 million Beverly Hills mansion in 2003, she and Pitt, 40, can now fully settle in. They still need "pieces of furniture here and there," she says, "but it's almost done." And after years of takeout, she's learning to cook. "I made pizza a couple of weeks ago from scratch," she says. "I had a kind of Lucy-Ethel moment, flour all over me." She's looking forward to going to Italy with Pitt when he shoots
Ocean's Twelve
; during her last trip there, to promote
Along Came Polly
, she had just one free evening in Rome. "It was like, 'That's a tease, c'mon!' " she says. "But we did get to take a walk at night. I'm going to go back and really see it." And, of course, this wouldn't be a
Jennifer Aniston
story if she didn't address The Big Question.
"We're absolutely in the process," she says of having a baby. "It's where we're headed." She's taking folic acid—a prenatal must-have—and she and Pitt have designated one room of their new house as a possible nursery. And Matthew Perry, ever the friend, is standing by. "Jen's just very giving," he says of her potential mothering skills. "And if she and Brad need any help making [the baby]," he teases, "I'll swing by." Of course, there are concerns. "I don't think they can have good-looking kids," says Tom Shadyac, who directed Aniston in
Bruce Almighty
. "They're too perfect. There's got to be a genetic step down."
Aniston has spent a lot of time thinking about what it means to be a good mother. She has been estranged from her own mother, Nancy, 67, a former model, since 1996 ("We'll figure it out," is all she will say about their feud). Longtime friend Andrea Bendewald insists that back in Manhattan's High School for the Performing Arts, the future sitcom star "was beautiful, just a little heavier than now. And she was very chic." Aniston remembers things far differently. "I was an unfortunate-looking teenager," she says. "I never felt beautiful, ever."
Part of the reason, says Aniston, was her mother's frequent tips about how she might enhance her eyes (they were too close together, she was told) and minimize her nose (too large) or whatever else she quickly learned to feel self-conscious about. Aniston's self-esteem took a hit. "Tremendously, yeah," she says. "And you don't even realize it until you get to a good therapist and figure all that stuff out." When an early boyfriend told her she didn't need so much makeup, she replied, " 'No, but I do.' And he said, 'You've just had such bad training.' " After she finally stopped hiding behind layers of lipstick and mascara, "I'd have people say, 'God, you look so much better.' " That helped her understand what was behind her mother's suggestions. "It was her own lack of self-esteem," says Aniston. "We pass on diseases that we don't necessarily mean to."
Today Aniston says she tries not to stress out when it comes to her appearance. The idea of plastic surgery, for instance, doesn't appeal to her—at least not yet. "I don't know if I'm a Botox girl," she says. "Shooting botulism into your brain cavity seems frightening. But hey, anything is possible." And while she can go glam with the best of them, she doesn't much enjoy walking down red carpets in designer gowns. "Oh, no, no," she says. "I'd love for you to put on a dress and shoes and have a hundred people scream at you and then walk down a carpet. There are dresses that are exquisite, but you have to hold your breath to sit down or walk up stairs. I'm more comfortable in a simple dress I can just wear and kick off my shoes and sit cross-legged on the couch."
Nowadays she's secure enough in her skin that she can handle the many rigors of celebrity. "She will walk right into a crowd," says Shadyac. "There are stars that will go around crowds. But she's the type to grab Brad and say, 'Let's go out and have a great evening. There's going to be press, but so what?' " Aniston "has dealt with fame a lot better than I have," says Perry. "We were all shot out of a cannon and forced to deal with stuff that there's no rule book for. But she has just maintained this level of being kind to people."
It's not always easy. Recently tabloids speculated that Pitt was getting way too close to his
Mr. and Mrs. Smith
costar
Angelina Jolie
. "We try to laugh, of course," Aniston says. "You protect each other. But it's Hollywood, baby. It's like every day, every week, something new." Then there was that picture of her kissing former Friends costar Matt LeBlanc outside an L.A. restaurant. "Oh, that was brilliant," she says of the media's reaction to her impulse to greet him with a kiss on the lips. All the attention, she says, is "part of the illusion that this life is so fabulous." It's a good life, she readily admits, but much of it is as real as anyone else's. "We're human, and like all other couples we go through good times and challenging times," she says. "And there's always going to be that."
At the base of it all is "a genuine caring for each other," says their friend Melissa Etheridge. The couple show up on each other's sets all the time and don't fret about love scenes ("We watch. We don't care. It's our job," says Aniston). When Pitt guest-starred on
Friends
, "it was terribly important to her that he have a good time and feel really good about doing it," says exec producer David Crane. "It was really sweet to see just how much she was looking out for him." The couple are so close they have even forsaken separate bathrooms. "We like sharing a bathroom," says Aniston. "It's kind of where we talk."
Kinda unpretentious. Which might also describe her general take on beauty: whatever makes her feel best. "It's those moments when I'm being most truthful, being the highest form of myself," she says. That "and, you know, a nice pair of Jimmy Choo stiletto, come-do-me pumps don't hurt."
Alex Tresniowski. Julie Jordan in Los Angeles
Contributors:
Julie Jordan.
Advertisement
Today's Photos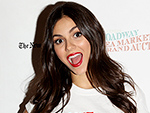 Treat Yourself! 4 Preview Issues
The most buzzed about stars this minute!