People Top 5
LAST UPDATE: Tuesday February 10, 2015 01:10PM EST
PEOPLE Top 5 are the most-viewed stories on the site over the past three days, updated every 60 minutes
Now That's An Alliance!
In a Surprise Survivor: All-Stars Ending, Rob and Amber Find Love
At last there were no more backs to stab, no more stale rice to choke down, no more fat naked guys to avoid spooning with at night. There was only a long bus ride to the airport in Panama after the last tribal council for Rob and Amber, the two finalists from
Survivor: All-Stars
. "They were asleep and they were wasted away; I mean there was nothing left of them," says host Jeff Probst, who rode with them. "But they were in each other's arms and they just looked so content. I was watching them thinking, 'This is a couple in love.'"
And so they were, pus-filled bug bites and subhuman hygiene be damned. When "Boston Rob" Mariano surprised 25 million fans and proposed to Amber Brkich (pronounced BER-kitch) at the start of the live May 9
Survivor
finale—before an unsuspecting Amber won the $1 million prize—he set a new heart-tugging standard for reality TV romance. "And we're not even a dating show," marvels Probst. "Nobody expected this."
Least of all Rob, 28, and Amber, 25, who knew each other from
Survivor
events before
All-Stars
but were somewhat less than smitten. "I couldn't stand her," says Rob, a construction worker. "I thought she was a snob. Beautiful, but a snob." Yet 15 minutes into
All-Stars
they formed an airtight alliance, methodically betraying castmates while conducting a cuddle-heavy and—they swear—sex-free courtship. "We only kissed twice on air," says Amber, a former health club employee from Beaver, Pa. "The first time when we got a toothbrush and the second time when there were candy mints." So how about off-camera? "There were a couple more kisses," admits Amber, who kept things PG-rated "because I wanted my mom and dad to be comfortable [watching the show]. I hope it came off as tasteful."
It certainly was enough to convince castmate Rupert Boneham their merger wasn't just strategic. "On day 15 I said, 'They're going to be engaged before we leave,'" he recalls. Not quite, but when the taping wrapped Dec. 11, Rob shaved his scruffy goatee, began regaining the 36 lbs. he lost on the show and hooked up with Amber in Boston.
Their official first date was dinner and a movie; on Valentine's Day he gave her a diamond bracelet.
In April, five months into their courtship, Rob went to L.A. to secretly enlist celeb jeweler Cynthia Wolff to help design an engagement ring (see box). On May 9 he waited until just before the live show to tell
Survivor
executive producer Mark Burnett he had a surprise. "I was thinking he's gonna get engaged or punch [his nemesis] Tom Buchanan," says Burnett. "I told Colby Donaldson, If anything happens I need your help.' But it didn't become Jerry Springer; it was a wonderful moment." No slouch in the scheming department, Amber changed at the last minute into an I love Rob T-shirt she made herself. "That," he says, "took my breath away."
Then came the big moment—and we're not talking about the lousy million bucks. "All of a sudden Rob turned towards me, and it hit me," says Amber. "I was shocked." Some
All-Star
castmates, less than enamored of the devious duo, did not feel the love. "Once the hype dies down," says Alicia Calaway, "I wonder if they are going to be looking at each other the same way."
Bank on it, says Amber, who did just that with her loot. (Rob got his $250,000 runner-up check from a CBS executive at a finale afterparty, "when I was three Jack-and-Cokes deep into the night.") On a break from working construction and tending bar, Rob says he and Amber are looking for a house in Boston or Pittsburgh or "somewhere in between." Or they might end up further west—in Hollywood. Though neither has an agent yet, "I would love doing the host thing," says Amber, who has appeared in commercials. So far, the couple haven't made wedding plans, though they could always ask Probst, an ordained minister, to preside. "We don't have a date," says Amber. "But I see something barefoot in the sand."
Wait a minute, a beach wedding? After all those soggy nights on an island? At least this time there'll be plenty of breath mints—and no naked fat guys. And, decidedly, no prenup. "The fact that Rob proposed before he knew who won just seals it right there for me," says Amber. "This is for real."
THE RING
Rob paid five figures for the white-gold ring with a 1.31-carat round brilliant diamond surrounded by a carat of diamonds. The inscription inside the band: FOREVER + EVER 5-9-04.
CHILDHOOD
Rob and Amber, odd couple? More like made for each other. "We're both Catholic and family-oriented," says Rob (at 3 years old). Says Amber (also at 3): "We agree on so much. We have the same values."
JENNA & TRAVIS
On both
Survivor: Borneo
and
All-Stars
, chatterbox Jenna Lewis talked endlessly about being a single mom who'd left her twins, Sadie and Sabrina, 7, behind in Burbank, Calif. So even some of her fellow
All-Stars
were shocked to learn during the reunion show that she was hitched—to model Travis Wolfe, 21. "I was a single mom," says Lewis, 26, who dabbles in writing and TV work. "I just got married! I wasn't lying!" The pair met in March, after she got back from Panama, at an L.A. restaurant. "I spotted [another] guy across the room and I turned to my girlfriend and said, 'Do you think he's cute?' And Travis looked up and said, 'Are you talking about me?' I said, 'No, but do you need your ego stroked?' Love at first sight. I knew right away." In Las Vegas on May 1, Wolfe got down on one knee and proposed with a sapphire ring. "We wed at the Candlelight Chapel," says Lewis. "Just us. No alcohol was involved. I don't know if it was the same chapel Britney went to. I'm hoping not." And she kept it all hush-hush because...the network thought that best: "I was going to tell people spontaneously because it feels really right. But CBS asked me to keep it under wraps to be revealed live."
JENNA & ETHAN
When
Survivor: Amazon
champ Jenna Morasca left the island in tears to be with her dying mother, Ethan Zohn could barely let her go. "I hugged her," says the
Survivor: Africa
winner, 30. "I almost ripped her shoulder blade off." But let her go he did: The two had decided not to show any affection on the island, even though they'd been growing closer ever since June 2003, when they were spotted kissing at a party for her
Playboy
photo shoot. ("We'd make eyes at each other at the challenges," he says.) Before
All-Stars
, Zohn, whose father died when he was 14, spent time with Morasca's family in Pittsburgh as they coped with her mom's illness. "I'd scream or yell or be hysterical," says model Morasca, 23, "and I didn't have to explain why." (Her mother died Nov. 19.)
Crashing at his New York apartment when she visits from Pittsburgh, Morasca and Zohn spend their downtime watching TV ("We're big reality TV people," she says. "Love
The Swan
"'). Despite their combined $2 million winnings, she adds, "We don't go to fancy restaurants." In November they'll go to Africa for his sports-related AIDS awareness program, Grassroot Soccer. And to think she was underwhelmed when they first met last year. At her
Survivor
victory party, Morasca recalls, "He congratulated me and gave me this half-drunk beer! I was like, 'What a punk!'"
RUPERT & FAMILY
Want real romance and not reality romance? That would be Rupert and Laura Boneham, married seven years and going strong. The most popular player ever (at press time he was the favorite to win the viewer-voted second $1 million prize), Rupert, 40, met Laura, 35, "when I was managing a comedy club and looking for an assistant manager of guest relations," he says. "She was the only one who stuck around after finding out it was an usher's job." Laura fell for the big guy because "his eyes would make me melt," she says. "Everyone would go to him with their problems, and I admired that. He was like Ann Landers."
That is, if Ann Landers weighed 250 lbs. "When I finished
All-Stars
I was under 200 lbs.," says Rupert, who has since gained back about 20 lbs. and quite easily at that (pork chops, steak and french fries are particular favorites). Even Laura got the chance to sample the
Survivor
diet when she bravely munched on bugs during an
All-Stars
rewards challenge in hopes of spending a night with her husband (she lost; he cried). Being away from Laura and their daughter Raya, 5, for months at a time "tore me up," says Rupert, a contestant on two consecutive seasons. "When I came home from the first season I said, 'My God, I'm never leaving you guys again.' A week later
Survivor
called me again. That second time was much harder on the family"—and particularly on young Raya. "She has a little bit of separation anxiety now," says Rupert. "We're working on that."
A counselor to troubled teens, "I have been making only $18,000 or $20,000 a year for a long time," says Rupert, who if he wins the second million (his competition, he figures, is ex-Marine Rudy Boesch) will donate a healthy chunk to his nonprofit group, Kids Help. "And," he says, "I'll finally be able to afford medical insurance." Another priority: moving his family to a safer neighborhood in Indianapolis, where they now live in a three-bedroom colonial fixer-upper with pet alligator Wally (he stays in an indoor pond in the living room).
In discussions to host an adventure show on Animal Planet, Rupert is figuring out how to handle his fame. Step one: Change shirts. "If I wear tie-dye," he says, "I'm mobbed." Laura is also learning the ropes. "Women are always running up to Rupert saying, 'I love you!'" she says. "You get pushed aside." But if the
Survivor
experience tested their love, so, too, did it deepen their bond. "The game stripped Rupert of everything and brought him to what's important," says Laura. "It's not the money. It's your family."
Contributors:
Cynthia Wang,
Amy Bonawitz,
Alexis Chiu,
Mark Dagostino,
Joanne Fowler,
Caroline Howard.
Advertisement
Today's Photos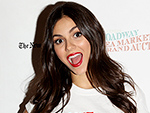 Treat Yourself! 4 Preview Issues
The most buzzed about stars this minute!