People Top 5
LAST UPDATE: Tuesday February 10, 2015 01:10PM EST
PEOPLE Top 5 are the most-viewed stories on the site over the past three days, updated every 60 minutes
A Neat Guy
From Doris Day/Rock Hudson Comedies to The Odd Couple to Love and Fatherhood in His Twilight Years, Tony Randall Lived with Wrinkle-Free Elegance and Humor
He almost had us fooled. After heart-bypass surgery in December, Randall was on the mend, says his agent and friend Gary Springer: A month ago, still in a hospital bed in Manhattan, he orchestrated a benefit dinner for his beloved National Actors Theater, which he started with $1 million of his own in 1991. His booming voice was in full force, says Springer: "He did a recording for the benefit, saying, 'Well, obviously I'm not there!' " Actor Jack Klugman, 82, Randall's costar in the vehicle that cemented their place in the TV hall of fame,
The Odd Couple
, visited Randall and says, "He was fighting like a demon to recover." Then pneumonia set in. Getting ready to take the children to a premiere screening of
Shrek 2
May 17, wife Heather, younger by more than a half century at 33, got the call that he was fading. She walked up the red carpet with her father and Julia, now 7, and Jefferson, 5, then once
Shrek
started, slipped out alone. She was at his side when he died in his sleep at age 84. Says Klugman: "A world without Tony...I just can't recognize."
To audiences., he was just as distinctively unforgettable—"an intelligent pixie," says Barbara Eden, a costar in several films. From the frothy sex comedies he made with
Doris Day
and
Rock Hudson
from 1959 to 1964 and for decades thereafter, he was often cast as a fussy, unmarried gentleman with impeccable taste and a gift for mischief: a
Queer Eye for the Straight Guy
dream man before his time. "Whenever you saw him," says his friend Dick Cavett, "he was in a perfectly pressed blazer, a perfectly selected tie. He enjoyed looking that way."
Even though Randall was married twice—his first marriage, to model Florence Randall, lasted 54 years until her death in 1992—the public sometimes wondered if he was something more than metrosexual. The question, reinforced when he played a single, presumably gay man in the 1981-83 NBC sitcom
Love, Sidney
, didn't bother him. What infuriated him was the idea that conservatives objected to his playing the part. "Screw'em," he said in 1982. He also took defiant pleasure in landing on President Nixon's enemies list. "He considered that his greatest achievement," says Cavett.
Professionally his greatest achievement was
The Odd Couple
, which also made him rich. Based on Neil Simon's stage comedy, the sitcom aired on ABC from 1970 to 1975. Randall was neat freak Felix Unger, stuck in roommate hell with slob Oscar Madison (Klugman). The show wasn't a hit, but reruns won him TV immortality. "On the street," he said last year, "everybody calls me Felix, except for some very stupid people who call me Oscar." He even revived the role for the sake of Klugman, a heavy smoker who had throat-cancer surgery in '88. "When I could hardly talk," he recalls, "Tony says, 'Let's do
Odd Couple
.' We did one [benefit] performance. I realized, 'Hey, I can work onstage with a microphone!' " Long before then, Randall avidly joined anti tobacco campaigns. "He hated smoking," says director Penny Marshall, who played Myrna Turner on the sitcom. "I'd run to my dressing room so I could have a cigarette. He'd be yelling, I smell smoke!' "
The Tulsa, Okla., native, born Leonard Rosenberg, was the son of an antiques dealer, yet in the decades after
Couple
he seemed untarnished by age. Last year he appeared in his final movie, Down with Love—on the set, "he was flirtatious and friendly," says producer Dan Jinks—and performed nightly in an off-Broadway comedy, Right You Are. He was often racing off to the opera. "We'd see each other at the Met," says
Couple
costar Carole Shelley. "He'd be at the bottom of the grand stair welcoming people. It was his grand salon, and we were invited." He made a great guest himself: He appeared more than 100 times with David Letterman; Johnny Carson once joked that of his total 35,460 guests, "32,000 of them were Tony Randall."
He was just as winning in love. When he met Heather Harlan, she was a 24-year-old understudy at his theater and he a recent widower. "The age difference didn't mean a thing to them," Klugman says of the couple, who married in 1995. The kids "are doing okay," Heather told Larry King the day after Randall's death. Randall admitted to People in 2001 he would miss seeing them get married. "They're my loves. They're my pups, my cubs."
Tom Gliatto. Fannie Weinstein and Natasha Stoynoff in New York City and Champ Clark in Los Angeles
Contributors:
Fannie Weinstein,
Natasha Stoynoff,
Champ Clark.
A few years ago, octogenarian Tony Randall was asked how he enjoyed being a late-in-life father—a reasonable question, considering his daughter Julia and son Jefferson weren't born until he was in his late 70s. "I don't know," he sniffed. "I'm not late on in life."
Advertisement
Today's Photos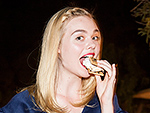 Treat Yourself! 4 Preview Issues
The most buzzed about stars this minute!