People Top 5
LAST UPDATE: Tuesday February 10, 2015 01:10PM EST
PEOPLE Top 5 are the most-viewed stories on the site over the past three days, updated every 60 minutes
Picks and Pans: Tv
Sounds Off
FOX (Tuesdays, 8 p.m. ET)




The premise: Two contrasting families temporarily exchange mothers. ABC has a reality series like this, called
Wife Swap
, on the fall schedule but FOX beat it to the punch by rushing
Trading Spouses
onto the air for a July premiere. Is that fair? Does anyone care? While this show is reasonably diverting, I have no burning curiosity to see whether ABC will be able to execute the concept a little better.
Under the FOX format, each spouse-swap is covered in two episodes. Both families get a $50,000 reward at the end of the experiment—ah, but how they spend it is up to the surrogate parent. Though this twist is supposed to have dramatic potential, the first pair of temp moms allocated the money so wisely that their decisions barely caused a ripple of controversy.
The first situation had Tammy, the white wife of an affluent, Japanese-American cosmetic surgeon, trading places with Mela, a black woman whose family of five was just making do. Race proved to be a less important factor than socioeconomic differences, which the show mined for a few telling moments (Mela's 11-year-old son hoped for a college scholarship but was vague on what that meant) as well as some snide humor (after Tammy assured the boy that America is the land of opportunity, we saw a spliced-in shot of Fourth of July fireworks). Tammy came across as bossy, materialistic and hypocritical. A victim of the editing? Maybe, but she was a vivid character.
The series wraps up another mom-swap Aug. 10, then does a couple of reruns before returning Aug. 31 with a trade of dads. Expect the novelty to wear off.
REALITY
WB (Thursdays, 8 p.m. ET)




An early episode of this sketch-comedy series contained a facetious warning that it might be disturbing to "upscale viewers." Well, I ain't exactly the Brie-and-Chablis type, but I do find some of the material tasteless and dumb. In one skit ensemble member Ashley Drane plays a 13-year-old girl who shocks a neighbor (Jeff Foxworthy) by demonstrating a dance routine that belongs in a strip club. Never have I felt so nostalgic for the days when 8 o'clock was TV's family hour.
Foxworthy and costars Bill Engvall and Larry the Cable Guy (real name Dan Whitney) had great success with their Blue Collar Comedy Tour, and they're not hard to like on this show when they sit on stools swapping one-liners. But except for a deadpan
CSI
parody that highlights the Aug. 12 episode, the sketches tend to be hackneyed and obvious.
COMEDY
Lifetime (Mon., Aug. 9, 9 p.m. ET)




Mary-Louise Parker is so sympathetic as a single mom fighting for educational opportunity for her autistic sons that I might overlook the faults of this well-meaning TV movie—if only a couple of them weren't so glaring.
After Parker pressures school officials, a special-ed teacher starts working with her 7-year-old twins and brings about heartening progress. But suddenly this teacher is transferred. "It's up to you now," he tells the mother. Here comes the hard part, right? No, in about a minute the boys are 14.
The twins—one a gifted musician, the other an outstanding runner—have a few problems in high school, but by this time Parker has support from an incredibly kind, patient and accepting boyfriend (Aidan Quinn). Though inspired by a true story, the film's a bit hard to believe.
DRAMA
UPN (Wednesdays, 8 pm)




Rumspringa is an Amish term meaning "running around." It's an open-ended, unsupervised rite of passage in which kids who've grown up in those secluded, tradition-bound religious communities get to sample ordinary secular life.
Amish in the City
takes five such young people and, Real World style, sets them up in a modern L.A. house with stereotypical "outsiders," including a freelance fashion stylist and a gay club promoter who loses his temper and slaps someone with a sock. Apparently Rumspringa also means "gimmick" or "programming stunt."
But the two-hour premiere was unexpectedly charming—very sweet corn—even after Amish girls Miriam and Ruth threw off their somber dresses and turned up on the deck looking like the Hilton sisters. When the household makes an excursion to the beach, Ruth cries in gratitude to have seen the ocean after a life of 20 years. And in a weird, touching moment, Mose, 24, who speaks with the awkwardly accented English of the traditional Amish, wades out too far in the current and panics, convinced he'll drown. If you're looking for a metaphor to sum up the temptations of modern life, there it be, son.
REALITY
ABC (Tues.-Wed., Aug. 10-11, 10 p.m. ET)




Like State v. in 2002, this ABC News series covers all facets of a criminal trial—from lawyers' preparations to courtroom testimony to jury deliberations. It's far more compelling than FOX's fictional
The Jury
.
The two-part premiere concerns Mark Ducic, a Cleveland-area man facing possible execution for double homicide. The prosecution's star witness is a shifty former drug user who furtively taped the defendant boasting of the crimes. Ducic's lawyer, a blunt ex-cop, portrays his client as a congenital liar. Divided and exhausted, the jurors struggle to reach the truth in the murky case.
The second trial (Aug. 17) involves the fatal beating of a 2-year-old girl, and jurors must assign responsibility to the mother or her abusive boyfriend. We share their frustration because guilt is so hard to measure.
DOCUMENTARY
Class of 1979: The Facts of Life
(Biography Channel, Aug. 10, 10 p.m. ET) If you miss the days when Mrs. Garrett (Charlotte Rae) had the Eastland girls under her wing, try this retrospective.
Teen Choice Awards (FOX, Aug. 11, 8 p.m. ET) Simple Life road-trippers
Paris Hilton
and
Nicole Richie
host an event that features categories like Choice Male Hottie and Choice Liplock.
Last Comic Standing
(NBC, Aug. 12, 9 p.m. ET)
Host Jay Mohr announces the winner in the Season 2 finale, but before you know it—i.e., Aug. 30—the series will be back with Season 3.
Death in Gaza
(HBO, Aug.12, 9:30 p.m. ET) Filmmaker James Miller was killed while making this documentary about Middle East violence.
Summer Olympics (NBC, Aug. 13, 8 p.m. ET) Let the Games begin with the parade of nations and the lighting of the cauldron.
Matt LeBlanc
Three months after
Friends
signed off, Matt LeBlanc, 37, returns to the same soundstage this month to film his new fall spinoff, Joey. So, how's he doin'?
ON RETURNING TO THE
FRIENDS
' SET It was a little weird being on the same stage initially, but at this point it's very comforting. I took [both] Courteney [Cox] and Lisa [Kudrow's] dressing rooms because I was in a small one for a long time. Now my wife has the baby, so when they come on show night it's more comfortable.
ON HIS NEW ROLE AS DAD I'm pretty hands-on. [Six-month-old] Marina has already doubled in size, and we just started feeding her baby food. So I participate in feeding. Diapers are easy, not that intimidating.
ON KEEPING UP WITH HIS OLD CASTMATES Everyone is traveling, so it's hard to see each other, but we keep in touch on the phone. I haven't gotten a chance to meet Coco, Courteney's baby. It's a little sad, but that's the way life is. I don't see my mother enough either.
Contributors:
Terry Kelleher,
Tom Gliatto,
Amy Bonawitz.
REALITY
Advertisement
Today's Photos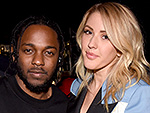 Treat Yourself! 4 Preview Issues
The most buzzed about stars this minute!