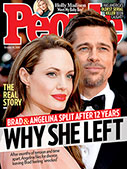 This Week's Issue!
People Top 5
LAST UPDATE: Tuesday February 10, 2015 01:10PM EST
PEOPLE Top 5 are the most-viewed stories on the site over the past three days, updated every 60 minutes
Half Their Size, Amazing Weight Loss
New Bodies, New Lives
Think It's Impossible to Lose Weight Without Pills, Personal Chefs or Surgery? These 10 People Dropped Nearly 2, 000 Lbs. the Old-Fashioned Way: Cutting Portions, Taming Cravings and Working Up a Sweat


Three years ago Caitlin Scoggin was looking through the photos she had taken on a recent trip to Europe and burst into tears. "I was shocked," she says, at the sight of her 5′2″ frame carrying 217 lbs. "When I got those pictures, that was the first time I saw myself as how I was." Armed with a different vision—how she wanted to be—Scoggin, 24, signed up at a local Jenny Craig, where she was paired with a counselor ("I'd just talk about my life, and she'd really listen," Scoggin says). She also learned how to eat in moderation, thanks to the plan's prepackaged, portion-controlled meals. "Restaurants make me angry: They give you five times more than you need," she says. In one year Scoggin was down 50 lbs. and began exercising for the first time in her life, even signing up for a 200-mile European trek with her dad. Reaching 114 lbs. in 2004, the Denton, Texas, music-school grad student controls her weight by working out to Tae Bo videos, walking on the treadmill and using free weights five days a week. She faithfully watches what she eats, and that confounds new friends, who didn't know her when she was overweight. "I'll be eating something good for me, and they'll say, 'Why are you eating that, Skinny?'" Scoggin says. "I'm like, 'You have no idea! Let me take you on a trip down memory lane …'"

THEN
217 lbs.


NOW!
114 lbs.
FROM SIZE 20 TO 0
"What do you do on the weekends? You go out to eat. Instead, ask friends to go for a walk"

Angela Hefel

After shedding 162 lbs. on Weight Watchers, Angela Hefel showed up at a wedding psyched to show off her new, 135-lb. figure—but no one recognized her. "People thought I had remarried," says her husband, Jeff. Chubby since childhood, Hefel, a Winona, Minn., teacher, had weighed as much as 297 lbs. during her years as a stay-at-home mom of two boys. "The kids would snack, so I would," she says. In 1998, with her 31st birthday looming, "I thought, 'These are supposed to be the best years of my life, and I'm in the worst shape of my life,'" says Hefel. She signed up for the Flex plan, which allowed to her to eat small portions of the pizza and spaghetti she served her family, and walked three miles four times a week. In 18 months she lost 118 lbs. Reaching her current weight last March, Hefel, 38, still attends Weight Watchers meetings and now runs. "I used to think, 'I'm always going to be overweight,'" she says. "I had to get over that hurdle and think that I could be normal." Some think she looks a lot better than that. Jeff, a college professor, recalls that after his wife visited him on campus, "one of my students said, 'Wow, Hefel married a hottie!'"

THEN
297 lbs.


NOW!
135 lbs.
FROM SIZE 26 TO 6
"If I was having pizza for dinner, I made sure to have oatmeal for breakfast and salad for lunch"

Julie Cathey

At 277 lbs., Julie Cathey had tried to diet most of her life. " You have that many failures," she says, "and you think your body can't do it." In January 2004, she was considering lap-band surgery. Then her brother lost 100 lbs. with NutriSystem's prepackaged meals. Cathey signed up for the plan—and it clicked. "It was like having somebody else do the thinking for you," says the teacher from Lewisville, Texas, who also started lifting weights and walking, building up to jogs six days a week. Today, Cathey, 29, is down to 135 lbs., but her body isn't all that has changed. "I choose different clothes now," she says. "Before, I'd wear what covered me up. Now I can actually tuck things in!"

THEN
277 lbs.


NOW!
135 lbs.
FROM SIZE 28 TO 8
"You shed the pounds and shed that wall you were hiding behind …. I'm much happier this way"

Nnedi Uzowihe-Igwe

Back in 2003, when her boss called her "my plus-size model," Nnedi Uzowihe-Igwe—who at the time weighed 330 lbs.—thought the phrase "was a compliment." "But then I thought, 'This is too much.'" In January 2004 the Bowie, Md., software engineering consultant signed up for the liquid diet program Medifast. She had a shake every three hours, plus 4 to 6 oz. of fish or chicken and steamed veggies for dinner. She also worked out to a fitness video, and to get through her moments of weakness, she turned to … Post-its? "I had them all over my house," Uzowihe-Igwe says. "I'd think about white chocolate and then look at a sticker that said, 'God, get me out of this temptation.'" In nine months she lost 160 lbs. and stays trim with a shake for breakfast, oatmeal for lunch, a low-calorie dinner and treadmill workouts six days a week. Today Uzowihe-Igwe, 31, is attracting a different sort of compliment. "I walk into the supermarket," she says, "and you'd think I was Whitney Houston."

THEN
330 lbs.

NOW!
170 lbs.
FROM SIZE 28 TO 10
"At parties, I don't touch the food. I just wait for the music and start dancing"

Traci Smith

A college softball player, Traci Smith stayed fit until she graduated in 1990. "I had been disciplined for so long, I just wanted to let go," she says. After nine years of Sausage McMuffins and Chinese food, her once athletic physique became a dangerously obese 488 lbs. "My father said, 'Traci, I buried your mother; I couldn't bear to bury you too,'" Smith says. Two days later the Rowland Heights, Calif., administrative assistant stopped by a Lindora weight loss clinic and signed up for its 10-week program of one-on-one counseling with a low-carb, low-fat diet. Eating cottage cheese with fruit, grilled chicken and veggies (up to 1,200 calories a day), she shed 100 lbs. in four months. "I started to come alive," says Smith, 38, who also worked her way up from "walking to the corner" to logging 18,000 steps a day, which she tracked on a pedometer. Now a whopping 316 lbs. lighter, she snowboards and mountain bikes to keep off the weight. "I only wish my mother could see me," says Smith. "I know she'd be proud."

THEN
488 lbs.


NOW!
172 lbs.
FROM SIZE 32 TO 8
"I don't look at restaurant menus. I know what I want: grilled chicken and steamed vegetables"

Kelly Meyers

After two pregnancies spent on doctor-ordered bed rest, Kelly Meyers weighed 300 lbs. So in November 2002 she started walking her daughter to and from school and eating "until I was satisfied, instead of ready to pop." She later joined a Curves gym, doing resistance exercises and using the StairMaster six days a week. By March 2004, when her Army sergeant husband returned from an 11-month stint in Iraq, she was down to 197 lbs. Today Meyers, 30, stays trim as a Curves gym assistant in Leesville, La. "If I want a cheeseburger, I have a cheeseburger," she says. "But now I exercise enough to burn off those calories."

THEN
300 lbs.


NOW!
163 lbs.
FROM SIZE 26 TO 10
"Change up your workout routine enough so that it will always be fun"

Cathi Lee

At 481 lbs., just making her bed left Cathi Lee panting for breath. "I was addicted to food," she says. "When I had a bad day, there was a euphoria when I overate." Then one day she was snubbed at a party. "I was the largest thing in the room, but I was invisible," says Lee, 47, a college administrator in Waterville, Maine. "I was angered." In February 2003 she decided to trade her breakfast pastries, pizza and peanut butter for oatmeal, salads and fish. A year later she began walking on roads near her home, but "people threw stuff at me and yelled, 'Fatso!'" So she moved her workout to a secluded cemetery and later joined a gym. In October, Lee—now 160 lbs.—completed her first marathon. "I thought I would cry," she says. "To go from hiding in the cemetery to being cheered on by the crowd is amazing."

THEN
481 lbs.


NOW!
160 lbs.
FROM SIZE 38 TO 12
"When you have cravings, move around or go for a walk, and that need will go away"

Tyrell Starks

As a devotee of Twinkies and Ho Hos, Tyrell Starks had a size 44 waist at age 15. Still, it was a shock two years later when, at 308 lbs., he went to the doctor for a physical and saw the word "obese" written on his file. Intent on making a change, Starks joined the cross-country team his senior year, at first walking the five-mile practice ("The coach never made me feel uncomfortable," he says) before working up to jogging. He also started doing kickboxing videos at home and snacking on fruits and vegetables instead of pastries, and on graduation day in 2000 he was down to 230 lbs. In 2003 he moved to Atlanta to teach kickboxing and aerobics at a local YMCA, but "I was an overweight instructor," says Starks, now 24. "That's when I started pushing myself." Over the next year he weight-trained three days a week, ran six miles a day and made lean chicken and fish his diet staples. "I was looking for a quick fix when I started," Starks says. "But patience is key."

THEN
308 lbs.


NOW!
175 lbs.
FROM SIZE 44 TO 34
"Eat what you want, but in moderation. It's all about quality, not quantity"

Heather Haouchine

"I didn't know the meaning of nutrition growing up," says Heather Haouchine, whose mother often stocked the kitchen with powdered doughnuts and soda. After the 2001 birth of her triplets, Haouchine, then nearly 300 lbs., realized, "My kids were learning from me—how could I tell them to eat vegetables and not eat any myself?" So the Middletown, Conn., housewife joined Weight Watchers and began burning more calories around the house by getting rid of the hampers so that she had to make several trips a day to the basement laundry room, or dancing around with her kids. In December 2004, she hit 130 lbs. And her mother? "On my last birthday," says Haouchine, "she gave me candles"—instead of cake.

THEN
300 lbs.

NOW!
130 lbs.
FROM SIZE 28 TO 2
"Keep portions under control by using salad plates instead of dinner plates for meals"

Rick Salewske

After Rick Salewske quit smoking in 1990, "I picked up food as another addiction instead of nicotine," he says. In 1994, he dropped out of college because he could no longer fit into the classroom desks, and by 2000 eventually ballooned to 538 lbs. That's when Salewske's employer, Clark Steel Framing Systems, agreed to pay for a stay at the Cooper Aerobics Center, a Dallas weight-loss facility that provides a per sonal trainer and a dietitian. A 1,500-calorie diet replaced Salewske's burgers, ice cream and chips with cereal, turkey sandwiches and Lean Cuisine meals, and he began walking and weight lifting six days a week. Salewske, 43, dropped 100 lbs. during his four months there and lost another 200 lbs. over the next two years. Today he maintains his 238 lb.-physique by running six days a week, drinking 100 oz. of water a day and carefully planning his meals. "Losing weight is one of the few things in life that is truly personal," he says. "Someone can take away your job or money, but this is yours—and that's very, very powerful."

THEN
538 lbs.


NOW!
238 lbs.
FROM SIZE 66 TO 38
"If you start exercising and eating right, the weight has to come off"

HOW THEY DID IT
Details, details, details: Exactly what they ate and how they exercised

CAITLIN SCOGGIN


BREAKFAST: Jenny Craig French toast with berries, 1 banana, 1 cup soy milk
LUNCH: Jenny Craig chicken sandwich, garden salad with balsamic dressing
DINNER: Jenny Craig beef sirloin bowl, 1 cup green beans
SNACKS: 1 cup soy yogurt, Jenny Craig cheese curls or an apple
WORKOUT PLAN: 1-hour treadmill walks and light weight lifting, 6 days a week

ANGELA HEFEL


BREAKFAST: Light English muffin with 1 tsp. low-sugar jelly, 1 Egg Beater
LUNCH: Low-fat turkey or chicken sandwich on wheat, 1 cup light yogurt, raw carrots
DINNER: 3 oz. chicken, 2 cups salad with fat-free dressing, ½ cup wild rice or a small potato
SNACKS: An apple or orange, fat-free microwave popcorn or fat-free pudding
WORKOUT PLAN: 2- to 3-mile walks, 4 times a week

JULIE CATHEY


BREAKFAST: ¾ cup wholegrain cereal, 1 cup fat-free milk, 15 grapes
LUNCH: NutriSystem pasta parmesan, 1 oz. turkey, garden salad with fat-free dressing
DINNER: NutriSystem Salisbury steak, garden salad with fat-free dressing, 1 tbsp. nuts
SNACKS: NutriSystem brownie, cookies or peanut butter bar
WORKOUT PLAN: Began with walking for 20-30 minutes, 3 times a week; worked up to 45-60 minutes on the treadmill or elliptical machine, every day

NNEDI UZOWIHE-IGWE


BREAKFAST: 8 oz. Medifast orange delight or strawberry creme shake (each 100 cal.)
LUNCH: Medifast maple & brown sugar oatmeal (110 cal.)
DINNER: 4-6 oz. grilled or baked lean beef, chicken or fish, 2 cups steamed asparagus
SNACKS: 8 oz. Medifast shake or Medifast caramel nut bar (170 cal.)
WORKOUT PLAN: 1-hour walks on the treadmill and 30-60 minutes of weight lifting at her local gym, every day

TRACI SMITH


BREAKFAST: 4 oz. cottage cheese mixed with a handful of fresh raspberries
LUNCH: 3.5 oz. fish or chicken, 2 cups salad, a cucumber or a tangerine
DINNER: 3.5 oz. fish or chicken, 2 cups salad, a bell pepper or slice of watermelon
SNACKS: 2 oz. fat-free cheese, lean cold cuts or a hardboiled egg
WORKOUT PLAN: 5-mile walks or 60 minutes of Tae Bo daily, 1 hour of weight training and 500 crunches nightly

CATHI LEE


BREAKFAST: 8 oz. protein shake, coffee with Splenda and fat-free creamer
LUNCH: 12 oz. Wendy's chili and side salad with reduced-fat dressing
DINNER: 10 oz. steak or chicken with low-fat sauce and cheese, 1 ½ cup cooked spinach
SNACKS: A cereal bar or fresh fruit (apple, orange or banana)
WORKOUT PLAN: The 30-minute aerobic and strength-training circuit at her local Curves gym, 5 times a week

TYRELL STARKS


BREAKFAST: 2 to 3 scrambled eggs, an apple, 8 oz. milk, 1 slice toast
LUNCH: Wendy's side salad with fat-free dressing, 5 chicken nuggets, 12 oz. orange juice
DINNER: A sandwich with 12 oz. turkey or chicken breast
SNACKS: A Popsicle or 3 cups of grapes
WORKOUT PLAN: 6-mile treadmill runs, 6 times weekly; weight training 3 times weekly and teaching 10 aerobics classes weekly

KELLY MEYERS


BREAKFAST: 1 cup oatmeal, ½ cup blueberries, 2 egg whites and a handful of walnuts
LUNCH: Whole wheat sandwich with turkey, chicken or tuna and American cheese
DINNER: Stir-fry vegetables over 1 cup brown rice or whole wheat pasta
SNACKS: A peach, 3 tsp. peanut butter
WORKOUT PLAN: 30 to 60 minutes on the recumbent bike, 25-30 minutes on the elliptical machine or a 4-mile walk on the treadmill, followed by 40 minutes of weights, every day


Advertisement
Treat Yourself! 4 Preview Issues
The most buzzed about stars this minute!