Archive Page - 12/1/12 39 years, 2,080 covers and 53,257 stories from PEOPLE magazine's history for you to enjoy
On Newsstands Now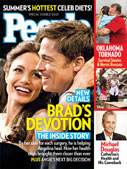 Brad's Devotion: The Inside Story

Oklahoma Tornado: Heroic Rescues

Michael Douglas on Catherine's Health
Pick up your copy on newsstands
Click here for instant access to the Digital Magazine
People Top 5
LAST UPDATE: Thursday May 23, 2013 02:10AM EDT
PEOPLE Top 5 are the most-viewed stories on the site over the past three days, updated every 60 minutes
Jen Faces Her Future
Weathering News of Brad's Pending Fatherhood, She's Focused on Building a Life Beyond the Fast Lane, Healing a Rift with Her Estranged Mother and Finding Happiness with a Man Who Makes Her Smile
Jennifer Aniston
, in town for the premiere of her low-budget comedy
Friends with Money
, which opened the Sundance Film Festival on Jan. 19. Sure, in the small ski town she was wearing a parka instead of Prada, and her film debuted at the local high school. But as she headed back from a press conference, Aniston warmed up the afternoon with formidable star power. She flashed a dazzling smile, tossed that legendary mane, and, when her car got stuck in traffic, rolled down her window and signed autographs for fans who were probably not that interested in her latest project, in which she plays a pothead who quit her teaching job to become a maid—even if she calls it "a beautifully written and relevant impression of human beings relating to each other."
Like the rest of the planet, they probably wanted to know just how Aniston, who turns 37 on Feb. 11, was feeling about
Brad Pitt
's having a baby with
Angelina Jolie
. And she knew it. Arriving at Sundance on Jan. 19 by private jet the same day a California court granted a request by Pitt, 42, and Jolie, 30, to give his surname to her two adopted children (Maddox, 4, and Zahara, 1), Aniston seemed prepared for a siege. Though she left her beau of six months, Vince Vaughn, 35, back in L.A., she was always well-protected by close friends—including Money costars Catherine Keener and Joan Cusack. Chatting with them in the audience before the screening, she ignored the fact that every camera in the auditorium was trained on her. And when she joined castmates for a panel discussion onstage, Aniston sat quietly, fidgeting with her hair and occasionally giggling while pals took questions about the film. "She looked like she was keeping a stiff upper lip," says an observer, who saw Aniston at a private party following the premiere. "But there didn't seem to be much joy there."
Clearly she did not see her gleefully taking home extra brownies at a cast dinner the next evening. Aniston makes no attempt to hide her weariness with the spotlight the daily Pitt-Jolie headlines shines on her—even toying with the idea of moving away from L.A. to escape the glare. But friends say that with those closest to her, she's better than ever. Aniston was with Vaughn, enjoying a late-night dinner at one of his favorite L.A. haunts, Velvet Margarita Cantina, on Jan. 11, after a rep for Pitt confirmed to PEOPLE that Jolie was pregnant. Her ex had made sure Aniston knew before the news hit (though he didn't tell her himself), and a source close to the situation says that initially, "Jennifer was very upset—she was crying." But by the time the world knew, she had more than bounced back. "Jennifer is fine [about the pregnancy]," says her friend. "She's moved on. She really has," says another pal. "She's very happy with her life right now."
Much of credit goes to the 6′5″ party boy who has become a fixture in Aniston's life. Vaughn is "a caretaker" by nature, says a close friend of the actor, who opens doors for Aniston—and fends off paparazzi with a firm "That's just not cool, dude." Work prevented Vaughn from accompanying her to Sundance, but he has been staying at her Hollywood Hills home, and the pair have become "inseparable," says the pal, sharing margaritas and listening to '80s tunes at clubs like L.A.'s Dragonfly. By day, they hike together on the beach and, to the amusement of his buddies back in Chicago, take yoga classes. "She's changed Vince for the better," says the friend of Vaughn's trimmer look. The couple, he adds, are more than a rebound romance. "They met at a time when she needed someone to make her smile. He did a really good job of lifting her spirits, and now it's evolved into a true love affair."
Still, it was hardly love at first sight. Vaughn barely knew Aniston when they began filming
The Break-Up
together in Chicago in June, and Aniston, reeling from her very own breakup, "kept to herself," says an extra. Little wonder costar Jason Bateman says he "didn't notice any chemistry." Nor did casting director Jonathan Kinnas see opposites attracting. "She's so tiny, and he's giant, in size and personality," he says. "He's a partyer. She's on the quiet side. I wouldn't have put them together." It wasn't until the wrap party in August, he adds, that "Vince and Jennifer were very chummy and we started to wonder." After filming ended, they grew closer. "I've never seen him care for anyone this deeply," says Vaughn's friend. And what does she see in him? "He's an alpha male. He's got fortitude and is resolute in life. But it really comes down to the simple fact that he makes her laugh."
After a year of melodrama, laughter is what Aniston is seeking. "I want to find peace," she told reporters in December. "I just want to be happy." Aniston has called the year since she and Pitt stunned fans by announcing their split—and then he stunned her by fast-forwarding parenthood with Jolie—"the best of times and the worst of times." She's toughed out the trauma with a sort of Zen resignation. Her survival mantra, Aniston said, has been simple: "Sit in it, be with it, be in it. There is such a freedom, in a weird way, to say, 'Look, here I am, this is it.' You move through it faster." Where she is heading is unclear. But her future today bears little resemblance to life the last time she hit Sundance, in 2002, when acclaim for
The Good Girl
offered a taste of her post-
Friends
movie career and life with Pitt seemed full of promise. Since the split, Aniston has dealt with disappointing box office for the thriller Derailed and the romantic comedy
Rumor Has It
. And how audiences will receive Money—as well as
The Break-Up
—may determine her viability as a Hollywood star.
But for the woman who raced through four back-to-back films in the months after her split from Pitt, that kind of success may suddenly be a less pressing priority. "As much as I love my work," she told the Orange County Register in December, "there is so much else that's now interesting to me." Reconnecting with her long-estranged mother, actress Nancy Dow, for starters. At home one recent Sunday when she was feeling down, she told the Register, she saw a set of numbers flash through her head—and recognized them as a phone number she had not dialed in nearly a decade: her mother's. The two had not spoken since Dow wrote a book about her daughter in 1996, and Aniston, who was soon to wed Pitt, cut off all contact. But from the vantage of her own divorce, Aniston looked anew at her mother, who had split from her father, actor John Aniston, when she was a child. "I finally had some compassion," Aniston told the Register; she dialed and said simply, "'Hi, Mom. It's Jen.' And [Mom] said, 'You're kidding. Get out of here.' I said, 'No, it's me.' And she said, 'Jennifer?
Jennifer Aniston
? My kid?'"
Whether mother and her daughter can repair damage done after years of silence remains to be seen. But as Aniston gets ready to celebrate her birthday (friends are mum about plans), she seems eager to begin the next chapter of her life. She has talked about reading more, working less, buying a new house—perhaps one far from Hollywood. "I've just realized that I can move; I don't have to live here. That's just dawning on me," she told the Register. "That realization has made it so much more fun for me this year." Another fun thought: motherhood. And as she says in January's INSTYLE, "I hope to be on the road to having a family in the next year." With Vince? Who knows. "Deep down, they hold the same values," says his friend. "They're right for each other. I hope they hang on." The only thing she is committed to for now is to look forward, not back. "I watched my mother be very bitter and very angry throughout a divorce and never let it go," she said recently. What interests her instead: "Accountability, taking responsibility, because it's so easy to blame."
And though she will probably not be sending her ex a baby gift any time soon, Aniston refuses to point a finger. "There is no real animosity," says a pal. "They are not enemies." As Aniston puts it—to heck with the cliché—"What doesn't kill you makes you stronger." Amen. "She's looking more beautiful than I've ever seen her look," says her Derailed costar Melissa George. "She is a very vibrant, luminous woman. She's handled it all the right way."
TEAM ANISTON
Since the split with Brad, a tight circle of friends and loved ones has helped Jen heal
Courteney Cox Arquette, Aniston, the godmother to Cox Arquette's daughter Coco, leaned on her
Friends
castmate during her split. They "remain the best of friends," but see each other less, says a Cox Arquette pal. "Schedules aren't allowing them a lot of free time."
CHRIS MCMILLAN Aniston's longtime hairstylist is her constant companion, joining her in Chicago while she filmed
The Break-Up
last summer and sticking close to her at Sundance.
THE PITT CLAN While they've welcomed Jolie into the family, Brad's Springfield, Mo., clan is still fond of Aniston—Pitt's sister Julie and mom Jane even visited her in Chicago last August.
Advertisement
Treat Yourself! 4 Preview Issues
The most buzzed about stars this minute!