People Top 5
LAST UPDATE: Tuesday February 10, 2015 01:10PM EST
PEOPLE Top 5 are the most-viewed stories on the site over the past three days, updated every 60 minutes
Fitness Fortunes
Meet Four Entrepreneurs Who Went Looking for Ways to Live Healthier and Found Them (and Business Success!) in Everything from An All-Natural Energy Bar to a Spray That Can Turn Rice Cakes into Birthday Cake
LARA MERRIKEN FIGURES OUT THE FORMULA FOR AN ALL-NATURAL ENERGY BAR THAT GETS TASTE RAVES (REALLY!)
I was a junk food kid," says Lara Merriken, thinking back on her youth in Denver, when a meal out meant Taco Bell. Today, however, Merriken, 37, is the brainchild behind LäraBars, a line of energy bars made entirely from raw, unprocessed foods such as unsweetened fruits and nuts. "They're very good if you're craving something sweet but don't want to reach for the M&M's," says caterer Marilyn Kleist, who stocked LäraBars on the set of Arrested Development. Actors aren't the only fans: According to Merriken, her company, Humm Foods, hit $7 million in LäraBar sales last year (up from $400,000 in 2003), and she is now preparing to unveil an organic chocolate bar line, Mäya. Still, she does know when to quit. "We tried Chocolate Curry," Merriken says, "but that didn't work at all."
$7 MILLION OF LARABARS WERE SOLD IN 2005
WALK THIS WAY
FITNESS GURU LESLIE SANSONE WANTS TO GET THE WORLD IN BETTER SHAPE, ONE STEP AT A TIME
When Leslie Sansone opened her New Castle, Pa., aerobics studio in 1985, Jane Fonda's "no pain, no gain" mantra was the reigning fitness philosophy. "It bugged me—too many people were afraid of that," says Sansone. "I figured if you can walk, you can be fit." That flash of insight has since exploded into a fitness empire built around what Sansone, 45, calls "In-Home Walking," in which you get in shape by walking (and kicking and twisting) in place at a level "intense enough that the heart rate goes up." Her first book, Walk Away the Pounds, was a 2005 fitness bestseller, and she says she has sold over 8 million DVDs and videos since 1985. With eight more videos and another book out in 2006, the married mother of three clearly plans to keep on moving. "People are out of shape because they believe in big doses," Sansone says. "I want people to believe in little doses."
SANSONE'S VIDEOS AND BOOKS HAVE GROSSED ALMOST $190 MILLION
PUMP IT UP
DAVID BURKE'S FLAVOR SPRAY LETS YOU HAVE YOUR CAKE—WITHOUT THE CALORIES
Cheesecake without the carbs? How about bacon minus the fat? Sounds too good to be true, right? And yet that's what celebrity chef David Burke has bottled in his new line of Flavor Sprays, earning him celebrity fans and a place on store shelves at Le Gourmet Chef (sales are nearing 50,000 bottles a month, and growing). With 35 no-calorie flavors that can be spritzed on the blandest food—be it rice cakes, whole-wheat pretzels or steamed chicken—"you can eat a banana split and not worry about the fat or calories," says Burke, 44, whose restaurant, davidburke & donatella, is a N.Y.C. hot spot. Still, Burke admits, "I'm not saying the sprays compete with a gourmet chef. But if you're looking to eat healthier—boom!"
STAR JONES REYNOLDS AND ISAAC MIZRAHI ARE FANS OF THE SPRAYS
PLAYING THE NUMBERS
A FUN WAY TO LOSE WEIGHT? THIS MOTHER-DAUGHTER TEAM MADE A GAME OF IT—AND BOTH ARE WINNERS
Back in 2003, Vicki Sorensen was looking to shed 60 lbs. of pregnancy weight, and her mother, Stephanie Rhodes, was out of shape. So the two women played a weight-loss board game that Sorensen devised. Originally available only on the women's Web site, The Fitness Challenge—which awards points for good behavior (like, say, 1 point for the week's first workout)— sold so well that national retailers like Borders and Target.com now carry it. "We aren't aware of anything out there to keep people motivated," says Sorensen, 37, who lives in Carver, Minn., adding that she and Rhodes, 56, achieved their goals. "Even today, I use my own game. It makes you accountable."
PROJECTED 2006 SALES FOR THE GAME: $1.5 MILLION
Contributors:
Reported by Vickie Bane,
Caroline Howard,
Margaret Nelson,
Debbie Seaman.
RAISING THE BAR
Advertisement
Today's Photos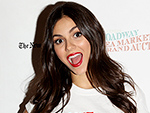 Treat Yourself! 4 Preview Issues
The most buzzed about stars this minute!